Film and TV
Film Review: 'Aloha'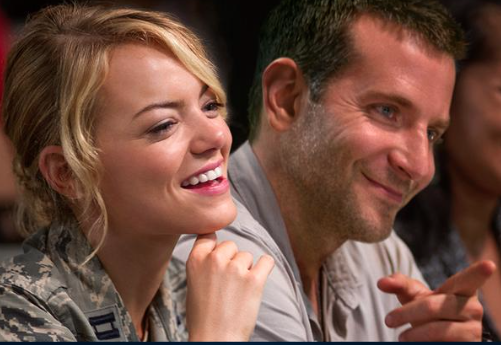 The wait for "Aloha" is over. With the hype since the trailer's release showing the A-list cast, writer/director
Cameron Crowe
attempts to capture a heartfelt romance.
Bradley Cooper plays Brian Gilcrest, a military contractor taking on a project for a wealthy man in telecommunications (Bill Murray). Brian's life quickly begins to revolve around his ex-girlfriend, Tracy (Rachel McAdams) and his new relationship with his watchdog/fighter pilot Allison Ng (Emma Stone). Stone's character is quirky, energetic, and plays by the rules. Her character also brags about the fact that she is a quarter Hawaiian.
"Aloha" has many subplots, which makes it difficult to tell what the main plot or focus is. The film follows Brian's life, who seems confused about what he wants as he switches back and forth between his past with Tracy and his current romance with Allison.
READ MORE: What 'Aloha' Is Bringing To Cameron Crowe Fans
With Crowe's past witty films, we expect to see more from comedy actor Bill Murray, who plays an unusual character from his other roles—refreshing yet disappointing to see less comedy come from him (yet worth seeing him and Emma Stone dance to Hall and Oates' "I Can't Go For That (No Can Do)."
The film recently received criticism for its failure to exemplify the Hawaiian culture. Yes, we see more of Hawaii in a film like "Forgetting Sarah Marshall," but Crowe's try to place Hawaiian culture in some of the scenes is forced. Despite the forced cultural references, part of the plot involves the relationship between the characters and the Hawaiian people revolving around a satellite launch.
Fans anxiously waiting to see Bradley Cooper and Emma Stone play in a romance movie together will be disappointed with the lack of chemistry, though they are charming individually. Cooper and McAdams have better chemistry; but nothing beats the comedy chemistry between Cooper and John Krasinski, who plays Tracy's quiet husband.
Overall, "Aloha" isn't unbearable, but doesn't live up to the expectations for a Cameron Crowe film, especially being familiar with films like "Say Anything," "Jerry Maguire," 'Elizabethtown," or "Almost Famous." Being the Crowe film it is, movie watchers can rely on seeing some moral dilemmas characters must face.
Reach TV Editor Tanya Mardirossian here. Follow her on Twitter.