Arts+Culture
Tradition Turned Trend: Yoga's Westernization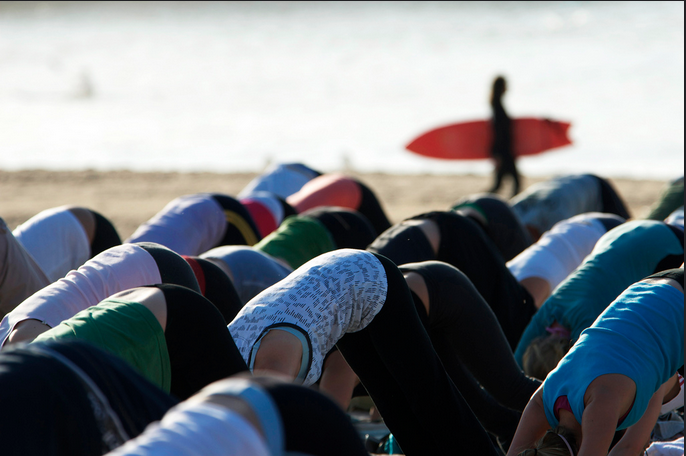 Once upon a time, yoga was a lifestyle, not a trendy form of boutique exercise. Yoga has its roots in ancient Hindu philosophy; the practice is meant to awaken the consciousness in addition to strengthening the body and mind. When typical Westerners unroll their yoga mats and flow through their sun salutations, however, strength, stretching and relaxation is more on their minds than spiritual awakening and enlightenment.

In the journey across the ocean to the United States, traditional yoga's holistic approach to wellness whittled down to the physical benefits, such as increased balance, strength and flexibility. But is this metamorphosis a cause for reproach or simply an example of one cultural phenomenon adapting to fit the needs of another? Perhaps even fitness-driven Westerners have legitimate reasons for pursuing the practice; Vivian Nguyen, an instructor at Evoke Yoga, a "chic boutique" yoga studio in the heart of Downtown LA, said she began doing yoga "for the fitness aspect of it."

"I thought it was the most integrated form of wellness," Nguyen said.

For similar reasons, USC freshman Yana Tonezer decided to take a two-credit yoga course this semester. "I wanted to exercise, stretch, and feel relaxed," Tonezer said. She took one yoga class at LA Fitness before, but was otherwise new to the practice. In class, the focus is on teaching yoga poses such as tree, downward dog, and the warriors, but a course reader expands upon the different types of yoga and how each type ties to its culture of origin, according to Tonezer. In this way, the course attempts to infuse a degree of cultural and historic awareness into an experience that starts, for many students, with a desire to get in shape.

READ MORE: 9 Places To Work Out For Free In L.A.

Ngyuen also experienced a broader understanding of yoga over her five years of practice and four years of teaching experience. She says that she practices yoga for physical benefits, but has discovered the emotional perks as well. "I have found that it's just made me a better person, more patient and accepting," Nguyen said, "Yoga has a way of shining a light on the things you need to work on, physically and on an interpersonal level."

In this way, it is possible to reap the mental and emotional benefits of yoga practice without necessarily delving into the specifics of the traditional philosophy. For the typical Western practitioner, the mental effects of yoga might involve feeling "relaxed," centered and stress-free after a class, as Tonezer said.

That's not to say that Westerners cannot benefit from a deeper study of traditional yoga. Nguyen completed two years at Loyola Marymount University's yoga therapy program, a "synthesis of the ageless wisdom from the East with the most recent knowledge in complementary health from the West." This East-meets-West approach is characteristic of the way yoga is often taught in the United States.

Nguyen has made an effort to study the yoga Sutras and found that she is able to apply many of the ancient lessons to her life today. "It has given my practice and the way I teach more depth and meaning," she said.


Today, yoga has a wide range from traditional to Westernized. We can reap benefits from each degree of practice, but some adherents of the most traditional yoga forms believe that stripping away the spiritual aspect of yoga leaves nothing more than another form of exercise, no more mentally stabilizing than tennis or biking.

Sarvatama Das, the Argentinian-born chef of the Good Karma Café, has been practicing bhakti yoga, which means "devotion," for 35 years. According to Das, yoga in its purest form "is meant to unite one's mind and one's consciousness to the God-consciousness" through various branches involving both physical and mental discipline.

"Bhakti yoga proposes that one chants mantras, vibrations that are meant to quiet the mind and make it our friend," Das said. "The mind is like a puppy, you have to force the puppy to obey through love, not just discipline. In this process you chant mantras; the most powerful mantras are usually names of God."

READ MORE: Balancing In Yoga Just Got Harder

In finding a hook with Western audiences, Das recognizes that the practice had to adapt. In the original sense of yoga, "you are expected to leave everything behind, to be an aesthetic and practice austerities and move to the forest," Das said. "They had to adapt it for the Western mind because we don't have time; no one's actually detached enough."

But in assessing the value of our modified, Westernized yoga, Das is skeptical of even those who make an attempt to incorporate bits of mental exercise into yoga classes. "It's valid in one sense, but not much more than playing squash or gymnastics," Das said. "You can see how flexible you can be or how quiet your mind can be when the real purpose is actually to develop love for God."

But we should pause before throwing out our yoga mats and moving to the forest; is it wrong to continue a practice for its more superficial benefits? Physical strength and a calm mind may not be the core aim of the traditional yoga practice, but this does not mean we cannot enjoy yoga for what it has become in a Western context.

After all, it was to our lifestyle that yoga adapted from its original form. Ultimately, yoga is not an all-or-nothing practice; we can each incorporate whichever aspects of the yogic tradition we choose. There is no harm in admitting, as Tonezer said, "to be honest, I just like [yoga] more for the movements, the stretching and feeling really good when you're done; you feel full of energy but also relaxed." As long as we remain aware that our yoga classes and studios are grounded in a deep cultural tradition, we in the West can share the joys of this Eastern practice.

Reach Staff Contributor Katya Lopatko here.