Arts+Culture
Kaya Press: A Welcome Change At The Festival Of Books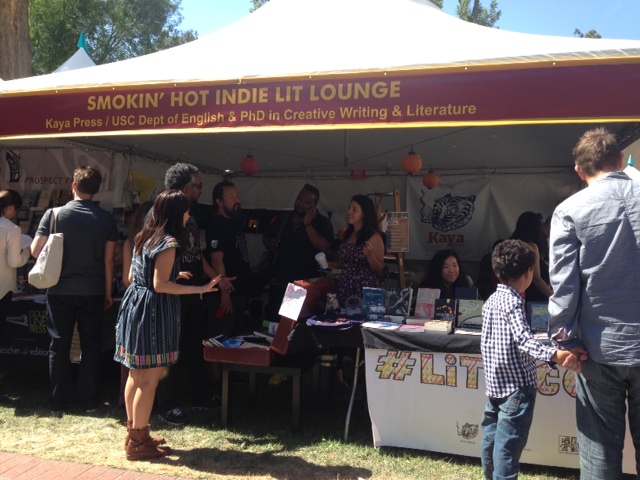 There's no doubt: last weekend's Festival of Books was bibliophile heaven.
Booths lined almost every available area of sidewalk space at USC, conversations and performances by great authors and bands ran around the clock, and food truck vendors boasted amazing assortments of cuisine to the hungry public weighed down by the books offered at every corner.
READ MORE: New Book Showcases The History Of L.A. Through Menu Archives
It's generally understood that budding authors need to embrace an entrepreneurial spirit and take advantage of this huge annual opportunity to peddle books. But walking down the rows and rows of booths, one couldn't quite shake the feeling that the essence of storytelling often took a backseat to sales and merchandising.
Kaya Press stood out in its commitment to the true nature of the festival and what thousands of people really flocked to USC to celebrate: creation.
READ MORE: Immigration Documentary Asks To Define 'American' At The Festival Of Books
Kaya Press is an Asian Diasporic publisher now entering its 21st year of existence in New York and their fourth here in L.A. They publish a range of literary works including fiction, creative nonfiction, poetry collections and film books concerning the experiences of members of the Asian Diasporic community.
Sunyoung Lee, a publisher at Kaya Press, says they really look to "push against what you'd expect" with pieces that are "cutting edge and experimental" in an effort to show the public great Diasporic works. They aim to "broaden the notion of what people think Asian Diasporic literature is or can be" with the unconventional literature they publish.
Easily one of the most inviting tents in the entire fair, the Kaya Press booth, shared with USC's English and Creative Writing and Literature department, invited guests into the world of publishing as both author and publishing body.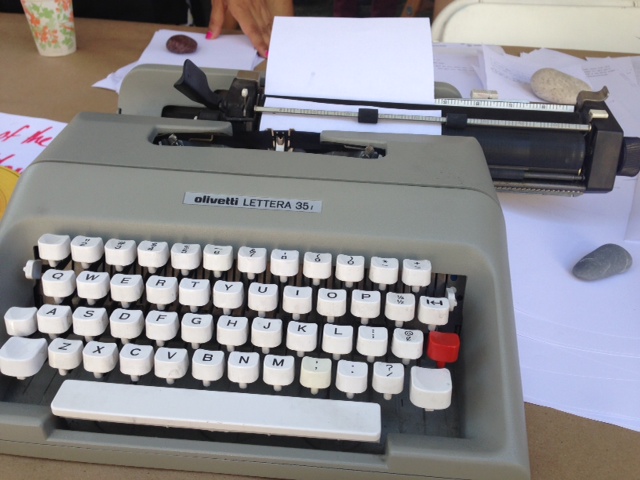 Given a randomized prompt and about three minutes to answer it, members of the public typed out responses on charmingly rustic typewriters. From there, they had the option to photocopy their work for public use and use any of the pieces of typed responses spread along the table to assemble a book. After selecting, binding and decorating the personalized book to their liking, participants posed proudly for a picture with their finished product as author, editor and visual designer of their very own work.
Tiffany, an undergraduate senior at USC, confirmed Kaya Press' commitment to exposing the creative process behind books we read.
"Because it's a small company, you get a lot of hands on experience as a student," Tiffany said. "You get to do pretty much a little bit of everything." In her time with Kaya, Tiffany has helped manage interns, worked on manuscripts, planned book launches and refined the industry skill of being able to talk knowledgably about books.
The booth wasn't just a booth, either; it was your living room. Complete with a comfy couch, patterned pillows and a wooden table topped with bright yellow flowers, the Kaya Press station ran that extra mile (even enlisting in the help of set designers from the Dramatic Arts school) to create an intimate space to lounge and enjoy the books displayed at one's leisure.
Lee is quick to emphasize that although they publish Asian Diasporic works, the publication is happy to work with all those eager to learn more about the publishing process and who share their passion for literature. They have an on-campus student group, Kaya Students for Independent Publishing, which meets once a week to foster that same commitment to literary excellence in its process and the close-knit feel evident in every inch of their cozy booth.
A standout at the festival, Kaya Press showed anyone fortunate enough to wander by that the publication is not just in the business of selling books.
They dole out experiences.
Contact Contributor Josephine Kihiu here.