Film and TV
Julia Louis-Dreyfus: A Career About Nothing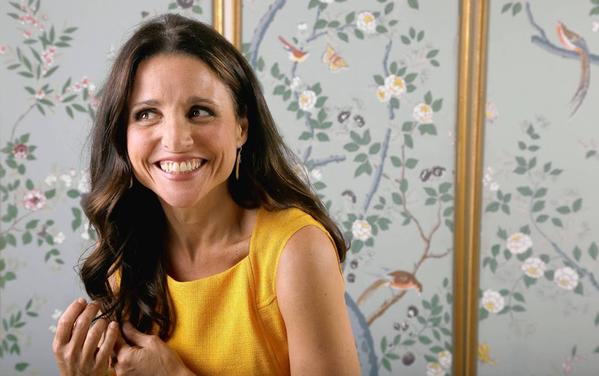 Elaine, Christine or Vice President Meyer. Whatever you call her, there is no denying that
Julia Louis-Dreyfus
has had an extremely successful career, and has managed to stay under the spotlight.
Louis-Dreyfus is consistently touted as one of the funniest actresses in comedy and her long career only speaks to those testaments. Not only has she been named as one of the most nominated actresses in the history of the Emmy Awards, she also has a star on the Hollywood Walk of Fame and was inducted into Television Academy Hall of Fame in 2014.
Born in New York City, she spent most of her childhood travelling due to her stepfather's work with Project HOPE that took the family all around the world. She would attend Northwestern University for college where she was a member of the Delta Gamma sorority and studied theater before she left her studies to pursue an acting career.
Her most recent role was also her most unique in the sense that it brought her off the small screen and onto the big screen in her first role as a lead actress in a feature-length film. She starred along the late James Gandolfini in the 2013 romantic comedy "Enough Said." The film sees Louis-Dreyfus' character Eva fall for Gandolfini's Albert, despite not initially being attracted to him. Eva's relationship becomes complicated when she befriends his ex-wife Marianne (Catherine Keener) and keeps the relationships secret from the former couple. The film received rave reviews from critics and Louis-Dreyfus even received a Golden Globe nomination for her role.
READ MORE: "5 Stars Who Should Make A Comeback In 2015"
The actress found success once again on a comedy, although this time it was not on network TV. In 2011, HBO announced that Louis-Dreyfus had been cast as the lead in a new show "Veep" which would have Louis-Dreyfus play the role of U.S. Vice President Selina Meyer. Her character often feels powerless as the second in command and she also keeps up a romantic relationship with her ex-husband. Louis-Dreyfus has won three Emmy awards for her performance on the show, making her the only woman to ever win three separate Emmy awards on three different comedy series.
Louis-Dreyfus became the first former female cast member to host "SNL" when she hosted an episode of the series in 2006. Her opening monologue saw her make fun of the curse along with fellow Seinfeld alumni Jerry Seinfeld and Jason Alexander. She was asked to come back as a host in 2007 after her successful first stint.
She made her comeback in a starring role in 2005 on the CBS sitcom "The New Adventures of Old Christine" where she starred as a single mother who tried to keep a solid relationship with her ex-husband and run a women's gym. The name "Old Christine" in the title refers to the fact that he ex-husband's new girlfriend is also named Christine. Christine is constantly dealing with raising her young son and dealing with her ex-husband while also balancing her other romantic flings. The show ran for five season and earned Louis-Dreyfus and Emmy for her role as Christine in the show's first season.
She started her training in comedy when she joined an improv group in Chicago, a group whose alumni include Alan Arkin, Steve Carell and Amy Poehler. Her early experience in comedy earned her an invitation to join Saturday Night Live in 1982, when she was only 21 years old, making her the youngest female cast member at that time. It was during her time on the sketch comedy show when she met Larry David, the co-creator of "Seinfeld." She told Digital Spy that her experience on the popular show made her feel like Cinderella getting to go to the ball. She basically went straight from school to a television star in a matter of months−quite the turnaround.
Louis-Dreyfus left "SNL" in 1985 and would go on to appear in a number of films like "Hannah and Her Sisters" and "National Lampoon's Christmas Vacation" along with "SNL" cast member Chevy Chase.
READ MORE: "TV's Best Catchphrases"
She had found success at a small scale up to this point in her career, but it was not until her role in "Seinfeld" when Louis-Dreyfus became a bonafide star. She starred along Jerry Seinfeld as Elaine Benes, Jerry's ex-girlfriend who is now just considered one of his good friends. She is known for being very assertive and sometimes getting herself in trouble due to stating her honest opinion. Elaine became known for her aggressive nature, especially when she received surprising news. Upon receiving such news, Elaine would shove the person away and exclaim "Get Out!" The character even has her own dance move. Elaine would sometimes break into her Little Kicks move which included two thumbs up and, naturally, little kicks. Louis-Dreyfus received numerous awards for her portrayal of Elaine, including an Emmy, a Golden Globe and five SAG awards. Louis-Dreyfus played the role of Elaine for all nine season of "Seinfeld."
Following the end of the successful sitcom, there was said to be a curse on the actors who appeared on the show. The curse claimed that none of the actors could find that kind of success again. Louis-Dreyfus experienced this curse after her stint on the sitcom "Watching Ellie." This was a show that was created by her husband Brad Hall and also starred Steve Carell. The show followed the daily life of jazz singer Ellie Riggs, played by Louis-Dreyfus, and received mixed reviews from critics, although it remained popular in terms of viewership throughout its first season. The show was cancelled after its second season, and thus Louis-Dreyfus had fallen victim to the curse.
She did not let the so-called curse keep her down. She appeared as a guest star in "Curb Your Enthusiasm" and played a recurring role in "Arrested Development." She also was interested in a role on "Desperate Housewives," but the role eventually went to Teri Hatcher.
It's safe to say that Louis-Dreyfus has one of the most impressive careers in all of television and there is no end in sight. She sure broke that curse.
Reach Staff Reporter Noah Camarena here and follow him on Twitter here.