Music
Pharrell's Top 7 Songs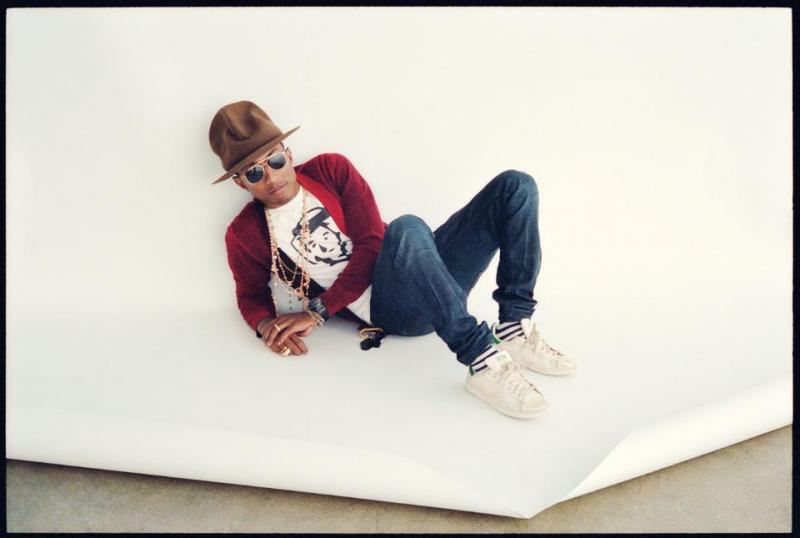 April 5 is here and guess whose birthday it is?
Here's a hint: Are you "Happy?"…He certainly is! It's Pharrell Williams!
Every time his songs play on the radio, all we want to do is drop everything and dance like there's no tomorrow. His great stage presence is compounded by his vibrant personality: he is currently a judge on "The Voice" and is funny, kind, and entertaining! Everything about him just exudes a cool factor.
So, in order to commemorate his 42nd birthday (seriously?!), it seemed appropriate to appreciate his musical background and of course his best songs (in no particular order).
Perhaps you've been a die-hard Pharrell fan since the beginning of his career, or maybe you jumped on board when you first heard "Blurred Lines." Either way, welcome.
SEE ALSO: Famous Celebrity Copyright Cases
Pharrell, born in Virginia Beach on April 5th, 1973, showed potential in music from a young age, joining his school's marching band. But it was the beginning of the 1990s when Pharrell and his friend Chad Hugo along with Shay Haley and Mike Etheridge formed a four-person R&B group called The Neptunes.
By working with Teddy Riley, the man who discovered them at a high school talent show, Pharrell gained experience in music production, and The Neptunes transformed into a production duo between Hugo and Pharrell. Over the years they made a name for themselves and produced songs for various artists, including Kelis, Britney Spears ("I'm a Slave 4 U"), Nelly ("Hot in Herre"), Daft Punk, Maroon 5, Gwen Stefani, Shakira, and Jay-Z.
In 2001, Hugo and Pharrell along with Shay Haley formed the rock, funk, and hip-hop band, N*E*R*D (No-One Ever Really Dies), hoping to create music with a unique sound. Pharrell was the band's lead drummer and vocalist. All the while The Neptunes kept dishing out our favorite hits.
And what about "Drop It Like It's Hot"? The song was produced by The Neptunes and featured Pharrell, and was a landmark victory, representing Pharrell's 1st number one single in the U.S. Fun fact: in 2009, Billboard named it "Rap Song of the Decade." Now that's success!
SEE ALSO: Most Anticipated Albums Of 2015
But most recently, he jumped on our radar with the soundtrack he composed for the film "Despicable Me 2," as well as his feature roles in those catchy Daft Punk songs, "Get Lucky" and "Lose Yourself to Dance." And we couldn't possibly forget about Robin Thicke's infamously popular song "Blurred Lines." It was both produced and written by none other than Pharrell - but at this point, that shouldn't come as a surprise. Now let's take a look at his most popular songs:
"Marilyn Monroe"
This funk/R&B/dance-pop song written by Pharrell is truly great, making you wish you could dance better just to do the song justice. The song starts with an orchestral string instruments piece and features spoken vocals from Kelly Osbourne. If you haven't heard it yet, what are you waiting for?
"Happy"
And let's not forget about "Happy," the upbeat soul song that etched itself into your being by playing on the radio every hour of every day all of last summer. The song was initially released on November 21st, 2013 and was featured on the "Despicable Me 2" soundtrack. It's no surprise that this feel-good song was Billboard's number one single for 2014 – it hit number one on Billboard in the U.S., U.K., Ireland, New Zealand, Canada, and 19 other countries.
By July 2014, it had sold over 12 million copies and became one of the best-selling singles of all time. The music video won a Grammy for the Best Music Video at the 57th Annual Grammy Awards. But that's enough of the facts – it's probably Pharrell's most famous and catchy song. If you haven't checked it out yet, have you been living under a rock? Just kidding. Enjoy.
"Drop It Like It's Hot," Snoop Dogg feat. Pharrell Williams
Pharrell proves his musical diversity in this legendary rap song.
"Blurred Lines," Robin Thicke feat. T.I. & Pharrell
Let's flashback to the 2013 summer anthem:
"Get Lucky," Daft Punk feat. Pharrell Williams & Nile Rodgers
Probably weighing in at one of Pharrell's best collaborations, this global hit has a trans-generational appeal that just makes everything better.
"Hypnotize U," *N*E*R*D
This 2010 song was produced by the Neptunes and Daft Punk. Like all his other music, the funky beat just makes you want to groove.
"You Know What," *N*E*R*D
This song written by Pharrell was released on N*E*R*D's third album, "Seeing Sounds." It's four and a half minutes of catchy lyrics laid over an interesting synthesis of sounds.
If you haven't heard any of these songs before, please don't worry, there's still hope for you. It's just about time to indulge in some Pharrell.
So, happy birthday Pharrell, and thanks for your songs that brighten our days! You've had a lot of success recently and we all hope that the Pharrellassaince continues. Oh, and on a final note, last but not least, let's not forget to appreciate his great hats and unforgettably bold style. Let's face it: he's just got that cool vibe.
Reach Staff Contributor Emily Deissler here.