MLB
MLB 2015: 5 Early Overreactions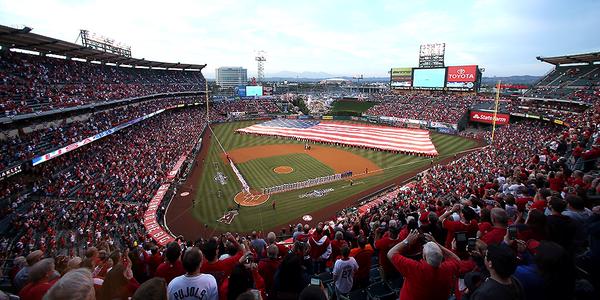 The Major League Baseball season is just over a week young, and it is probably much too early to start reading into trends and projecting results for the rest of the year. How early is it? Well, the San Francisco Giants were in the cellar of the NFC West Tuesday morning – that pretty much speaks for itself. That's not stopping anyone from actually making predictions, though, so here are five overreactions to baseball's opening week.
SEE MORE: Previewing The American League: Seattle's Time Is Now
1. A-Rod is back!
He's back, baby! After a humiliating year away from baseball, Alex Rodriguez has returned to the diamond, and he is raking. At least, by Yankee standards. Rodriguez has reinvented himself as a hitter, in a way. He seems to have accepted the realities of being a 39-year-old hitter and settled for an all-or-nothing approach at the plate. When batting, A-Rod looks like he's just sitting on pitches, accepting strikeouts as they come but making sure he takes advantage when he guesses right.
Rodriguez has made 14 outs so far this season (prior to Monday's game at Baltimore), and nine of them have been via strikeout. On the other hand, three of his six hits have been for extra bases, including his first dinger since 2013.
The year off may have actually done a lot of good for A-Rod, at least from a baseball perspective. Hitting .300 is probably unsustainable for someone with his wear and tear, but is it that hard to imagine a player of his talent returning to some level of productivity? In 2012, just three years ago, Rodriguez hit .272 and smacked 18 homers. Anywhere near that, and the Yankees will count their blessings.
2. The Yankees are definitely not back
They crushed the Red Sox on Sunday and scored 14 runs, but the Bronx Bombers have not looked good over their first handful of games. When an almost-40 year old baseball pariah with a shredded hip (see above) leads your team in average, hits, and extra base hits at any point in the season, your roster is most likely not in the best shape. Case in point:
The Yankees being bad is not really news to anyone, but considering how mediocre they have looked in every facet of the game, except maybe the bullpen, New York fans (unfortunately, myself included) should brace for another playoff-less season. Frankly, a full-blown rebuilding operation might even be necessary. Joe Girardi's roster is bloated with unproductive, expensive veteran contracts, and reinforcements coming from the farm system do not look promising. The Evil Empire has finally been toppled, and it appears that it will not rise again for some time.
READ MORE: Previewing The National League: Can The Dodgers Get Over The Hump?
3. Billy Hamilton > Rickey Henderson
This one is just simple math. Cincinnati Reds speedster Billy Hamilton has stolen seven bases in six games so far this year and has not been thrown out once. Hamilton played 152 games last year, so if he stays healthy, this puts him on course for about 177 stolen bases on the season, which handily eclipses Rickey Henderson's record 130-swipe season in 1982
Obviously, this is half in jest, but early on in 2015, Hamilton has seemingly made strides in his game. After working just 34 walks last year in 152 games, the center fielder is on pace to walk 101 times in 2015, and his on base percentage has jumped 60 points. Getting on base more consistently will correlate to more steal opportunities for the speedster.
Once again, this is a miniscule sample size – Adrian Gonzalez won't break the single season home run record just because he is technically on pace to at the moment – but things are a little different with Hamilton. A-Gone has never shown the capacity to hit over 70 bombs at any level (his professional career high is 40 in a year). Billy Hamilton, on the other hand, has stolen over 100 bases in three separate seasons in the minors, including his 155-steal 2012 campaign. We know he has the wheels. We just have to see if he can do it at the big league level.
4. No No-Nos?
The talk of the town early in the MLB calendar has focused on hitters, whether it's been Gonzalez's home run binge or Mookie Betts' one-man show in Boston. It's easy to forget, however, that we almost saw three no-hitters thrown less than a week into the new season. The Nationals' Max Scherzer had his no-hit bid foiled after 6 2/3 innings on Opening Day against the Mets, Oakland's Sonny Gray gave up his first base knock to lead off the eighth inning against Texas, and multiple Cleveland Indians pitchers combined to no-hit the Astros with two outs left in the ball game, only for this to happen:
We are basically living in a new dead ball era, and no-hitters have been on the rise over the years. 21 teams were held hitless over an entire game from 2000 to 2010. Since the 2011 season, in less than half the time, we have seen another 18 no-hitters. With such a wealth of phenomenal pitchers currently in the league, don't be surprised to see a good number of hurlers make history this year.
READ MORE: 2015 MLB Season: 5 Storylines To Follow
5. Flopping Fish
The Miami Marlins were a trendy preseason pick for World Series dark horse, but after a 1-6 start, people are diving headfirst off the bandwagon. For a team like Miami, everything must go right in a season if they are to live up to their contender status – that's what makes them a dark horse instead of one of the favorites.
Unfortunately, three Fish have just hit the DL, and the pitching staff has really struggled early on (the Marlins are currently second-to-last in team ERA at a disappointing 5.73). The bats will surely wake up soon, with the amount of talent stocked in the lineup, but only time will tell if the summer return of phenom José Fernandez will be enough to shore up the rotation (check out the link above if you want to see what there is to like about this Miami team).
Reach Staff Writer Oliver Jung here.