Entertainment News
Celebrities Who Ran Into Trouble At A Young Age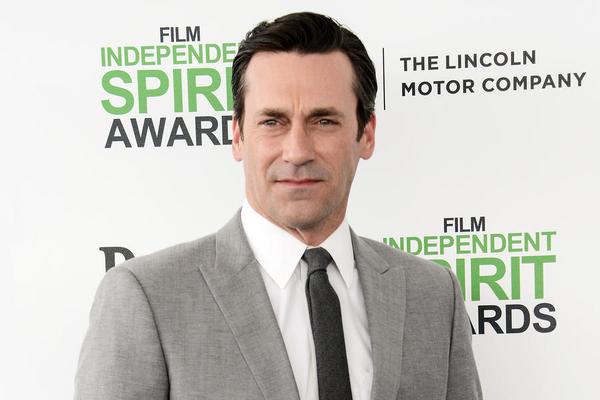 It was recently brought to light that "Mad Men" star
Jon Hamm
was involved with a violent hazing incident during his college days. This event led to the dismissal of the Sigma Nu chapter at the University of Texas back in 1990.
This event happened before Hamm was a famous television star, but the allegations against him were serious. The allegations described Hamm as hazing a pledge of the fraternity after the aforementioned pledge failed to recite certain things about the fraternity that he was supposed to memorize. This led to the pledge being struck with a paddle, his jeans set on fire and his face shoved in the dirt. Despite all of these allegations, Hamm only received deferred adjudication, which meant he only had to complete probation and he was never convicted. These documents were first uncovered by Star Magazine.
While Hamm obviously has a dark past that is highlighted by this violent hazing incident, he is not the only celebrity to have gotten himself in trouble during the wonder years that are college or at a young age. Here is a look at some other celebrities who made some poor decisions during their younger years.
Ryan Gosling
Gosling was a troublemaker from a very young age. While he wasn't quite hazing anyone while he was in elementary school, he was kicked out of school when he was a child. Gosling's problem might just have been that he was ready to grow up and did not particularly enjoy being a kid. Gosling took to some extreme measures to deal with his frustrations with other children. When he was in elementary school, Gosling would take steak knives to school and throw them at other children to deal with his frustrations. This act led to Gosling's immediate suspension and he was later placed into a special needs class after he was diagnosed with ADHD. This diagnosis did not do all that good however as he continued to struggle in school and interacting with his fellow classmates. This led to Gosling being taken out of school and being home schooled by his mother.
READ MORE: 10 Of The Dumbest Celebrity Arrests
Lily Allen
Allen also struggled with staying out of troubled at a young age. She was once expelled from high school for hanging out with the wrong crowd and doing things that she has admitted she should not have been doing. Allen was caught doing this things out on the playground during recess. Among the classic narrative of smoking in the girls' room, Allen also revealed that she used to drink with the boys when she was young and even said she used to give blow jobs, presumeably on the playground. This collection of reckless activities eventually led to Allen's expulsion and probably explains her persona now as a celebrity.
Tim Allen
This case, aside from Hamm's, is probably the most extreme of those on the list. In 1978, when Allen was only 25 years old and long before he was the voice of everyone's favorite space ranger he was arrested in Michigan for drug trafficking. Allen was arrested in the Kalamazoo/Battle Creek International Airport after he was found possessing nearly a pound and a half of cocaine. Allen did plead guilty to the charges of drug trafficking and in order to avoid a life sentence, he revealed the names of other dealers. With this cooperation, Allen only ended up serving two years and four months for his crime.
Allen blamed his tough past as a drug dealer on the loss of his father at a young age. Allen's father died when he was only 11 years old and that loss stuck with him throughout his adolescence. Allen became well known as a drug dealer when he attended college and he was so well known that an undercover officer set up a sting to catch the future comedian. Allen's arrest is in the distant past now, but I think most can agree that he should bring back the mustache.
Willem Dafoe
Dafoe's case might be the most peculiar of those listed here. Dafoe was not violent or involved with drugs when he got expelled. Dafoe was expelled from his high school when he made a pornographic film.Dafoe revealed that he was not really interested in girls until he turned 14, but once that interest was sparked, that is all he was interested in, so much so that he decided to make a pornographic movie.
Even though the actor was admittedly obsessed with the opposite sex, he only had one girlfriend from 15 to 17 years old. This one girlfriend did get to experience a lot with Dafoe though because his parents were extremely lenient with what he did sexually. Growing up, Dafoe's family had a television room that was understood to be the place where nothing was off limits and you could have unlimited privacy. As a young boy, Dafoe was very pleased with the way his parents thought.
READ MORE: Miss America Expelled From Sorority For Abusive Hazing
Kira Kazantsev
While hazing in college is most commonly associated with fraternities or the marching band, Kazantsev, who is best known for being crowned as Miss America, was reportedly kicked out of her sorority at Hofstra University for abusive hazing. The beauty pageant winner served as the Recruitment Committee President for Alpha Phi and she was said to be very harsh when dealing with the new members of the sorority. Kazantsev was said to ridicule the new members by calling them names, pointing out any flaws and forcing them to exert themselves to the point of exhaustion. Some have said that Kazantsev might have acted this way as a way to take out her anger after she was hazed upon her entry to Alpha Phi.
Kazantsev has denied the allegations regarding her involvement with hazing, but with news regarding Hamm being revealed, it brings up the question of what really goes on during pledging and how many other celebrity figures have gone through hazing experiences.
Reach Staff Reporter Noah Camarena here and follow him on Twitter here.