Technology
BloomNation Puts Local Florists On The Web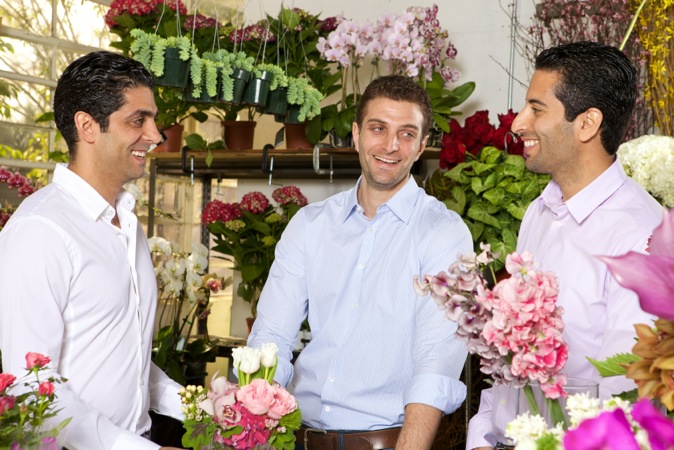 Just one step under the blue awning and through the door of Playa Del Rey Florist, flowers in their beautiful and brilliant hues burst from vases. The sweet smell escapes from the refrigerator doors. Buying flowers in a flower shop is a multi-sensory experience. And sadly, very few people actually get that experience.
Like in all sorts of retail, consumers are going online. Customers won't get the smell of lilies or the prick of rose thorns over the Internet, but one startup is trying to make the online flower buying experience more than just a catalog of stock photos on 1-800-Flowers or Teleflora.
BloomNation is a Los Angeles-based startup that calls itself the "Etsy for florists." The company is an online marketplace that allows shoppers to purchase a local florist's original creations directly.
"It's less of a cookie cutter kind of thing," Playa Del Rey Florist owner and BloomNation florist Lance Williams said. "It's not something that someone else put together and said this many stems of this and this many stems of that. People get to see our work."
READ MORE: "Fun Blooms At Original L.A. Flower Market"
Not only do they customers get to choose from unique, local arrangements, but they see it in high resolution photos on the BloomNation site posted by the florist. Also, BloomNation will send the customer a BloomSnap, or picture message of their completed order, before it's delivered. Unlike BloomNation's online competitors, there are no stock photos on the site and the company does not tell the florist what the arrangement should look like.
"Some florists are disenchanted by the old model of someone else collecting the order and the florist having to complete it," said Chris Drummond, the owner of Plaza Flowers and a BloomNation florist.
Drummond was also the first chairman of the Society of American Florists' technology task force. He explained that florists like the ability to showcase their creativity and BloomNation only takes 10 percent commission, as opposed to the 20 percent that companies like 1-800-Flowers takes.
That difference in commission could make a huge difference in how much profit a florist can keep, and that's especially important in the struggling floral industry. According to IBISWorld, the floral industry was hit hard by the recession and revenue fell 1.2% per year on average from 2010 to 2015. Local florists are bouncing back, but the Bureau of Labor Statistics projects that the industry will lose about 5,000 jobs by 2022.
BloomNation founders Farbod Shoraka, Gregg Weisstein, and David Daneshgar weren't put off the projections though.
"People thought we were crazy for getting into a 'dying business.' But we don't see it like that," Weisstein said. "People love sending flowers and receiving gifts, so it was like what's wrong with the industry and how can we help fix it."
READ MORE: "Young L.A. Entreprenuers Navigate The Highs and Lows of Startups"
Thanks to some poker winnings and a summer spent talking to 100 flower shops, these L.A. natives launched BloomNation in 2012.
"It's probably one of the top flower markets in the whole United States," Weisstein said. "The L.A. market is on the cutting-edge of trends and we get great flowers imported and grown."
Since then, their company has grown to work with 3,000 local florists that deliver across the nation and they've raised some $7.2 million from the same investors who supported Airbnb, Facebook, and Twitter. BloomNation plans to use the new $5.55 million they raised last year to hire more people to improve the technology, launch an app and facilitate more wedding and event orders.
In the midst of all this business growth, Weisstein says he's most proud of the everyday impact that BloomNation has on small businesses.
"We have countless examples of florists that were literally about to shut their doors, but then they joined BloomNation and now they're thriving and growing and hiring," Weisstein said. "To see that kind of local impact on small businesses and how we've increased their business and how we've helped create jobs in the local community has been super rewarding."
READ MORE: "Bigger Business Is Not Always Better"
That local impact can be felt even in Los Angeles. Williams said BloomNation has almost doubled his online sales.
"Online is sometimes easier because there's a set menu to choose from," Williams said. "Some people prefer to see it on their computer and work at their own pace. The Internet really brings it home."
While online ordering will never replace the experience of walking into a flower shop, Drummond says it'll only continue to grow. He estimates that only 18 percent of his customers walk through his family-owned store. However, a big corporate company likely won't be taking over the industry any time soon because flower selling is such an intimate business. BloomNation's mission is to keep that intimacy alive, even online.
"Whether its Teleflora or BloomNation, they are successful only because of these family businesses that put sweat equity into it. Owners are in these store 60 to 80 hours per week," Drummond said. "We're helping people celebrate some of the most wonderful occasions of their life."
Contact Web Producer Meghan Coyle here.