Sports
Why Kentucky Won't Win The National Championship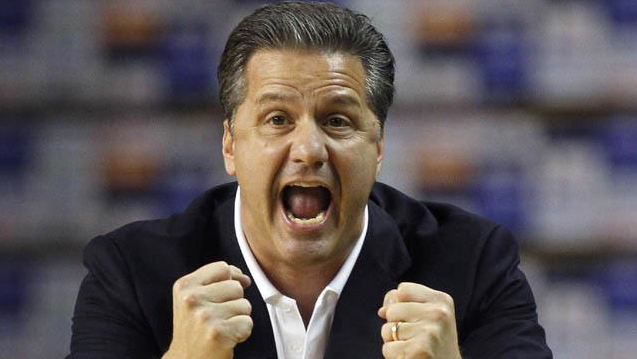 Kentucky is the most talented team to come around in college basketball in a long time. They have two guys potentially going on the top-10 in Karl Anthony-Towns and Willie Cauley-Stein. They have two more guys likely to go in the late first in Devin Booker and Trey Lyles. Dakari Johnson and the Harrison twins also have a chance of getting drafted. On top of all of the talent, they have one of the best coaches in John Calipari.
They have everything you could possibly ask for or want in a college basketball team: size, length, athleticism, offensive polish, shooters, so on and so forth. But they will not win the national championship.
There are several reasons why they could lose. First, it is March after all. Anything can happen in the NCAA Tournament and because it only takes one game, any of the remaining teams could beat Kentucky. Some with more luck than others, but it is possible.
Secondly, there are a lot of really good teams remaining, and a lot of them match up well against Kentucky. Starting with West Virginia, the Mountaineers use a full court press the most of any team in the country, and force the seventh-most turnovers of any team. Considering Andrew Harrison has been very turnover prone throughout his career, this could cause some serious problems for Kentucky. This could also lead to the athletes of Kentucky getting out in transition, but West Virginia will force turnovers, it just depends on how well they capitalize on those turnovers.
In the Elite Eight, the Wildcats will face either Notre Dame or Wichita State. Notre Dame has outstanding guard play in Demetrius Jackson and All-American Jerian Grant. They have shooters all over the floor and already proved they can force a team much bigger than them to play their style, as they spread out North Carolina, and picked them apart with their speed and shooting. The Wichita State Shockers have veteran leadership in Fred VanVleet and Ron Baker, and athleticism on their front line. Plus, they are looking for some redemption after it was Kentucky who ended their perfect season just last year.
If Kentucky makes it to the Final Four, they will most likely have to play either Wisconsin or Arizona. The Badgers have shooters at every position, most importantly their center in Frank Kaminsky. This shooting ability, combined with their swing offense that often times reverses the offense and has guards in the post, can suck the Kentucky shot blockers to the outside, and open up the lane. Wisconsin has everything it takes to beat Kentucky. Arizona is arguably the most complete team in the nation. They have the size to match up with Kentucky, athleticism on the wings, defensive stoppers at every position, shooters and a veteran point guard in T.J. McConnell.
If Kentucky makes it to the championship game there is obviously several teams they could play, but all of those teams have places they could attack Kentucky. Duke has Jahlil Okafor, an outstanding backcourt, and the unstoppable Justise Winslow on the wing. Utah plays great defense and shoots threes very well. Gonzaga has arguably the best offense in the country, size to match with Kentucky, and Kyle Wiltjer, the former Wildcat, will be looking to beat his old team. Louisville plays an unconventional style and a defense that could make it tough on the Harrison twins for Kentucky. N.C. State has three outstanding guards that could go at Kentucky's weakest point on defense, the perimeter.
The point is, even though Kentucky has been dominant this year, college basketball still has a plethora of parity. There are tons of teams every year that have legitimate shots to win championships. Plus, even though Kentucky seems to have talent and athleticism at every position, there are several ways to beat them.
The ways to beat Kentucky are to shoot the three very well, take their bigs out of the game defensively, whether that means foul trouble or sucking them out of the paint, making the Harrison twins try to beat you,and/or dictate the game to your style of play, not theirs.
You don't have to do all of these things to beat Kentucky, but you probably have to do at least two. It is tough to bet against Kentucky this year. They will and deserve to be favored in every single game they play the rest of the season. But they do have weaknesses, and there are 15 other very good basketball teams remaining to try and exploit them.
Reach Staff Reporter Jackson Safon here.