Sports
Why Kentucky Will Win The National Championship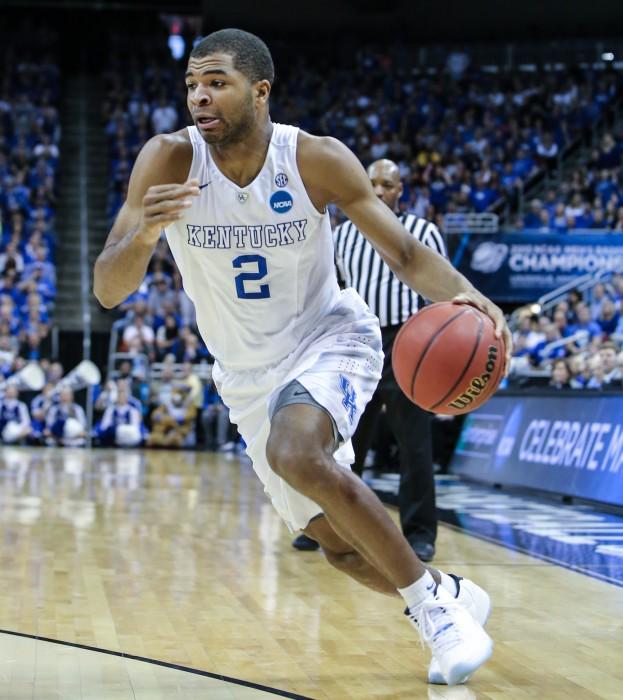 Coming into March Madness, it was Kentucky's tournament to lose. Six wins and they would become the first undefeated champions since Indiana in 1976. At 36-0—the most wins in college basketball history in a season—they are just four games away from cementing their place in college basketball history.
With all of this at stake, their opponents are more than jumping at the chance to be able to say that they beat the team that nobody else could. One could argue this adds a bit of pressure to the opposing teams because not only do they have to win, they have to beat the team that more than 50-percent of the nation favors.
Some of the key aspects of the Wildcats that have brought them unprecedented success this season include their well-rounded offense, dominating defense and resiliency to pull out the win at all costs.
Something that's a bit unique to Kentucky is their all-around offense and slight lack of a standout, dominant star. While some could see this as a disadvantage, it just means that every man on the court from Kentucky will find away to attack on the offense. By moving the ball around, it keeps other teams continually on their feet. They've had a great offense all season, and it's only been on an upward spike in the tournament.
One of the best testaments to the Wildcats' defense was their 64-51 win against No. 8 Cincinnati in the Round of 32. Even while the Bearcats threw different looks and strategies their way, the Wildcats did not let up. By matching their intensity, Kentucky's defense took control of the game and kept Cincinnati from gaining any formidable momentum in the second half (the Bearcats only shot for 24 percent in the second). Even when their own offense is not working (they shot only 37 percent), their defense keeps them in the game—further proving that defense wins games.
West Virginia will no doubt be a tough game for the Wildcats. Their full-court press relentlessly beats down on teams until they're left gasping for air with a loss on the scoreboard. Needless to say, they will keep Kentucky on their feet and force them to be effective with the ball. Even with the effectiveness of West Virginia's press, if Kentucky figures out how to break it, there will be little hope left for a Mountaineers' victory. So just as with Cincinnati, the Wildcats will be able to match and counter the Mountaineers' game plan and finish out on top.
As the Wildcats progress deeper into the tournament, each team presents different challenges to their pursuit of perfection. Notre Dame—a likely matchup in the Elite 8—will pressure the Wildcats by sinking shots all across the court. Their thrilling overtime win over Butler revealed the heart that the team plays with. For a team that sprung back to life after dropping 17 games last season (31-5 this year), they have the most resiliency to rival Kentucky's own. If it's Wichita State, they'll be motivated by a burning vengeance that was sparked when Kentucky put an end to their perfect season in last year's tournament.
In the Final Four, their likely opponent is Wisconsin, who Kentucky sent packing in last year's tournament as well. If it were Arizona, Wildcats versus Wildcats would be more than intense. One of Kentucky's most athletic opponents will force them to focus and emphasize their strengths. If they can just play their game, they'll send the other Wildcats back to the West Coast.
39 down, one to go. Even though there are plenty of teams the Wildcats could face, there aren't many that would be able to resist watching Calipari's Wildcats take on Krzyzewski's Blue Devils. Lead by freshman big man Jahlil Okafor—who just came off an impressive game against San Diego State—Duke will be a huge test for Kentucky, but just as they have done to 39 other teams, Kentucky buckle down on the hardwood and get the job done.
Read More: Why Kentucky WON'T Win The Championship
For the Wildcats, when it comes down to it, they will find a way to out play their opponents. There's no doubt that the remainder of the games in the tournament will be close and physical. Their streak of six straight double-digit wins probably won't make it past the Sweet 16, but again, that's a testament to the level of talent in this year's remaining teams. Yet even with the boundless talent present, no team will be able to get the best of the Wildcats.
When it comes to a team being able to beat Kentucky, they will need to produce their best performance of season on top of needing Kentucky—the best team in college basketball right now—to have their worst performance of the season. To have both of those occur on one night is not impossible, it just isn't going to happen. Kentucky just has too many factors in their favor. This March Madness the Wildcats are dancing all the way to victory.