USC Sports
USC Tops TCU In Dramatic Extra-Inning Thriller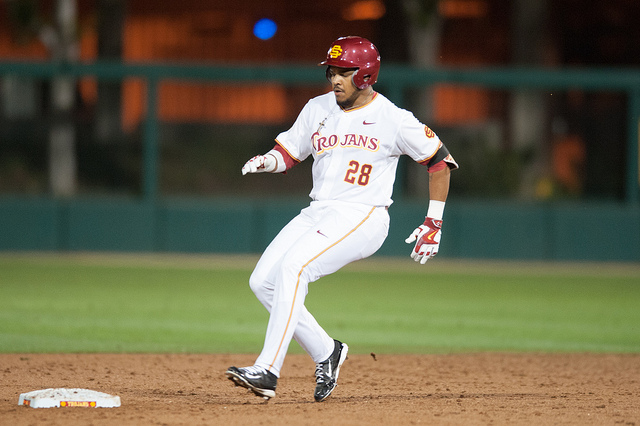 If you don't know, now you know.
After a mid-week loss away from home, the USC Trojans (13-1) won a dramatic extra-inning contest against the highly-ranked TCU Horned Frogs (8-2), escaping 7-6 in twelve innings and leaving no doubt that they are for real.
"This was a good step in the right direction to beat a really good team," USC head coach Dan Hubbs said.
An unpredictable game came own to a controversial play at the plate in the final inning.
With runners on first and third, Trojan 3B Blake Lacey laid down a perfect bunt - Hubbs called it a "pearl" - down the first-base line. TCU closer Trey Teakell slid to the ball and throw it home to catcher Evan Skoug.
The runner on third, Timmy Robinson, trucked Skoug just before the ball got home, beating the throw and winning the game for the underdog Trojans.
"Timmy didn't try to barrel him over," Hubbs claimed. "I know it wasn't an intentional thing."
"Collisions happen I guess," Robinson joked. "That brought me back to my football days."
The TCU coaches immediately argued that the play as obstruction on Robinson, but it was to no avail.
#USC is walking off on Dedeaux! @USC_Baseball upsets No. 2 @TCU_Baseball, 7-6, on this Lacey sacrifice squeeze! pic.twitter.com/2sx7dyh6Zy

— ATVN Sports (@ATVNsports) March 7, 2015
SEE MORE: Sports SCene: Episode 6
USC's 12th-inning rally started with singles from Robinson, a delayed steal by the centerfielder and then an infield single by second baseman Angelo Armenta.
As amazing a game as it was for the Trojan faithful who stayed, they would have sure taken a shorter result, which was very achievable.
USC took a 6-2 lead into the top of the ninth before sure-thing closer Kyle Davis blew the lead.
The Horned Frogs launched their amazing comeback quickly, hitting five singles in a row and taking advantage of the Trojans' defensive errors.
Davis looked erratic in the ninth, throwing lots of balls low. The pitches that weren't low were hittable and the usually reliable closer got tagged for four earned runs.
"I looked like he was trying to strike everyone out, instead of get them out," Hubbs said.
Catcher Garrett Stubbs had a huge mental blunder in the top of the ninth. After a fourth-ball call to Austen Wade, the catcher threw down to second anyway to catch a freely-advancing Cody Jones. The throw went over the target's head and allowed Jones to take third.
He would score the tying run on the subsequent double play.
Davis settled down however, putting up zeroes in the next three innings. His 4 1/3 inning, six-strikeout performance in relief actually ended up earning him the win.
His teammates and coaches never lost faith in him.
"Whenever Kyle comes in, I know for a fact he's gonna get the job done," Ramirez said. "We ended up winning, so he did the job for us."
Hubbs concluded, "But I'm proud of the way he battled back, like the team."
SEE MORE: USC Sweeps Fordham In Dominant Fashion
USC starting pitcher Brent Wheatley's night ended in the top of the seventh. He struck out five over 6 2/3 innings and didn't surrender an earned run. The starter didn't have his top stuff, but never gave up the big hit.
"He was really flying open at times, but he battled," Dan Hubbs said. "It looked like he was trying to throw too hard, like he was trying to match [TCU starter Mitchell] Traver pitch-for-pitch…Just embrace who you are, make your pitches and everything will be fine."
Traver dumbfounded many Trojans with a dominant mid-90s heater and some wild slow stuff - he struck out seven Trojans, four of them looking.
Still, USC tagged him in the bottom of the fourth with back-to-back hits from Flores and Lacey. The latter hit was fumbled by LF Dane Steinhagen and Flores sped home on the error.
The Horned Frogs answered right back in the top of the fifth. TCU took advantage of a dropped fly ball by Timmy Robinson - his 2nd error of the year and Keaton Jones knocked home Nolan Brown in the next at-bat.
The Trojans went ahead in a wild sixth inning. With two outs and lefty batter David Oppenheim up, TCU elected to go the bullpen and bring in a lefty of its own, freshman Ryan Burnett.
USC tattered the rookie right away. Oppenheim found space between short and third and drove in two runs.
A.J. Ramirez followed that up by launching a home run over the left-field fence to extend the Trojan lead to four.
SEE MORE: Reggie Southall's Timely Blast Keeps USC Undefeated
The atmosphere at Dedeaux Field was, in a word, wild. A massive TCU contingent showed up to support the team over the weekend in Los Angeles and was easily the louder of factions. The two fan bases got into a howling and chanting match during the heated seventh inning.
The win is a huge relief for the Trojans, who avoided losing back-to-back games for the first time this season. Many on the team believe this game was even more important than that.
"We have confidence in our team to play with anyone in the nation and we proved it today," Robinson preached.
"It sends a message to the rest of the country that we can play here," Ramirez said. "We've beat those other schools that no one gives us credit for, so it's nice to get a good win against a top team in the nation."
USC will play its second game of the Dodgertown Classic against Vanderbilt tomorrow at 2pm at Dedeaux Field. TCU will travel to Westwood to take on UCLA.
Reach Sports Director Jeremy Bergman here. Follow him on Twitetr @JABergman.