USC Sports
USC Shocks ASU, Pac-12 With Unbelievable Comeback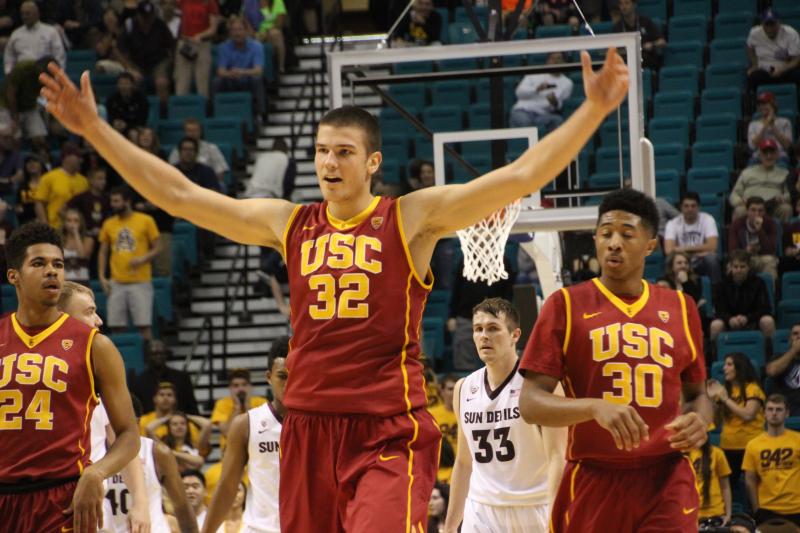 Before we start waxing poetic on 12th-ranked USC's unbelievable comeback 67-64 win against fifth-ranked Arizona State Wednesday afternoon in Vegas, let's take a look back.
The Trojans had been here before, many times this season.
Down by double-digits. Teasing the fan base with a late comeback. Never closing games out.
There was a running joke in some circles that "USC" actually stood for University of Sucking at Closing.
The Trojans' Pac-12 Conference Tournament opener in Las Vegas was going in that direction.
And then something happened, something unexpected and unfounded.
SEE MORE: USC Baseball Defies Expectations, But Remains Undaunted
Elijah Stewart got hot. The Trojans made successive defensive stops. Arizona State's offense imploded. All at once.
Then, Nikola Jovanovic showed up, in a big way.
The Serbian's block of ASU's Shaquielle McKissic's shot with less than five seconds left in the second half capped off a monumental 21-4 run for USC in the game's final nine minutes.
"I just moved to the ball and challenged the shot," Jovanovic explained. "It was a big time block and I really saved my team."
Jovanovic was having his worst game of the year until USC's late turn-around. He finished with seven points on just 1-of-4 shooting, and his only FG didn't come until the last three minutes of the game.
"Nikola's one of our better players and he struggled in the first half," USC head coach Andy Enfield explained. "We told him at halftime to play like the Nikola we've seen all season, the consistent performer who puts up 12 and 6."
"I had a nightmare night," Jovanovic admitted. "It doesn't need to go my way all the time, but on defense, I can influence the game.
"That's what I did and tried to make the best of it."
His stats may have not been there, but there's no denying the impact he had on the Trojans' final push.
SEE MORE: Sports SCene: Episode 6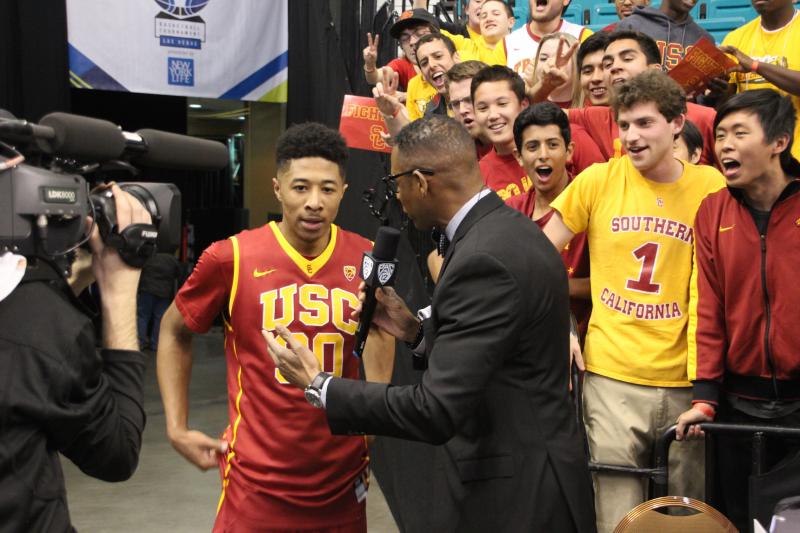 While Jovanovic showed up late, it was Stewart who carried USC throughout the game.
The freshman scored a career-high 27 points and was 6-of-9 from behind the arc. At points, it seemed like he was the only Trojans who had showed up mentally to play. Without him, the team would have never caught the momentum it did.
"I've just been putting in the preparation for this game," Stewart elaborated. "Getting the shots, working on dribble moves, coming off screens and stuff like that, and it showed in the game."
"He helped us a lot to win this game," Jovanovic praised. "He was the only guy who was consistent throughout the whole game."
Still, Stewart's and USC's hot streak didn't really get going until the second half. The Trojans ended the first half, which included a dominant ASU 22-5 run - in a funk and needed inspiration.
"Coach made a point at halftime that the season as at stake," guard and team captain Julian Jacobs said. "We didn't really want to go out losing to a team that we felt we should have beaten in the past and that was a winnable game."
Enfield said that in the second half, USC switched to a zone defense that helped stall the Sun Devils.
"We really paid attention to our assignments toward the second half," forward Katin Reinhardt explained. "We were playing defense, but we weren't really locking in and seizing the moment. We were confident we were going to come down and score on the offensive end; we just had to put it together and get stops."
It was shocking for many who cover USC all season long that the Trojans actually pulled this off.
We've lost so many games down the stretch, seven in total in the Pac-12 season," Enfield noted after the win.
"But we've never defined who we are by our close losses. We saw it everyday in practices. We were getting better and better and better.
SEE MORE: USC Falls To UCLA In Regular Season Finale
The Trojans will play their crosstown rivals, UCLA, tomorrow at 2:30 PST. USC recently lost badly to the Bruins in Westwood, but the players are already getting hyped for the matchup.
"We couldn't have a better opponent for the quarterfinals, that's fr sure," Jovanovic assured the media after the game.
Forward Malik Marquetti tweeted out shortly after the game, "Another shot at FUCLA."
It goes without saying, but we suggest you get your popcorn ready. If Wednesday taught us anything, it's that these Trojans are unpredictable.
Reach Sporst Director Jeremy Bergman here. Follow him on Twitter @JABergman.