USC Sports
USC Baseball Defies Expectations But Remains Undaunted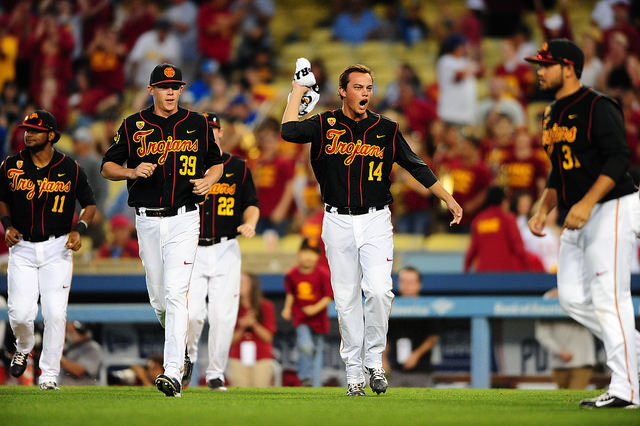 There's no stage too big for these Trojans.
After two heart-pounding walk-off wins at home against top-ranked TCU and Vanderbilt, that so much was evident.
Though it wasn't until USC's 8-4 thrashing of #6 UCLA that it was definitive that the Trojans could be taken seriously as a national force again.
In front of a full lower Dodger Stadium bowl (14,688 Angelenos to be exact) versus one of the top ten teams in the nation, who just so happens to be the favored crosstown rival, USC was the more confident bunch.
Take the first two pitches USC faced Sunday as an example of the Trojans' bravado.
Bobby Stahel led off with a triple to right-center. Garrett Stubbs followed that effort with a suicide squeeze, not too different from the winner from Friday night. While the gutsy call didn't pay off early - Stahel was tagged out easily at home - it set the tone for the game.
USC wasn't afraid. The Trojans would take risks because they knew they were the better team.
They were caught stealing twice, but successfully stole thrice. Hubbs kept Mitch Hart in after a three-run third inning and the freshman nearly threw blanks from there forward. To say this team is resilient would be a gross understatement.
"We don't fear anybody and we're capable of beating anybody," Hubbs boasted after the game. "We've survived a few punches and haven't gotten knocked out."
SEE MORE: Trojans Take Down UCLA, Complete Fairytale Weekend
Still, in terms of tangibles, what has brought upon the Trojans's startling success isn't so clear.
After all, USC doesn't hit for power - though Dedeaux's shorter fences have helped - the pitchers don't throw gas (Hubbs says they never "have their best stuff") and, until this weekend, the Trojans hadn't really beaten any team worth writing home, or Tweeting nationally, about.
Hubbs's squad may be the only thing at USC that isn't flashy.
The conservative approach of years past at Dedeaux has dissipated and given way to an aggressive, calculated gameplay. The Trojans have patience on the mound, instinct at the plate and timing on the base paths.
It's a near perfect confluence of characteristics. If Tommy Trojan were eligible to be drafted, MLB scouts would consider him a "five-tool player".
The concern after this weekend is have the Trojans peaked too early? Is their ceiling too low?
USC got off to a similar hot start last season - albeit without three wins against Top 10 teams - and crashed and burned in the competitive Pac-12 before rebounding towards the end of the season.
The veterans on the team have selective amnesia about last season, saying it's thriving this hot start.
"I'm one year older," Dante Flores said. "This team is one year older and we worked really hard to get better in the offseason."
"I tell the team, 'You don't know what game it's gonna be that keeps you out," Hubbs offered. "So don't let it be today, and find a way to keep fighting.'"
SEE MORE: USC Walks Off Again, Takes Down Top-Ranked Vanderbilt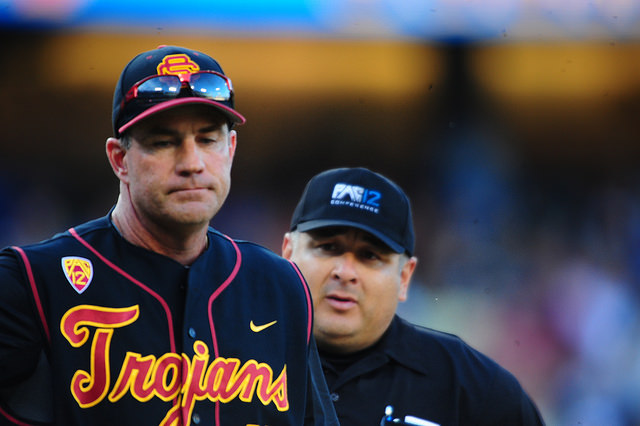 It does feel different, special this year, but that's because we're living in the thick of the spring optimism. As the temperatures rise, so will the expectations.
Hubbs isn't worried.
"Instead of the rankings, I'm gonna worry about how can we win this game," he said. "Not that we're on a streak, but can we win today? That's gonna be our focus all year long."
Though the skipper won't admit it, it may be nice to finally have some type of expectation around Dedeaux Field. For the longest time, the baseball team has been one of USC's second-tier sports, way behind football and even basketball in general popularity.
But the past few nights on the campus have seen rowdy crowds, for home team and away. A concentrated half of Dodger Stadium wore cardinal and gold - and they stayed past the seventh inning, a Angeleno first! The Song Girls, the band and even USC's unbalanced-browed Tommy Trojan mascot came out to support the team (sent as athletic department emissaries, but it's the thought that counts).
The Trojan family is supporting this team like it would Steve Sarkisian's squad on Saturdays. If that's not the first sign that this program is back to relevance, or even excellence, then what is?
"To play in that type of atmosphere, it's a lot easier," Stubbs admitted. "To keep having that support for the rest of the year will be really fun on the field."
SEE MORE: USC Tops TCU In Dramatic Extra-Inning Thriller
There's no question this weekend was fun for Troy, but there's a long road towards Omaha that cuts right through the thickets of Pac-12 competition.
Good news is the Trojans aren't daunted; they're encouraged.
"We trust each other a lot," Stubbs said. "There's not a person in this lineup that when we're on the bench, we think they won't get it done."
"We're a resilient group, we're a relentless group," Hubbs professed. "The kids put their minds to wanting to be the best team on the field every day they play, and they've been able to accomplish that over and over and over."
Save for one close loss, the Trojans have been the best team on the field, and come Monday, the rankings will show that.
For now though, this USC team, led by the stone-faced Hubbs and his determined veterans, is staying level-headed and down to earth. Though they may feel on the top of the world, and surely on top at Chavez Ravine, the Trojans know they haven't reached the mountaintop just yet.
In fact, they've just started climbing.
Reach Sports Director Jeremy Bergman here. Follow him on Twitter @JABergman.