USC Sports
USC Runs Out Of Luck In Loss To UCLA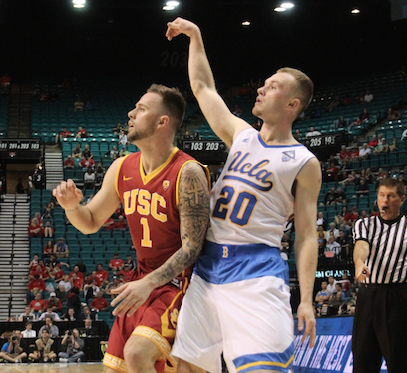 It's fitting that, in Vegas, USC went on an amazing, too-good-to-be-true run before running out of luck in grand fashion.
The Trojans lost to their crosstown rival, UCLA, for the third time this season Thursday afternoon, 96-70. Though the contest took place in the quarters of the Pac-12 Tournament, far away from Los Angeles, the same result persisted.
Isaac Hamilton had a monster game for the Bruins, putting up a career-high 36 points on 7-of-11 three-point shooting. His outburst ended up being UCLA's highest single scoring output on the season.
"We tried to do our best job guarding him," Katin Reinhardt said. "I mean, we just couldn't stop it."
Thr Trojans' perimeter defense was lacking greatly, which contributed heavily to UCLA's offensive burst in the first half. The Bruins shot 63.3% from three and made 12 treys on the day.
USC was in the game early, but couldn't withstand the UCLA assault. The Bruins were down two points in the first half before they went on a blistering 14-0 run, which included four three-pointers in a five-minute span. From that point, there was no looking back.
UCLA was without forward Kevon Looney, who left early in the first half with a facial injury, but it was no matter.
The Trojans couldn't stop any of the remaining Bruin starters. Tony Parker dominated in the point with 14 points and Norman Powell ignited the crowd with two breakaway dunks on his way to 14 points.
"It's a great feeling to know that you run L.A.," Powell boasted after the game.
Well, he's not wrong.
SEE MORE: USC Shocks ASU, Pac-12 With Unbelievable Comeback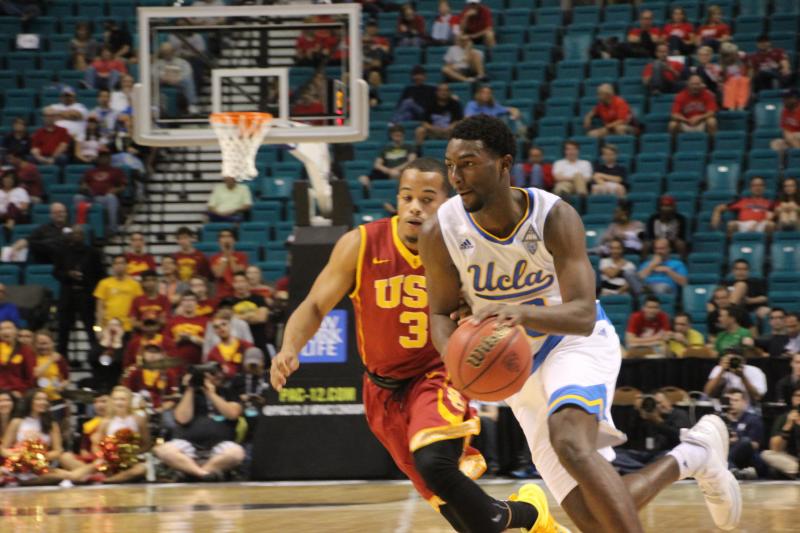 In Andy Enfield's two seasons at USC, he has still yet to defeat UCLA, a stat that makes Trojan fans and alumni very uncomfortable. In those matches, USC has allowed UCLA to score an average of 90.8 points.
"UCLA is a tough matchup for us based on our weaknesses and their strengths," Enfield added.
Former UNLV baller Katin Reinhardt looked at home at the MGM Grand Garden Arena, leading USC with 20 points and shooting 5-for-9 from behind the arc. Elijah Stewart followed up his big day with 12 points while Nikola Jovanovic performed better today and finished with 17 points and six boards.
Julian Jacobs, who had an average night, apparently has been suffering from a hand injury which limited his shooting Thursday.
"Jacobs hasn't been able to shoot a shot in two and a half weeks," Enfield admitted. "I didn't say anything because I don't make excuses, but you saw he gave up shot after shot today and yesterday."
Enfield added after the game that he's looking forward to offseason training where the players will undergo development and strength training.
"We need to be able to match [UCLA's physicality]," Enfield said. "At least we can't keep doing the same thing against more physical teams. We have to ahve some kind of comeback."
The players were equally eager to move on.
"We improved as a team," Jovanovic said. "We're not freshmen and sophomore anymore. Like Coach said, we need to have a great offseason and just keep improving. I think we'll be fine next year."
USC ends the season with a 12-20 record, winning just four conference games. The Trojans will welcome two tall recruits - Bennie Boatwright and Chimeze Metu - to the team for the 2015-2016 season.
Reach Sports Director Jeremy Bergman here. Follow him on Twitter @JABergman.