Sports
USC Baseball Tops Pepperdine, Martinez Breaks Out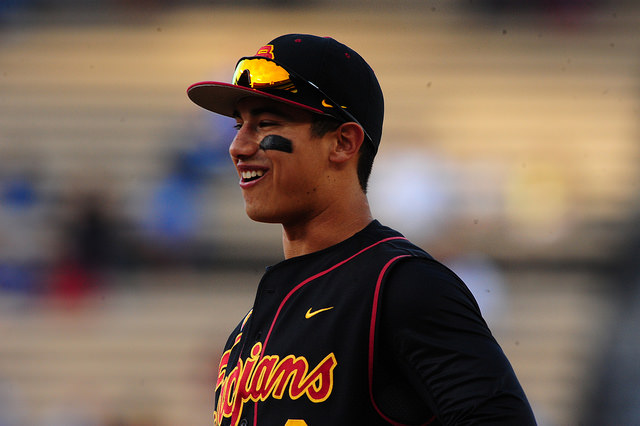 It wasn't pretty, but the Trojans worked through a 5-2 win over Pepperdine on a windy Tuesday night at Dedeaux Field for their third victory in a row. USC (20-5) notched 14 hits, highlighted by sophomore Jeremy Martinez's first home run, a two-run shot to left in the fifth inning that gave USC a 3-1 lead. Sophomore left-hander Bernardo Flores (3-0) went five innings in his first career start, allowing two hits and one run and earning a win.
"We're showing that we're pretty relentless at the plate," head coach Dan Hubbs said after the win. "There wasn't anything really flashy we did, but I thought we played really, really well defensively."
While USC left 11 men on base, a habit the Trojans have been prone to this season, a gritty pitching effort sealed off a possible comeback from the Waves.
After Flores left, freshman pitcher Mason Perryman allowed a home run to Pepperdine's Brad Anderson, the second batter he faced. That cut things to 4-2, but would be the final runs on the night from Pepperdine. Perryman went second innings, sophomore righty Jeff Paschke navigated the eighth, and junior left-hander Marc Huberman mowed down three straight Pepperdine batters to earn the save.
READ MORE: USC Baseball Defies Expectations But Remains Undaunted
The game also marked the best game of the season for Martinez, who had only been hitting .244 heading into the game but went 3-of-5 Tuesday for 3 RBIs, including his home run. "That's what I expect to see from him the rest of the year," Hubbs said of his cleanup hitter. "That's as well as he's swung the bat this year, and a big part of that was that he wasn't trying to do as much at the plate."
"We don't get frustrated," Martinez added on the win. "We play best when we're having fun and are relaxed."
---
The Trojans were feisty in the bottom of the second inning, as Dante Flores and Blake Lacey notched singles to open the inning. David Oppenheim walked to load the bases with no outs, but the Trojans only mustered one run on a Reggie Southall bases-loaded walk before AJ Ramirez grounded into an inning-ending double play with the bases also loaded.
Flores had a shaky fourth inning, as the sophomore lefty allowed a run on an Anderson single to tie the game at one run each. He then let Anderson to third and Pepperdine's Nick Costello to second due to a wild pitch, but got a timely pop-up to escape the inning.
"It's over with, it's done with. You just move on and throw the next pitch. It just worked out," Flores said about grinding through the inning.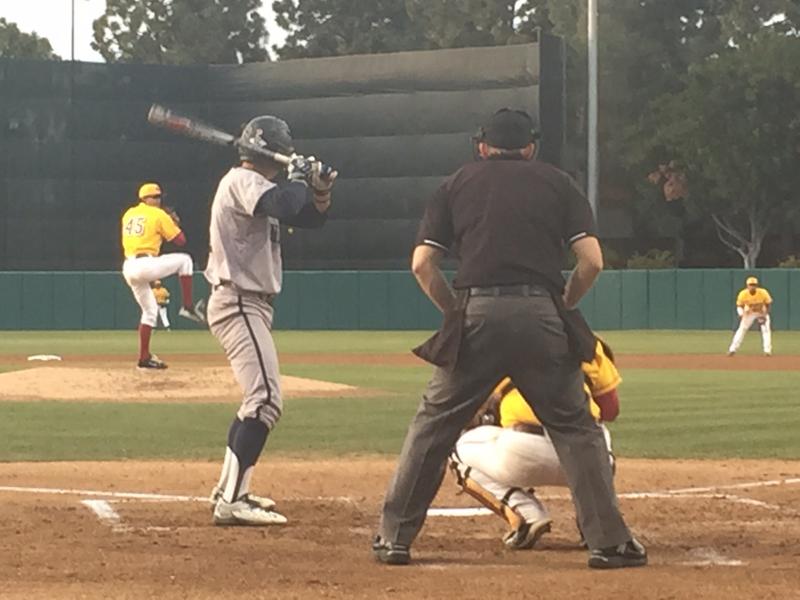 After a couple of close calls, the Trojan bats broke through in the bottom of the fifth inning. After a Garrett Stubbs single, Martinez unleashed a shot to left for his two-run homer. A trio of singles loaded the bases after that, and a Joe Corrigan sacrifice fly tacked another run on the board to make it 4-1 at the inning's end.
From there, pitching and defense did the Trojans' work. A home run allowed by Perryman aside in the sixth, the Trojans kept the Waves at bay for the final four innings. Paschke allowed runners on first and second in the eighth, but got of his jam. The eighth also included a nifty grab by left fielder Garrett Stubbs against the wall, preventing a Hutton Moyer ball from turning into a home run.
In the ninth, it was easy cooking for Huberman. He got Manny Jefferson to ground out on one pitch, then a groundout and fly-out later, earned the save to send USC out as winners before their two-week road trip.
USC resumes Pac-12 play on Friday at Washington, where they'll take on the Huskies in a three-game series before heading to Tucson next week for another three-gamer against Arizona. "We have to make the routine plays and keep doing what we're doing," Flores said on the upcoming trips. "If we do that, we'll have good success on the road."
The Trojans' next home game is in two weeks against UC Santa Barbara. They face UCLA at home on April 10 for a three-game series.
Reach Senior Sports Editor Jacob Freedman here or follow him on Twitter.