Style
L.A. Style Fashion Week: Runway Trends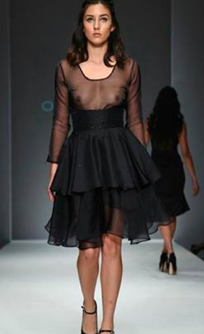 Los Angeles' Style Fashion Week
tenth season just came to a close this weekend, and its runways displayed some L.A. street style that will be a must-have in your closet for the coming spring and summer months.
The five-day fashion week showcased both up-and-coming local designers as well as larger brands, many of whom work within Los Angeles' fashion district to produce the very designs they displayed this past week. The runways displayed everything from street wear to clothing with a cause, with the American Heart Association putting on their Celebrity Red Dress show to raise awareness and benefit hearth health for women. The show included both models, celebrities, and public figures like first-ever model Janice Dickinson.
In addition to supporting causes in healthcare, with American Heart Association's "Go Red" show and sexuality, with designer Heterophia's bold runway walk, the fashion show's biggest trends were seen in the swimwear and club and street wear looks. The Versa Swimwear show showcased colorful swimwear that'll have you looking chic from pool parties to sandy beaches. Intricate prints, crisscrossed cutouts, dip-dyed ruched one pieces, and straps all over were the hottest looks seen on Versa's runways, having us running to find a swimsuit that's far from basic for the warm L.A. summer ahead.
READ MORE: L.A. Fashion Week Fall 2015: William Bradley Review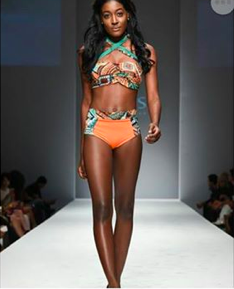 Designers
Ophelia Song
and
Mr. Fashion
, whose show featured Boy London, are taking the mesh and transparent lace trends we saw at February's New York Fashion Week and bringing them to L.A.'s runways. Both shows showcased lace and mesh body suits and dress' that left little to the imagination. The intricate designs were mainly see-through with just enough undergarments to keep the looks covered up. In the spirit of the "free the nipple movement" an Ophelia Song dress featured a mesh-top dress with black circle-skirted bottom in which the model wore braless. These bold trends are a nod the increased risks we'll be seeing in L.A. street wear, for both day and night looks.
L.A.'s Style Fashion Week saw supporting celebrities at shows throughout the weekend, with American Idol alum Adam Lambert looking fierce in the front row at the Ashton Michael show. Designer Ashton Hirota has designed for fashionista's like Lambert, J.Lo, Miguel and Ciara to name a few. His Style Fashion Week line included street wear for both men and women, with black, white and red dominating his runway looks. From hooded sleeveless cardigans to zippered and leather detailing, the line is both edgy and powerful weather you want to rock a look head to toe, or implement one of his pieces as a standout in your wardrobe. From colorful, to hardly-basic basics, the future of spring and summer wear is looking edgy for L.A. and beyond. Check out the show's highlight's here.
Reach Staff Reporter Mona Khalifeh here.