Film and TV
Check In To The Hotel With Lady Gaga On 'AHS'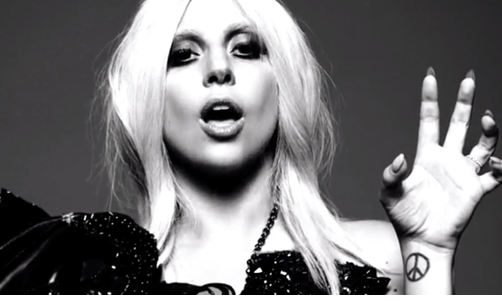 Are you ready to check in to the hotel?
Yes, you heard right: The theme for the newest installation of everyone's favorite (and creepiest) TV show has been announced. Oh, and did we mention Mother Monster herself, the one, the only, Lady Gaga will be taking her talents to the small screen for the occasion?
The rumors are true. Lady Gaga will be featured in the newest season of "American Horror Story," ('AHS: Hotel'). The singer took to Twitter last Wednesday with this cryptic tweet: "Make your reservations now #GagaAHSHotel," followed by the weirdest and most intriguing 22-second teaser.
At this point very little is known about the plot line for Hotel and we still have no clue which stars will be returning to kickoff the show's fifth season.
Last time we checked in with "AHS," we were in limbo over Jessica Lange's return (or lack thereof) to the popular show and we were all aimlessly theorizing aliens as a potential plot line.
With the new theme finally in place, at the very least we can finally update our theories for next season.
Reddit users have been working tirelessly to uncover the secrets of all things Hotel, digging into those clues left behind in "Freak Show."
The Garden of Allah
This one comes to us from reddit user Self who noticed several mentions to the famous Hollywood hotel complex of the early 1940s.
Last season, we can all recall Stanley trip on the spinning board, pleading for his life as Elsa took her chance slewing knives at his body. During this scene he mentions a brother who "works at the Garden of Allah" in Los Angeles. Elsa also mentions the "Garden of Allah" movie during the fist episode.
Could we see a return to this hotel in an old school Hollywood version of AHS? Only time will tell.
READ MORE: 'American Horror Story': Season Five Predictions
Back to that pesky Top Hat
Who can forget the many references to a certain black top hat worn by a certain Edward Mordrake? With the theme now confirmed as "Hotel" many of the theories referring to "Operation Top Hat" have been ruled out.
But online publication Design and Trend does reference the hat as a possible nod to "the hotel's elite guests," or "a possible hotel logo."
And Finally…
The Cecil Hotel in LA
I have to credit Glamour Magazine for bringing this one to my attention. One reddit user, points out that the Cecil Hotel has been home to many of Hollywood's biggest murders and mysteries, including Richard "The Nightstalker" Ramirez and the Black Dahlia.
FX boss John Lundgraf did hint that the fifth season will be set in the present day and creator Ryan Murphy gave us the clue that season five of "AHS" will take place right here in the good old US of A.
Seems like a pretty good fit with the LA-based Cecil Hotel.
Well thats all I have for now. Hopefully this holds all my fellow "AHS" viewers over for the next seven months. Plus who knows, maybe Gaga or show creator, Ryan Murphy, will take to social media for some new twisted clues to our next stay with "American Horror Story."
Reach Staff Reporter Kristen Lago here.