Film and TV
Chandler Bing's Top Ten Moments On 'Friends'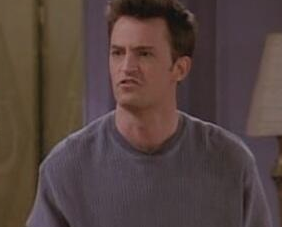 The ultimate king of the one-liner, Chandler Bing from "Friends" has won the hearts of fans many times over. Here is a countdown of his top ten moments from the show:
10. That time he had a "nubbin."
9. That time he was "Miss Chanandler Bong."
8. That time where he got into some unsupervised trouble.
7. That time he was trapped in an ATM vestibule with Jill Goodacre.
READ MORE: Most Memorable TV Scenes
6. That time he got a little confused.
5. That time he tried to change careers.
4. That time he was forced to be nice for a week.
3. That time he spoke to single people everywhere.
2. That time we all identified with his struggles.
1. That time he pulled off the sweetest proposal of all time.
Reach Staff Reporter Andie Furber here.