Sports
National Signing Day's Most Ridiculous Moments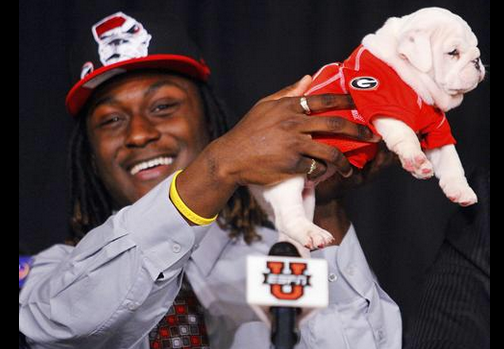 National Signing Day has been the marquee event for college football in the month of February. With extensive coverage on ESPNU, people all over the country can see where ambitious young athletes boastfully choose where they will play their college ball for, in the words of USC commit Ykili Ross, "the next 3 years". Or four or five. However, as exciting signing day may be, there are always disastrous and simply absurd moments. From recruits pulling out live animals to accidentally signing multiple letters of intents, Signing Day creates stories that only add to the absurdity. Enjoy this selection of the worst signing day moments.
READ MORE: See USC's Entire 2015 Recruiting Class
Isaiah Crowell
The stage was set. The hats were out and the crowd was ready to hear where the 5-star stud of a running back, Isaiah Crowell, would play football for the next 4 years. It would only be 2 years, but that's a story for another time. Crowell took the microphone and announced the decision that coaches all over the country were looking forward to. Crowell announced he would be taking his game to the University of Georgia.
Thunderous applause ensued, and then the crowd was in awe at their next sight. Crowell had reached under the table and grabbed a white puppy bulldog and began to hold it up for the crowd to see. A bulldog! This is the earliest action of signing day madness that I can remember. Isaiah Crowell is an absolute signing day legend, and if you don't believe it, watch the video.
Dre Kirkpatrick
Where to begin with this one? Dre Kirkpatrick was a 5-star cornerback from the small city of Gadsden, Alabama. Kirkpatrick, who virtually had offers from every major collegiate program, was finally down to two schools: the University of Texas and the University of Alabama. Kirkpatrick begins his announcement by thanking his family and coaches, the classy thing to do.
All of a sudden, there is a big box slammed on the table. He opens the box. Inside the box, there is a bag; he opens the bag. Inside that bag is another bag. The crowd is showing lots of love in painful anticipation for the No. 1 cornerback's decision. Finally, he pulls out a hat of crimson and black and announces his commitment to Alabama. The obnoxiousness and the hilarity of the situation that Kirkpatrick provokes is pure gold. He goes on to be interviewed and says his reason for choosing Alabama over Texas was all in a matter of "swagger". Maybe he could've had an armored truck deliver the big box first. Come on Dre, let's think a little outside the box!
Dacorius Law
This signing day story is more sad than it is funny. When it comes to the fact that the kid's future was on the line, it is sad. When you think about the fact that he did what he did, then it's hard not to laugh. Dacorius Law was a 3-star running back from Haines City, Florida. Law had narrowed his signing day decision down to three schools: Ole Miss, Utah and for some reason, East Mississippi Community College. When Signing Day was over, Ole Miss could proudly say that the running back was a Rebel. But wait. When signing day was over, Utah could proudly say the running back was a Ute. Oh but wait again. When Signing Day was over, East Mississippi CC could proudly say that the running back was a Lion.
Dacorius Law actually signed letters of intent with 3 different schools. HOW DOES THAT HAPPEN? Obviously, Law was not taught the proper rules of Signing Day or what a letter of intent was, because he royally messed up. There were no bulldogs or fireworks, but there was some serious backlash. This story is sad, but it has to be one of the worst signing day stories ever.
Chris Warren
I will openly admit that I am a supersticious person. I have my pregame rituals and I stick to the things that bring me good luck. With that being said, I don't think I have ever made a major decision based off of chance or luck. Meet Chris Warren, a 4-star running back from Rockwall, Texas. On the 2015 signing day, Warren stepped up to the table in his high school gymnasium and was prepared to make his decision. However, he made his decision in an extremely unorthodox fashion. Warren, who was deciding between the University of Washington and the University of Texas, pulled out a quarter and told the audience that the flip of this coin would decide where he would play for the next four years. If it was heads, he would choose Texas. If it was tails, he would go to Washington. The stage was set and the crowd was silent. Warren flipped the coin and informed the crowd he would be attending the University of Texas. A coin... a piece of currency decided where he was playing. Is this some sort of sick joke? The last thing a college coach wants, especially Texas coach Charlie Strong, is for a player to be indecisive about what he wants. Why would a coach want you if the only reason you're there is because the flip of a coin told you so. This was absurd and I can't wait to see how Strong reacts.
---
There are plenty of great stories from Signing Day. One could spend hours on YouTube watching videos that make absurd statements and coming up with great ideas on how to commit to schools. Stanford's Solomon Thomas, don't think we didn't see when you put on your nerdy glasses when you committed to Stanford. And Robert Nkemdiche, let's not forget when you ripped your jumpsuit off only to reveal that you were wearing a polo, suspenders and bow tie.
But in all seriousness, Signing Day is a great time for high school athletes all over the country. These athletes are realizing their childhood dreams and are doing something that only a rare few can. Have fun but don't be stupid. Don't be the next player that Kirk Herbstreit spends 20 minutes on as an example of why he hates Signing Day.
Reach Staff Reporter Jeffrey Dubrof Here