USC Sports
USC Dealt With Two Huge Losses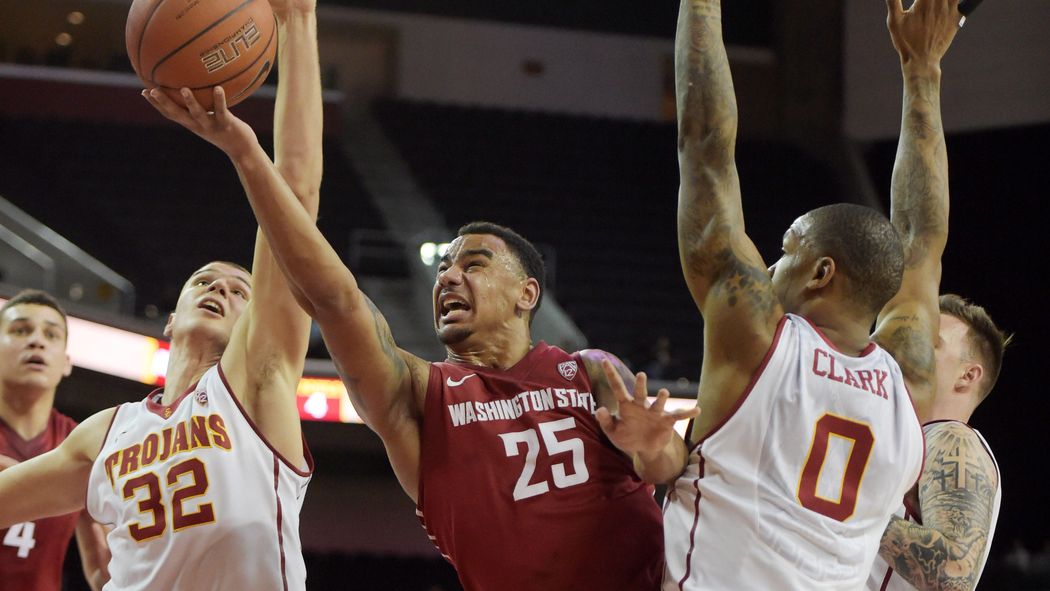 The Trojans, fighting through a tumultuous week in which they have dealt with close losses, team discipline, and inter-squad conflict, USC had another bad day and lost at home Wednesday night 66-70 to another Pac-12 bottom dweller- Washington State (12-15, 6-9).
The loss not only drops USC to 10-18 overall and 2-14 in conference play, but also clinches last place for the Trojans in the Pac-12.
USC has consistently failed to meet expectations this season, dropping games that they should be winning, and this loss is no different. The Trojans were losing by 19 points with eleven minutes to play in the game, and though a high-energy full-court press was able to cut the lead to three with thirty seconds to go, it was not enough.
Despite a quick start in which they led by seven with fourteen minutes remaining in the first half, the team had a nearly five-minute scoring drought during which WSU went on a 12-0 run.
The first half was plagued with scoring issues for the Trojans. Sophomore Nicola Jovanovic failed to score until the 7:30 mark and would go on to finish the game with ten points and seven rebounds.
"We feel like it'll turn around any time," Jovanovic said. "Our time is coming."
Carrying the Trojans through their pitiful first half was freshman Malik Marquetti who poured in eleven of his season-high sixteen points during the first twenty minutes of play.
"I feel like we're right there," Marquetti said after the game when asked about the team's frustrations. "We need to keep playing hard stay together and never give up. One day, we'll be on the other side."
The comeback for the Trojans was led by sophomore guard Julian Jacobs who filled out his stat line by finishing the game with sixteen points on 5-12 shooting, dishing out nine assists and grabbing five rebounds.
Also helping the Trojans was their defense. The Trojans were able to force sixteen Cougar turnovers and then converted them into twenty-one points. When playing in-your-face type full-court defenses, the Trojans were able to maintain a much more successful and fast pace of play, something many critics of the team have proposed as a suggestion to their half-court woes on offense.
"I feel like we play better in transition," Marquetti said. "That starts on the defensive end. If you can't rebound, you can't get into transition."
The Trojans finished the night with 13 fast-break points including a spectacular Julian Jacobs steal and slam to spark the Trojans final push for the victory.
With thirty seconds to go, USC gained possession of the ball and after Jacobs dribbled around the arc for a few precious seconds, he fell near the lane and missed his shot.
"You can't fault Julian at the end," Enfield expressed his support for Jacobs. "He just missed a shot he normally takes."
After Katin Reinhardt drilled a deep three with seven seconds to go, Enfield called his final timeout to set up a defense that caused a turnover, but it was useless as Marquetti was called for a foul.
This late-game meltdown was nothing new for the Trojans who have lost numerous close games in the final minute or final play.
"We had trouble rebounding the ball when the game was on the line and we missed lots of easy shots," Enfield said. "We need to make winning plays down the stretch."
Also adding to the rough day for the team was the post-game announcement by coach Andy Enfield that freshman point guard Jordan McLaughlin will undergo season-ending shoulder surgery.
READ MORE: USC PG Jordan McLaughlin Out For The Season
The typical recovery time for this type of surgery is around five or six months, and McLaughlin has suffered from chronic shoulder pain in the past including repeated injuries throughout his high school career.
McLaughlin is also no rookie to surgery as he had a surgery to repair a torn labrum following his senior season at Etiwanda High School (Rancho Cucamonga, CA).
Once the doctors see how McLaughlin responds to the first shoulder surgery, a decision will be made whether or not he will undergo the same procedure on his other shoulder as well.
One thing is certain; the Trojans will sorely and surely miss McLaughlin. as they round out their regular season with a home game Saturday against Washington and a short trip to Pauley Pavilion to face rival UCLA before the Pac-12 tournament.
Reach Staff Reporter Hailey Tucker here.