USC Sports
7 Trojans That Can Stand Out At The 2015 NFL Combine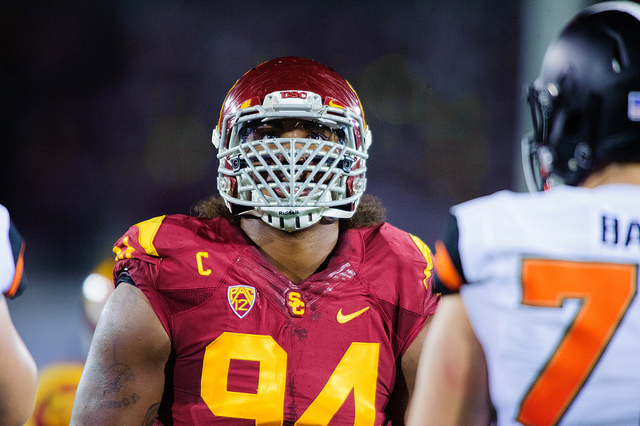 As the top producer of first round picks in the NFL with 77, USC is used to having success in the NFL Draft. For this year's NFL Combine, it's no surprise that USC players are expected to produce big results.
Currently, USC has the most active NFL players with 38, and they have the second-most all time with 483 (Notre Dame is first with 484).
Trojans have played in all but five of the 49 Super Bowls, and three Trojans—Lynn Swann 1976, Marcus Allen, 1984, Malcolm Smith, 2014—have been named Super Bowl MVP. Considering all this, there's no doubt that many see USC as a football factory.
This year, USC has seven players heading to Indianapolis for the NFL Combine: defensive end Leonard Williams, wide receiver Nelson Agholor, running back Javorius "Buck" Allen, cornerback Josh Shaw, tight end Randall Telfer, linebacker Hayes Pullard and outside linebacker J.R. Tavai.
Of the seven players, defensive end Leonard Williams is making headlines as a projected top-5 pick. Some analysts are even predicting that he could be picked up in the top-3. At USC, Williams racked up 217 tackles (27 for loses and 28 sacks), four deflections, four fumble recoveries, and two interceptions. At 6'5'' and 300 pounds, Williams is a supreme combination of size, strength and athleticism. His pass rushing skills and ability to dominate and lead a defense make him a NFL defensive coordinator's dream. Not only does Williams dominate as a player, but also he shines as a leader. As a captain his junior year, Williams was a leading force for the Trojans' defensive squad.
SEE MORE: Sports SCene: Episode 4
Agholor, one of quarterback Cody Kessler's favorite target this past season, should prove to be a standout talent at the combine in a draft year that's heavy with wide receivers. At USC, Agholor had 178 receptions for 2,572 yards (averaging 14.4 yards) with 20 touchdowns.
As a punt returner, Agholor racked up 548 yards on 36 returns (averaging 15.2 yards) and scored four touchdowns. As a kickoff returner, Agholor had 443 yards in 24 returns (averaging 18.5 yards).
At 6'1'' 190, his quickness and ability to read down field will help him showcase his talents at the combine. His usually clean hands secure the ball quickly and lead to quick cuts and route runs down the field. He also has a way of leading his teammates; as an offensive captain, Agholor mentored the younger receivers such as JuJu Smith and Adoree' Jackson. His impressive resume should definitely help him in the draft, and some analysts even have him ranked in the top-5 receivers heading into the draft.
Allen dominated as a running back for USC this past season. In his career, Allen recorded 2,295 yards on 416 attempts (averaging 5.5 yards) and scored 25 touchdowns. He also tallied up 63 receptions for 710 yards (averaging 11.3 yards) and scored two touchdowns.
Allen was USC's go-to back for the 2014 season: he had four games where he rushed for over 100 yards. In the final six games alone, Allen scored 12 touchdowns for the Trojans. For his 2014 season in the Pac-12, Allen was ranked second for rushing attempts (276), third for rushing yards (1,489), fifth for rushing touchdowns (11), second in plays from scrimmage (317), and first in yards from scrimmage (1,947).
At 6'1'' 220 pounds, Allen has size and strength for a running back that translates into solid, powerful runs. If his highly ranked success this past season translates well in the combine, he'll no-doubt be able to display his powerful running style and good downfield vision.
Shaw started 21 games at USC, and in those games Shaw recorded 97 tackles (7.5 for loss), 13 deflections and six interceptions. Before his career at USC, Shaw started in 22 games at Florida and recorded 119 tackles (8.5 for loss), 14 deflections and six interceptions.
Considering some controversy that impeded his ability to play for most of his final year at USC, Shaw will benefit from the NFL combine. At 6'1'' and 200 pounds, Shaw possesses strength and quick feet. He will have the opportunity to display his raw talent and high football IQ. As a cornerback, he is great at reading passes, stopping the play and rarely getting beat on coverage.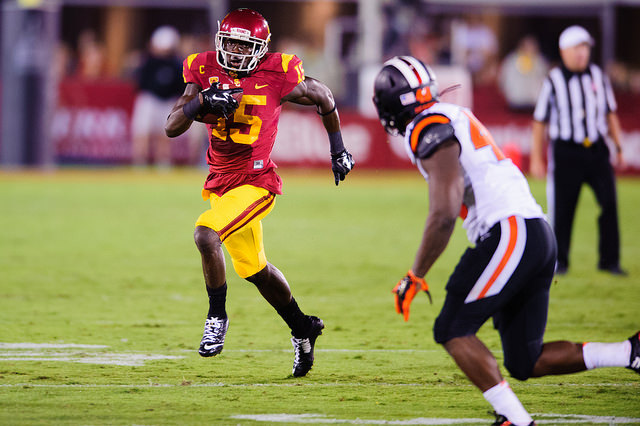 Telfer had 65 receptions for 648 yards (averaging 10 yards) and scored 12 touchdowns in his career for the Trojans. While he doesn't have a plethora of catches to showcase heading into the combine, once there he can prove his true talent to the scouts. At 6'4'' 260 pounds, Telfer has a strong block and the ability to push down the field with the ball in his hand. The combine will be a great time for Telfer to improve his overall draft stock.
Pullard had 377 tackles as a Trojan (25.5 for loss and 6 sacks) and three interceptions (one for a touchdown). In his last season, he led the defense with 95 tackles. As a captain for the Trojans, Pullard was an ever-present presence on the defense for the Trojans this past season. His leadership skills compliment his athletic abilities. At 6'1'' 235 pounds, Pullard can move around the field with strength and power. He can make the tackles that are needed and keep the defensive play alive and stop the offense when not expected because of his football instincts. There's no doubt that he's a hard worker and with the right team in the NFL, he can have a successful career.
SEE MORE: Sports SCene: Episode 3
Tavai had 130 tackles (24 for loss and 10.5 sacks) in his career at USC. After moving to the starting lineup halfway through the 2013 season, Tavai had an immediate impact on the team. His willingness to work for the ball and not stop playing until the whistle blows keeps him at the top of his game. At 6'2'' 250 pounds, he's not the largest of linebackers, but his willingness to work hard can be encouraging to defensive coordinators.
Out of the players that declared for the draft, wide receiver George Farmer was not invited to the combine. Surrounding his decision, many have stated that Farmer should not have left USC early considering the heavy amount of talented receivers in this year's draft. The once highly coveted top recruit from Serra High in the Class of 2011 (recruited alongside Marqise Lee, one year after Robert Woods), Farmer was a combination of explosive speed, sure hands and sheer power, but a myriad of setbacks, hardships and injuries kept him from reaching his true potential.
Through patience and persistence, Farmer had a breakout performance against Notre Dame with four catches for 85 yards and two touchdowns; he played well enough to prove all the hype that surrounded him as a recruit. With everything Farmer has gone through, he's still the talented athlete that was highly-touted coming out of high school, so even though he was not invited to the combine, there's no reason he shouldn't get drafted in a late round. His determination and work ethic should be enough to earn him a spot on the roster and once again play with Woods and Lee—just like they planned together as high schoolers.
At the combine this year, the Trojans there will surely put together a show and impress the countless NFL scouts. Coming from USC will give them a competitive edge that will boost up their draft stock following an impressive performance at the combine.
The Trojans that have declared for the draft this year will most definitely add to the long respected NFL pipeline that is USC.
Contact Staff Reporter Jodee Sullivan here and on Twitter here.