NFL
Takeaways From The 2014 NFL Season: NFC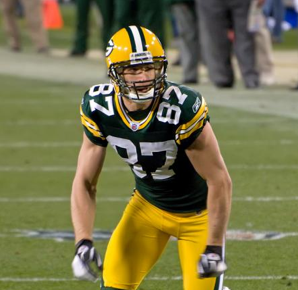 After another exciting NFL season, let's take a look back to see how each team from the NFC fared. Click here to see the AFC version.
Green Bay Packers- Cheeseheads everywhere are undoubtedly still reliving every play from the agonizing NFC Championship against Seattle. However, Aaron Rodgers locked up NFL MVP honors, Eddie Lacy rumbled for over 1,100 yards again and the receiving corps looked stronger than ever with the addition of rookie Davante Adams. The defense looked vulnerable at times, but this franchise typifies consistency, especially on the offensive side of the ball.
Detroit Lions- Jim Caldwell's first year as head coach in the Motor City was a success. 11-5 and a playoff berth? That will suffice for a franchise that has spent countless years as the league's doormat. Calvin Johnson amassed over 1,000 yards yet again, but Golden Tate flew under the radar this season, hauling in 99 passes for more than 1,300 yards. Plus, this defense is elite and full of blossoming stars like Nick Fairley, Darius Slay and Ezekiel Ansah.
Chicago Bears- The Bears are perennial underachievers, but 2014 was an absolute disaster. Jay Cutler's 2013 renaissance did not continue in 2014, as Chicago trudged through the season and finished with just five wins.
Minnesota Vikings- Teddy Bridgewater showed some real promise in his first season, as did rookie running back Jerick McKinnon. Of course, this team looked different without Adrian Peterson, but the Vikes have a lot of youth and raw talent on offense. The defense should improve as Anthony Barr, Sharrif Floyd and Xavier Rhodes continue to develop.
Carolina Panthers- Cam Newton and Kelvin Benjamin are developing chemistry, though this offense still lacks depth. A 7-8-1 record is far from spectacular, but the Panthers are back-to-back NFC South champs and feature one of the NFL's premier defenses.
Atlanta Falcons- The Falcons are 10-22 in the past two seasons. The Dirty Birds lost games in the trenches, so a "boring" draft full of lineman should be in store. The team sack leader, Kroy Biermann, managed just 4.5 sacks in 2014. Meanwhile, the offensive line conceded 31 sacks and ultimately saw Matt Ryan sacked, hurried and pressured far too frequently.
New Orleans Saints- Drew Brees put up gaudy stats once again this season, but the Saints defense is simply atrocious. Rob Ryan's defense conceded nearly 400 yards per game, making the faithful in the Big Easy realize they probably took the days of Jonathan Vilma and Tracy Porter for granted.
Tampa Bay Buccaneers- Josh McCown and Mike Glennon struggled in 2014, reinforcing the fact that the Bucs need to draft a quarterback on April 30. Lovie Smith and this front office have quite a bit of work to do this offseason following a two-win season, but linebacker Lavonte David and defensive tackle Gerald McCoy give this defense a solid foundation to build upon.
Dallas Cowboys- The Cowboys' offensive line is nothing short of outstanding. DeMarco Murray led the league in rushing in 2014, while the defensive unit proved to be stout, even without linebacker Sean Lee. Things are looking up in Dallas, making fans salivate at the idea of a potential return to the glory days of Troy Aikman, Emmitt Smith and Michael Irvin.
New York Giants- Odell Beckham Jr. was a bright spot for Big Blue, but 2014 was a season full of ups and downs for Tom Coughlin's squad. Eli Manning continued his erratic play, while Rashad Jennings was bitten by the injury bug midway through an impressive first season in the Meadowlands. This entire team is wildly unpredictable though, so it would not be a surprise if the G-Men somehow managed to get their act together in 2015.
Philadelphia Eagles- The Eagles were certainly one of the best teams to miss out on the playoffs. After winning the division in 2013, expectations skyrocketed for Chip Kelly's team heading into the 2014 campaign. Still, backup QB Mark Sanchez stepped in nicely for the injured Nick Foles, while Jeremy Maclin went for 1,000 receiving yards for the first time in his career.
Washington Redskins- Robert Griffin III's health continues to be a major concern. DeSean Jackson was an impact player for the Skins at wide out, but this franchise has been floundering ever since its Wild Card loss to the Seahawks in the 2012-13 season.
Seattle Seahawks- Despite the fact that the Seahawks literally threw away Super Bowl XLIX, Pete Carroll's squad should be even better in 2015. Russell Wilson is just scratching the surface ability-wise, and this defense should remain largely intact heading into next season. Hold onto your hats, folks. This team is just getting started.
San Francisco 49ers- The 2014 season was a disappointment for the Niners, and while Jim Harbuagh and Colin Kaepernick were forced to shoulder much of the blame, the lack of Patrick Willis and NaVorro Bowman at linebacker absolutely slayed this team. Defenses have quarterbacks, too, you know.
Arizona Cardinals- The Cardinals overachieved in 2014, somehow competing in basically every game with Drew Stanton and Ryan Lindley at quarterback. Tremendous defense carried this injury-plagued team to the postseason.
St. Louis Rams- Sam Bradford suffered another ACL injury prior to the season, which was obviously a huge blow to this offense. However, the defense—especially the front four—is downright scary and should only improve next season.