NFL
Takeaways From The 2014 NFL Season: AFC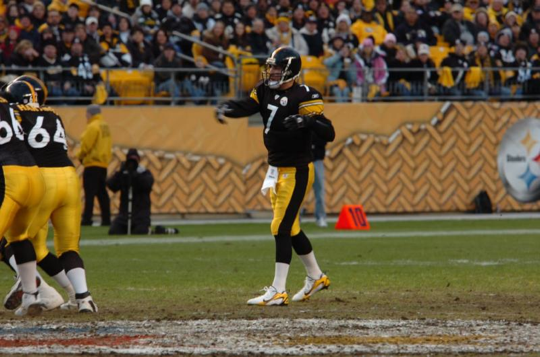 After another exciting NFL season, let's take a look back to see how each team from the AFC fared.
Click here
to see the NFC version.
Baltimore Ravens- Similar to the Packers and the Patriots, the Ravens are a paragon of success and consistency. Don't forget how close this team came to defeating New England in the divisional round of the playoffs. Baltimore was incredibly balanced on offense in 2014, with Justin Forsett emerging as a reliable ballcarrier.
Pittsburgh Steelers- While Ben Roethlisberger may only have a few more stellar seasons left in the tank, his supporting cast of offensive skill players are all young, dynamic playmakers. Le'Veon Bell, Antonio Brown, Markus Wheaton and Martavis Bryant have played fewer seasons combined (10) than Big Ben alone (11).
Cincinnati Bengals- Andy Dalton officially has a monkey strapped to his back. Dalton is now 0-4 in playoff appearances, and the frustration among Bengals' fans is growing with every postseason flop. A pleasant surprise for the Bengals, though, came in the form of rookie running back Jeremy Hill, who rushed for over 1,100 yards in 2014.
Cleveland Browns- The Browns are steadily improving, but their division is not doing them any favors. Cleveland was the only AFC North team to miss out on the playoffs. QB Brian Hoyer was unreliable, while Johnny Manziel was, well, a mess. Connor Shaw could be the quarterback of the future for this franchise.
Indianapolis Colts- Andrew Luck could very well end up in Canton, but this team as a whole appears to be on the cusp of greatness as well. Sure, the Patriots obliterated the Colts in the AFC Championship Game, but Chuck Pagano has his team looking like serious contenders for the 2015 season.
Houston Texans- J.J. Watt once again proved to be the most dominant defensive player in football (20.5 sacks in 2014), but the Texans just missed out on a trip to the postseason. Still, 9-7 was not a bad record for new head coach Bill O'Brien, who will finally be able to unleash a healthy Jadeveon Clowney next season.
Tennessee Titans- 2-14 is a nauseating record, but with the second overall pick in the NFL Draft, the Titans obviously have a tremendous opportunity to land an elite talent like USC's Leonard Williams, Oregon's Marcus Mariota or Florida State's Jameis Winston.
Jacksonville Jaguars- Like the Titans, the Jaguars have a top three pick in the draft. In addition, USC product Marqise Lee could establish himself as an elite NFL receiver in 2015 if the quarterback play from Blake Bortles is up to par.
New England Patriots- Much like the Seahawks, the Patriots will likely contend again next season. Simply put, Tom Brady makes the players around him exponentially better. Pencil in yet another 12-4 finish for the Pats next season.
Miami Dolphins- The Dolphins defined mediocrity again in 2014, finishing 8-8. Ryan Tannehill has shown steady improvement, while Jarvis Landry quietly finished the season with 758 yards and five scores. Cameron Wake capped off another fine season in South Beach with 11.5 sacks.
New York Jets- Rex Ryan hit the road, but the quarterback dilemma remains. New head coach Todd Bowles has a lot on his plate, but the Jets are a fundamentally sound team on defense. Sheldon Richardson continued to deliver this season while Quinton Coples began to gain some pass-rushing steam.
Buffalo Bills- E.J. Manuel was benched in 2014, but rookie sensation Sammy Watkins hauled in 65 balls for nearly 1,000 yards. The running game is a bit suspect, as C.J. Spiller's breakout season in 2012 is beginning to look more and more like a conspicuous aberration. The Bills' defense features Mario Williams, who logged 14.5 sacks this season.
Denver- C.J. Anderson stepped up in the run game when Montee Ball and Ronnie Hillman went down with injuries, while then-defensive coordinator Jack Del Rio helped this defense take massive strides. The big question in Denver, though, is obviously about Peyton Manning's status concerning his potential retirement.
San Diego Chargers- The Chargers dropped three of their last four games and missed out on the playoffs. Undrafted rookie running back Branden Oliver surprised some folks this season, running for 582 yards, while the ageless Antonio Gates continued to mesmerize defenses en route to scoring 12 touchdowns.
Kansas City Chiefs- Alex Smith did not throw a touchdown pass to a wide receiver all season. Not once. This dink-and-dunk offense desperately needs a big-play wide receiver. However, Jamaal Charles, Travis Kelce and De'Anthony Thomas proved to be reliable options for Alex Smith. Linebacker Justin Houston wreaked havoc all season, leading the league in sacks with 22.0.
Oakland Raiders- The Raiders only won three games in 2014, but rookies Derek Carr and Khalil Mack appear to have been excellent draft choices. Oakland can only improve.