Entertainment News
Oscars 2015: Ranking The Performances From Worst To Best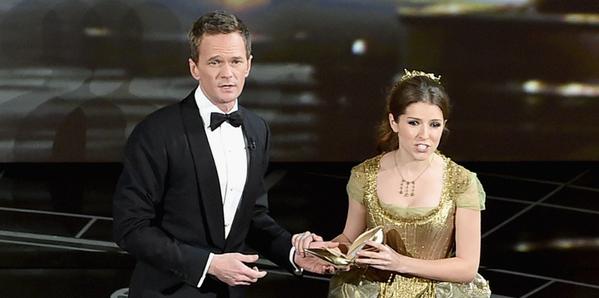 On Sunday, February 22, the movie industry's biggest names gathered at Hollywood's Dolby Theater to celebrate the 87th Academy Awards.
The night was filled with many memorable moments, from host Neil Patrick Harris cheekily cracking jokes about the #OscarsSoWhite controversy to stripping down to his underwear.
Plus Idina Menzel - excuse me, Adele Dazeem - finally got her revenge on John Travolta, aka Glom Gazino, after last year's name mispronunciation snafu at the Oscars!
READ MORE: Oscars 2015: Best Dressed
And like always, the Academy put together quite the list of performers, some of whom were hit or miss, but there can be only one at the top anyways...
Here are this year's Oscars performances ranked from worst to best.
8. "Everything Is Awesome," Tegan & Sara feat. The Lonely Island ("The LEGO Movie")
As amusing as this Oscar-nominated song was in "The LEGO Movie," it's just painful to watch in real life. Yikes. Methinks some people tried too hard to recreate Katy Perry's Superbowl Left Shark meme success?
Will Arnett singing in a Batman costume was pretty hilarious though.
7. "Grateful," Rita Ora ("Beyond the Lights")
Not a terrible performance from Rita Ora by any means... Just extremely underwhelming and forgettable.
READ MORE: Oscars 2015: Complete List Of Winners
6. "Lost Stars," Maroon 5 ("Begin Again")
The men of Maroon 5 took to the Dolby Theatre stage to perform "Lost Stars," which was nominated for Best Original Song, from "Begin Again," a film about the music industry starring Keira Knightley, Mark Ruffalo, and Maroon 5 frontman Adam Levine.
Unfortunately, this slightly off-key performance was a major downer and snooze-fest, but, hey, at least it was short...
5. "I'm Not Gonna Miss You," Tim McGraw ("Glen Campbell: I'll Be Me")
Tim McGraw's equally slow and emotional performance of the Oscar-nominated "I'm Not Gonna Miss You" from "Glen Campbell: I'll Be Me" managed to edge its way above Maroon 5 for, well, being in tune.
4. "I Can't Let Go," Jennifer Hudson
Continuing on the relatively subdued tone of this year's Oscars, Jennifer Hudson paid a fitting tribute to all of the talented members of the film industry that passed away last year with her amazing voice. Our only complaint is that the "In Memoriam" song choice ("I Can't Let Go" from NBC's "Smash") could've been better.
3. Neil Patrick Harris' Opening Music Monologue
Of course, NPH dug into his theatre background to whip out a hilarious musical opening monologue saluting movies like "Singin' In the Rain" (1952), "The Avengers" (2012), and "Star Wars" - written by the musical masterminds behind "Frozen," Robert Lopez and Kristen Anderson-Lopez, no less!
Benedict Cumberbatch, Anna Kendrick, Jack Black's hilarious cameos during the number were also fantastic.
2. "Glory," Common and John Legend ("Selma")
Well-deservedly winning the Oscar for Best Original Song, Common and Glory's powerful live performance of "Glory" wowed everyone watching, even going so far as to move David Oyelowo, who played Martin Luther King, Jr. in "Selma," and other audience members to tears.
1. Lady Gaga's "The Sound of Music" Tribute
In honor of the musical film's 50th anniversary, Lady Gaga stole the show with this mind-blowing performance that combined various songs from "The Sound of Music," including "My Favorite Things" and the movie's title song. In fact, she sounded just like Julie Andrews, who played Maria in the 1965 film and was there to witness it all, plus hug Lady Gaga afterwards!
Reach Associate Entertainment Editor Michelle Tiu here and follow her on Twitter.