Film and TV
Oscars 2015: Patricia Arquette Deserves Praise For Her Win And Her Message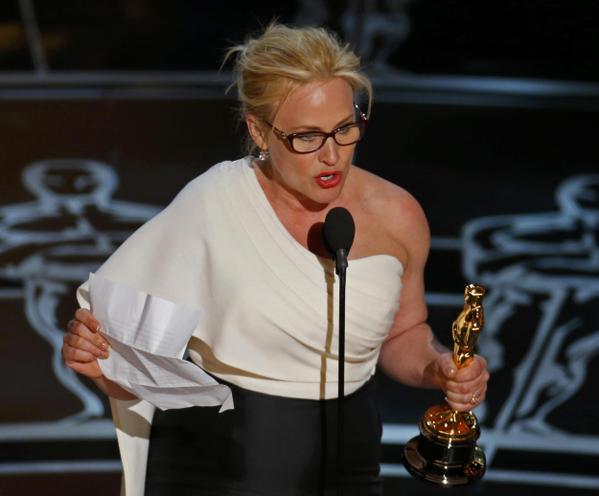 When asked about her mother's successful career while on
Sunday's Oscars red carpet
, Harlow Jane expressed to the cameras what all of us were already thinking: "She's come a long way… She's finally getting the recognition she deserves."
Harlow was right. Patricia Arquette then went on to win Best Supporting Actress later that night for her 12-year role as Olivia Evans in Richard Linklater's "Boyhood."
This Academy Award is one of the approximately 40 Best Supporting Actress awards she received for the same role, with a dozen more nominations to boot (including a Golden Globe in January).
READ MORE: Golden Globes 2015: Complete List Of Winners
While accepting her well-deserved award, Arquette delivered an impassioned speech advocating for women's rights and an end to wage inequality.
She started by slipping on a pair of fierce, school principal glasses. Her resemblance to Meryl Streep in "The Devil Wears Prada" is uncanny. She thanked the other nominees and everyone involved in the making of "Boyhood." Of course, she threw a special shoutout to her loved ones.
Then she got down to business. Watch the full speech or read a transcript of her statement below.
"To every woman who gave birth to every taxpayer and citizen of this nation, we have fought for everybody else's equal rights! It's our time to have wage equality once and for all and equal rights for women in the United States of America!"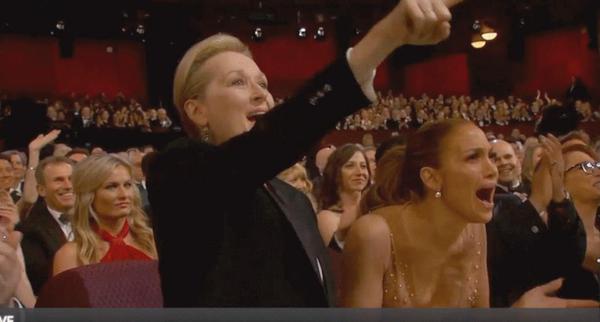 Half-way through her speech, the room erupted into deafening applause and cheers.Cameras caught Meryl Streep and Jennifer Lopez bouncing in their seats for Arquette. It was a picture-perfect moment.
Backstage in the Oscars press room, Arquette clarified her earlier statement.
"It's time for women. Equal means equal. The truth is the older women get, the less money they make. The highest percentage of children living in poverty are in female-headed households. It's inexcusable that we go around the world and we talk about equal rights for women in other countries and we don't. One of those superior court justices said two years ago in a law speech at a university that we don't have equal rights for women in America, and we don't because when they wrote [the] Constitution, they didn't intend it for women. So the truth is even though we sort of feel like we have equal rights in America, right under the surface there are huge issues at play that really do affect women. It's time for all the women in America, and all the men that love women and all the gay people and all the people of color that we've fought for - to fight for us now!"
Within hours of the show ending, Arquette's good intentions were ripped apart by critics who claimed she was merely speaking on behalf of white women. These critics made bold remarks that she prioritized the struggle of white women over the LGBTQ community and people of color. They incorrectly called her "tone-deaf" for asserting that LGBTQs and people of color have achieved equal rights.
READ MORE: Golden Globes 2015: An Open Letter To Patricia Arquette
While she did word her message in a slightly odd way, Arquette's idea still stands. Are women not still making less money than their male coworkers? Was the Constitution not written with the men in mind and not their wives and daughters? Are there not "huge issues at play" like Arquette stated? Yes, American women have rights, but are they not as equal as American men's? Of course the answer is yes.
Her point still holds true - women need to be more involved in their movement, just as the LGBTQ community and people of color increased awareness on their own respective movements over the years.
Feminism is not a movement solely for white women's rights, as some critics have claimed. Queer women and women of color are part of the feminist movement by definition. When Arquette said, "We have fought for everybody else's equal rights," Jennifer Lopez cheered. She did not frown on-camera because Arquette was speaking solely to "white women" and not all women. To say Arquette is wrong because she did not explicitly announce, "And, yes, I mean LGBTQ people and people of color can be women, too," is disgraceful. Clearly, she meant to imply it. Women do not need an articulated invitation to join their own movement. Striving to demonize her purpose in its entirety over the last bit of wording is shameful, especially if it's done by a fellow feminist.
Though Arquette's language made it seem as if these were three separate groups, she means other minorities - as well as the men who were birthed by women - must come together to support and realize the importance of this cause, the women's cause, in order to solidify this movement. Only then, Arquette argues, can change happen and women's rights be achieved, once and for all.
Reform certainly cannot happen if the women's group is divided in this way and individuals within feel the need to exclude themselves from the list of participants. Every woman should be advocating for the women's rights movement, because every woman - regardless of sexual orientation or color - is affected by gender and wage inequality. Whether an actress made the proper disclaimer in an acceptance speech or not, the issue remains present.
READ MORE: Oscars 2015: Complete List Of Winners
For using her time onstage to get political, Arquette should be applauded. Her win is an achievement and so is her inspiring message. Don't let the last sentence poison the entire decent speech.
We feel your #YesAllWomen moment, Patricia Arquette. Congratulations on winning Best Supporting Actress.
Reach Senior Entertainment Editor Kathy Zerbib here. Follow her on Twitter here.