Arts+Culture
L.A. Zine Fest Embraces Community And DIY Spirit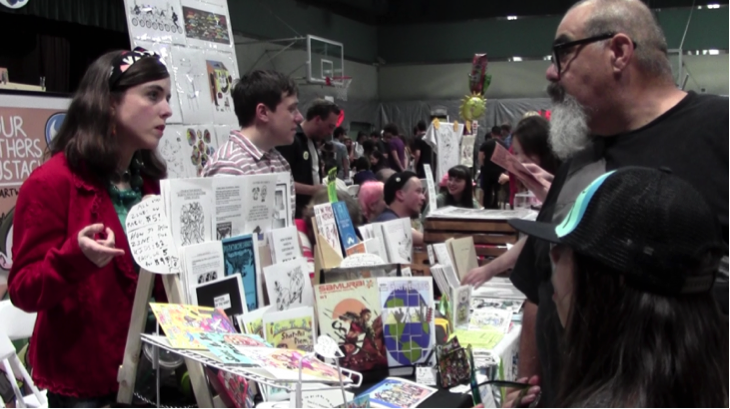 Sunday, two hundred "zinesters" packed into the community center on San Fernando Road to exhibit their original zines, comics and literary anthologies for the fourth annual
L.A. Zine Fest.
The festival also featured a series of informative workshops by DIY veterans who shared their expertise on a variety of topics, including zine-making and managing a DIY music venue. The event saw an explosive turnout of attendees: more than 1,000 dedicated fans came to shop and explore.
Although the actual content of zines varies and has changed since their sci-fi roots in the '30s, zines are most recognized for their integral role in both the '70s punk rock scene and the '90s feminist riot grrrl movement.
L.A. Zine Fest proved that zines are a perpetually evolving art form. The rise of the Internet Age propelled zine culture from its origins as an underground subculture onto a more widespread platform.
"A huge part of this community is the accessibility," said Simon Sotelo, one of the co-founders and organizers of L.A. Zine Fest. "Being able to share without excluding those who can't afford to buy into it." This tangible sense of kinship was evident at the festival, where vendors embraced one another as if they were old friends, and attendees expressed legitimate interest in artists' inspiration for their products. Artists shared their creativity simply for the sake of sharing; multiple vendors crowded the entryway handing out multicolored booklets with the words "FREE POEMS" scrawled across the covers.
But it seems that the heart of the initiative lies in its enthusiastic fan base. Donna Letterese, the creator of the zine/comix collective, Draw D.V.L. Productions, cited the vibrant crowd as her primary reason for returning to L.A. Zine Fest as a third-time vendor. "It's a really, really fun event," she said, beaming. "There are great creators here. Everyone's really nice. The fans are really supportive." Letterese experienced such support firsthand throughout the afternoon, when fans not only eagerly emptied their change purses (in the spirit of DIY, most zines only cost a few dollars) to buy her zines, which she described as a mixture of "punny, silly and colorful, to more serious, intense, and black-and-white," but also lavished her with compliments on the boldness of her personal aesthetic. Letteresse's hot pink sweater, chunky turquoise necklaces and shoulder-length dangling earrings certainly lent themselves to her cartoonist persona.
READ MORE: L.A. Podcast Festival Recap: An Intimate Affair
It seems that the appeal of zine culture, in part, rests in its intrinsic autonomy. Jaime Lozano, a San Diego native who contributes to the zine On Again Off Again, began his creative journey as a street artist. He explained that he was initially attracted to zine culture because of the complete independence it offered him. Zines offer Lozano and his co-workers the freedom to create art in their own vision and distribute zines on their personal timetables. "It's about just being able to put out your art and do it by yourself," said Lozano, "You don't have to wait for somebody else to do it."
Virginia Paine, a dual artist and publisher who produces narrative-driven comics for a web-comic called The WHYs, also engages in zine culture as a means of producing content that is not traditionally exhibited in mainstream comics or literature. The web-comic is centered around the lives of queer teens with superpowers – a clever balance between the trope-y, superhero style of comic books and the social activism nature of zines. "Representation is really important to me, and I wanted to do a story that wasn't centered on the characters' queerness," said Paine. "My purpose with The WHYs is to just to tell a regular, fun, dramatic adventure in which all the characters are queer and get to be bad-asses and have romances like any other story."
Avid fans celebrate the unique way in which zines reject conventional themes of mainstream art and literature; it's what they come for. One California State University, Northridge student expressed her deep appreciation for the queer presence in zine culture while she and her girlfriend flipped through the pages of Lucid Moose Literature's feminist activist zine, Like A Girl. On why she attends LA Zine Fest every year: "You're surrounded by art and crazy zines," she explained. "And just really weird stuff that you wouldn't encounter normally." her girlfriend agreed. "[Zines] are a great way to express yourself."
To learn more about the exhibitors at L.A. Zine Fest, visit here.
Contact Senior Culture Editor Emily Mae Czachor here.