Politics
L.A. City Council District 4 Debate Tackles Issues In Los Feliz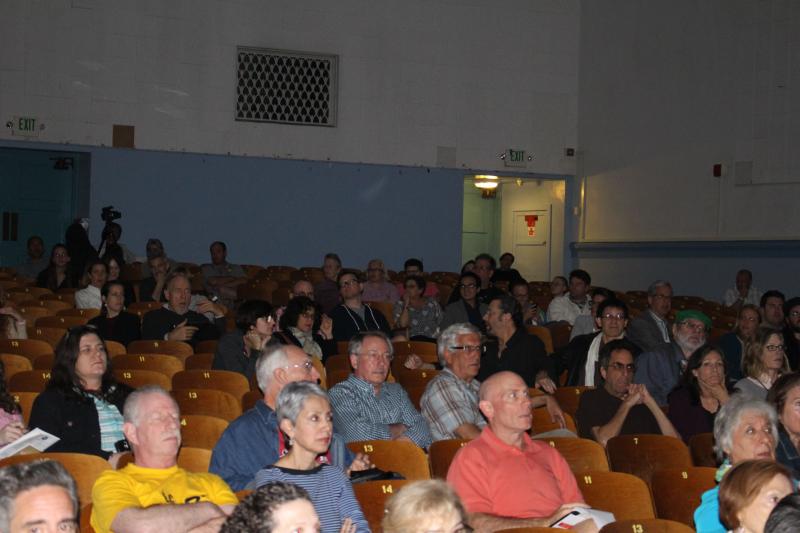 On a quiet holiday weekend, Los Feliz residents shuffled into John Marshall High School auditorium to hear 12 candidates for Los Angeles City Council District 4 duke it out over city-wide issues.
One of the last debates before the March 3 primary election, the Feb. 15 event drew less of a crowd than previous forums, which many in attendance attributed to it being before Presidents' Day.
Hosted by the Los Feliz Neighborhood Council, the forum was run in a rather atypical format. The debate was separated into three rounds. In the first and most lively round, candidates chose a sealed letter at random. In the envelope, there was a specific question that they each had 90 seconds to answer.
READ MORE: Meet Step Jones: Council District Four's Most Unlikely Candidate
During the first round, the candidates answered the prompted question as if they were trying to pass a motion within the City Council.
The issues in this round pertained to those specific to the Los Feliz area, such as traffic congestion, rises in crime and Griffith Park maintenance.
Carolyn Ramsay was asked how she would work to reduce congestion at the heavily congested intersection of Hollywood Boulevard, Hillhurst Avenue and Sunset Boulevard.
She suggested that both Google and the Los Angeles Dept. of Transportation work together to reroute drivers by analyzing traffic patterns.
"[The analysis would] find out where people are going when they are going through that intersection, then help us identify ways to send them in a different direction," Ramsay said.
Other issues included environmental problems, such as how to reduce coyote infestation in the Los Feliz area. Candidate Ross Sarkissian suggested hiring scientists to analyze the issue and potentially killing the "alpha male" of the pack.
David Ryu was questioned on how he would improve Parks and Recreation finances and Griffith Park revenue. He advised the City Council to allocate greater resources to the department, and to establish "innovative ways" to fund Griffith Park (there was a lack of specifics).
Tara Bannister was asked how she would reduce violent crime rates in Los Feliz, which have increased by 88 percent in the past year. She advocated for utilizing the strategies of other Los Angeles neighborhoods and cities, as well as installing better lighting in pedestrian-centric areas.
"We most importantly need to catch the perpetrators," she said.
After candidates made their mock motion, each candidate voted on the proposed motion similar to how motions are voted on during the City Council meetings - by either voting in support, against or abstaining.
READ MORE: Neighborhood Loyalties Could Influence District 4's Congested Race
The candidates' talking points, however, were often tough to audibly follow, as the debate was inundated with technical difficulties and moderator mishaps. Sound was only projected forward from the stage in the large auditorium, so often the candidates could not understand what their competitors were saying.
"I really just couldn't hear anything," said candidate Fred Mariscal, after choosing to abstain in one of the 12 mock votes because he could not hear a candidate's response.
Audibility levels were tough for the audience as well, as both the moderator and candidates would often not speak directly into their microphones.

Moderator John Schwada, a veteran L.A. investigative reporter, often probed the candidate's claims, indicative of his no-nonsense reporting background. For example, he prodded Ryu on how he would specifically increase Griffith Park's revenue after Ryu made general statements on the matter.
As the night's discussion drew to a close, one candidate who was not on stage during the debate, Mike Schaeffer, interjected from his seat in the audience. He was not allowed to participate in the forum, according to the Los Feliz Neighborhood Council, for he did not respond to repeated requests to attend the event, which violated neighborhood council rules.
"Are you going to introduce me?" he yelled to the moderator from the crowd.
Schwada then introduced Schaeffer, making it clear to the audience that he did not RSVP to the debate. Schaffer argued further for getting on the stage, but eventually sat down after being admonished by audience members.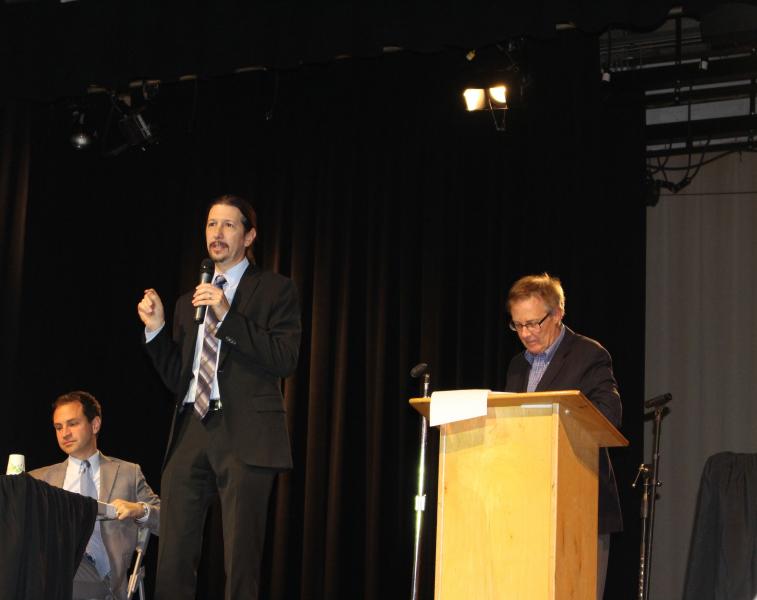 In the final round, the candidates gave 60 second closing statements. The most common trend was candidates attempting to distinguish themselves as either an "insider" or "outsider," and the purported benefits from each.
"You are not going to get change from those who are already beholden to the political system," said community advocate Jay Beeber, who markets himself as a City Hall outsider and the candidate who was the leader of the 2011 campaign that successfully got rid of the red light cameras in Los Angeles.
Candidate Joan Pelico, who is Chief of Staff for Fifth District Councilman Paul Koretz, countered the claim against insiders, stressing this is not a position you learn "on-the-job."
Those in attendance found the night's debate topics to be at a higher caliber than previous forums.
"The questions were very specific and gave the candidates a good chance to really say something poignant," said Gerome Courshon, a film distributor who has lived in Silver Lake for more than 20 years. "This is my third debate that I've been to, and I would say the others were not as specific."
The candidates also made it clear they were grateful of the audience's attendance, especially on a holiday weekend. The Los Feliz Ledger estimated there were as many as 450 people at the forum.
"The fact that you all are here tonight proves to me that democracy works," Bannister said.
Those that were there, however, were for the most part, older, established residents who were more often than not, homeowners. They represent a small but vocal, political group in the district that have showed strong election interest in a city that struggles to garner more than a fifth of voter participation.
"I think there are pockets of activism in Council District 4," Courshon said. "There definitely is where I am in Silver Lake."
Jim Petrone, another CD4 resident who has lived in the Los Feliz area for 25 years, described the area's political participation as "huge."
"Just look at all the people who showed up on a holiday weekend," he said.
Contact Staff Reporter Matt Lemas here and follow him on Twitter here.