National
How DACA Is Helping College Students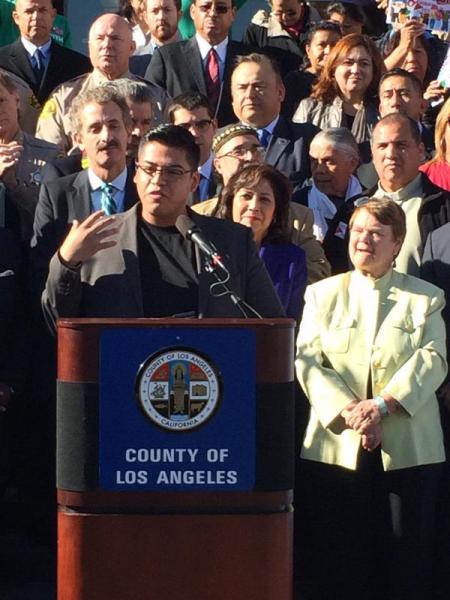 Not even two years from its inception, the Deferred Action for Childhood Arrivals Program (DACA) has improved the lives of nearly 790,000 individuals, and in particular, many college students.
The program was introduced by President Obama in June 2012 to give immigrants who had arrived to the country before the age of 16 a chance to obtain a temporary two-year permit, allowing them to remain and work in the country without fear of deportation.
Though DACA does not offer permanent residency or a direct path to citizenship, those with approved cases say they have received life-changing benefits that were not available to them before.
Here's what students in the program had to say about it:
"Deferred Action changed my life. It has allowed me to become part of society, to work, to go to college, to drive a car, all without the fear of being deported." - Sandra, MFA Candidate, USC School of Cinematic Arts
"DACA opened a door to a better life, where I can feel secure and happy with the hope of succeeding. Now, I can freely look for internships and not worry about not being able to obtain a job." - Anonymous, B.A. Chemical/Petroleum engineering '17, USC Viterbi School for Engineering
"It has allowed me to not be afraid; through DACA I was able to secure a good and stable job, which has allowed me to pursue a higher education." - Suemy, B.A. Social Work '16, San Jose State University
"DACA has allowed me to get a job; to help my family's financial struggles and to pay for college. Without my permit, I would probably not have a job and I would not have been able to attend USC." - Sarahi, B.A. Psychology '16, USC Dornsife
"I am currently in community college, I have a well-paid part time job, and I have a drivers license. I wouldn't have any of this without DACA. I will be transferring to the University of North Texas with a major in journalism. I am grateful and blessed." - Marjory, B.A. Journalism '17, Easfield College

"I often felt like my potential was limited before obtaining DACA . Now that I have a job, an internship, and a degree in progress I finally feel like I can show that I have what it takes to be an exemplary citizen and a contribution to society, no matter where in the world I was born." - Anonymous, Communication '15, USC Annenberg
READ MORE: Immigration Reform May Be Blocked As States Sue The President
Aside from being reprieved from immediate deportation, beneficiaries have also been able to:
Acquire a valid Social Security Number
Work legally
Obtain a driver's license (in some states)
Attend college
Apply for bank accounts and credit cards
Become more civically engaged
From the initiation of the program in August 2012 to December 2014, almost 1 million cases have been received by U.S. Citizen and Immigration Services (USCIS).
From those, around 787,000 have been approved, 39,000 denied, and 136,000 still pending. This means more than 80 percent of applicants met the requirements and were granted deferred action. While the majority of applicants are from Mexico, there are at least 22 other countries represented in the pool of approved cases, according to a report released by the Department of Homeland Security.
SEE ALSO: Immigration Executive Actions: Beyond Deportation
A report by the American Immigration Council, supporters of the initiative, also says DACA is beneficial to the economy at large, as the work permits allow people to boost their social mobility by applying for college, obtaining higher paying jobs, increasing their purchasing power and contributing more to tax revenue and programs like Social Security and Medicare.
The measure has also driven an increase in demand for attorneys, notaries and some community organizations, since most applicants are seeking professional help with the application process. For example, the L.A. Mayor's Office of Immigrant Affairs is working with about six other local organizations to provide full support to applicants seeking deferred action. UC Berkeley has also partnered with at least 14 organizations to help students fill out and process their applications.
While DACA has clearly benefited college students, thousands of other young working adults are also enabled. The program is renewable every two years, and will continue to provide work permits even after an applicant is out of school. Some of the students Neon Tommy interviewed said they have plans of pursuing Master's and even Doctoral degrees, while others plan to go straight into the workforce.
Reach Web Producer Karla Martinez here. Follow her on Twitter here.