Entertainment News
Film Review: 'Kingsman: The Secret Service'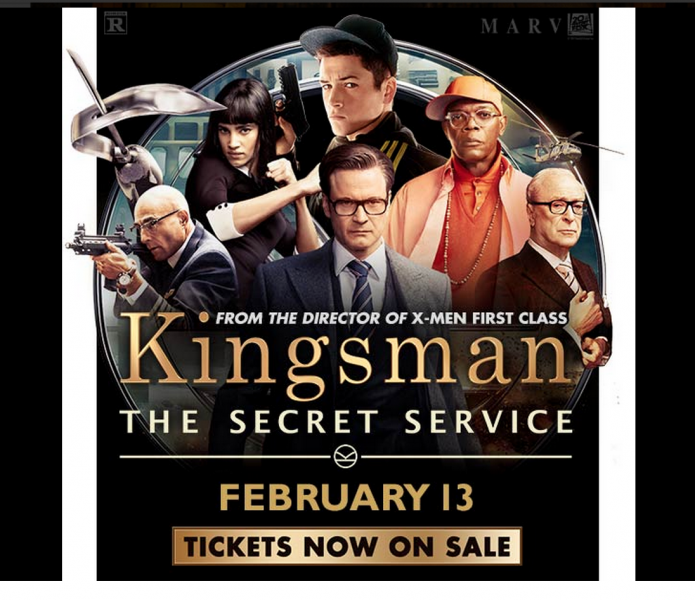 Full of explosions, campy fight scenes and action-packed sequences,
"Kingsman: The Secret Service"
offers audiences a fun and quirky take on the Action-British-Spy genre.
Taron Egerton plays Gary "Eggsy" Unwin, an underdog teenager who is recruited to join a secret spy organization. Colin Firth adopts the role of Eggsy's mentor, Harry Hart—a secret agent who trains Eggsy and takes him under his wing.
The film follows a typical hero's journey, as Eggsy comes from a difficult situation, gets his calling to the Kingsman Service, finds a mentor and saves the word. There are no surprising spoilers in this story—even before seeing Kingsman, it's apparent we've seen aspects of this movie before. Though the film is fun and has a nice energy, there are a couple factors that could be tweaked.
The film's confusing excecution asks the question: Who is this film's target demographic? The story line is too juvenile for adults, yet the excessive f-bombs are too frequent for a younger audience. Don't get me wrong, I'm all for swearing but the more we hear profanity, the less effective it becomes. Imagine the story of "Spy Kids" with the language of "The Wolf of Wall Street."
"Kingsman" will probably not attain a cult following, as it really doesn't bring anything new to the genre. This blockbuster has a polished, but uninspiring, script and sleek production value but lacks a new voice that would inspire a devout fanbase.
"Kingsman: The Secret Service" tried to express parody of the spy movie but seemed more of a hackneyed version of the genre, as it wasn't funny enough to compare to the likes of "Get Smart." Although the film was filled with cliches (how many ticking time bombs do we really need anyore?), I like to think those were an attempt at satire, rather than lazy writing.
As for character development, you won't get much here. Samuel L. Jackson plays a quirky evil villian bent on world domination, or something. The most defining aspect of his character is an almost amusing lisp that gets old after a couple scenes. His sidekick, though visually interesting (she has blades for legs) serves no purpose other than to look cool. Even though she is on numerous billboards around town, don't expect any interesting lines coming out of her mouth. However, you can expect some badass and beautifully cheorographed fight scenes with her and several agents.
Though the filmmakers are from the U.K., the film seemed as though it was an American portrayal of Britain. In the hopes of a successful release in the U.S., my best guess is the producers wanted to tone down an authentic U.K. perspective to appeal to a different audience.
Overall, I was highly impressed by the production value—kudos to Director Matthew Vaughn for executing a visually stunning and dynamic spy film. Expect to see a lot of typical tropes, minimal logic, WTF moments, kickass sequences, and a fun up-beat pace. The film was enjoyable, but not revolutionary or memorable.
Reach Staff Reporter Sonia Gumuchian here. Follow her on Twitter here.