Style
Erika Vieira Explores YouTube Fame With Beauty And The Vlog Podcast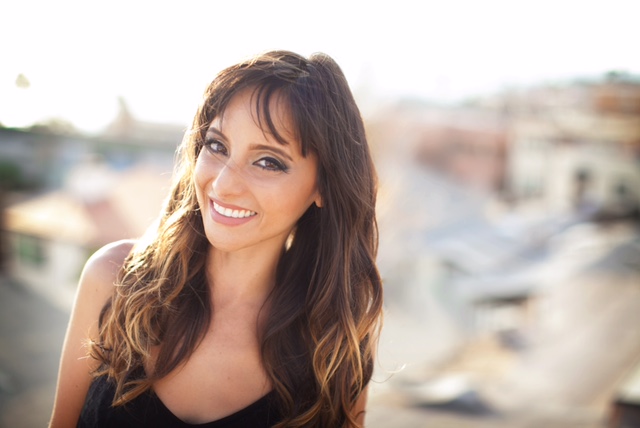 Fashion, beauty and lifestyle videos are some of the most-watched content on
YouTube
. So popular, in fact, that many beauty vloggers have gained enough subscribers and viewers to build full-time careers by simply filming makeup and hair tutorials from the comfort of their own home. But, how exactly did YouTube sensations like
Amanda Ensing
and
Sona Gasparian
reach their level of success?
One woman created a podcast to find the answers.
Erika Vieira, like many young women, was a devoted fan of YouTube videos, and her passion inspired her to create her own podcast, Beauty and the Vlog. Each week, she explores the phenomenon of becoming a YouTuber in the fashion and beauty realm, interviewing the most popular makeup gurus and uncovering their personal stories. Launched in November 2014, Beauty and the Vlog has quickly become one of the top podcasts on iTunes, garnering thousands of downloads and subscribers of its own. We chatted with Vieira about her process, the inspiration behind Beauty and the Vlog and her future plans.
READ MORE: Meet The App World's Social Media Moguls
What is the goal behind Beauty & the Vlog?
My goal with the podcast is to inspire and educate people who are interested in making YouTube a career or taking their hobby to the next level.
How did you start?
I've been a fan of YouTube and beauty videos for years. I've done interviews with celebrities and other notable people in the past, and I was asked to go to VidCon and check that out. I realized how many people were interested in, not just watching YouTube, but being a part of the creation process and having a channel. There were so many people that had that interest, and they had so many questions. I, myself, have always listened to podcasts and loved listening to interviews. There wasn't anything out there that got really in-depth with the people who have already made it and experienced success with YouTube. I wanted to fill that void, provide those interviews, explore their journeys and reveal the highs and lows of being a successful YouTuber.
What did you do before that?
I work full time in sales and marketing, but before that I was hosting another fashion podcast called Fashion 411. It was very popular, but I wanted to start my own. I wanted to be able to control it myself.
Were you intimidated to go out on your own?
No, not really. I've done other business ventures in the past. I previously had a clothing line with my sister called Rally Babe. I don't do that anymore, but we sold licensed sports apparel for women. It's just in my blood. I had so much belief in this idea and, in my gut, I felt it was going to be successful. But, in the end, you really just never know. You don't know how people are going to respond, and you don't know if people are going to like it. So, in that sense I guess, yes, I was a little nervous.
Do you have help behind-the-scenes?
For the most part, I do everything by myself. I just recently hired someone to help me with some of the technical components, but I did everything for about six months. But, for me to grow as I'd like, I realized that I needed some help.
How do you juggle everything with a full-time job?
It's definitely tough, but time management is really important. Fortunately, I have the kind of job that gives me flexibility to have the podcast as well. Also, being really passionate about what I do allows me to put in those extra hours to really do what it takes to make it successful. If I wasn't passionate about this project, it would be hard to work late at night and wake up early in the morning to finish everything.
Would you want to host the podcast full time in the future?
I would love to. I would love to be able to have this show, do it full time and also have more shows or create a network. I definitely have plans to make this a full-time thing. That would be awesome. I've also been approached by different people who want to sponsor the show, so I do see monetizing it in the future.
Have you previously studied journalism or radio?
I was a communication major at Loyola Marymount, and I was also on the newspaper, so I did do a little journalism while I was in college. I thought I wanted to be a reporter, but I decided to go in another direction. I've always had that interest and passion even though I went into more of the business aspect of things when I graduated. I've always loved interviewing people, and I've done that since graduating from college, working with entertainment networks and covering red carpet events.
What are some of the best interviews you've done on your podcast so far?
They've all been amazing. Each one of them has really provided unique and different perspectives. I loved talking to Nicole from Young Wild and Polished. She's hilarious and just so much fun. I'm a fan of "The Bachelor," and I got the opportunity to talk to [former contestant] Michelle Money, who has a popular YouTube channel, MMandLShow. I enjoyed talking to her and her cohost, Laura Armstrong. I've also been a fan of Samantha Schuerman for a long time, and I really enjoyed talking to her. Every single one of the interviews has been awesome. That's been my favorite part, just chatting with the YouTubers and getting their stories.
Who are some of your favorite YouTubers to get makeup and beauty tips and tricks from?
My absolute favorite is a girl named Kandee Johnson. She was the first YouTuber that I discovered, and I love her videos. Makeup Geek—she's really interesting because she started off doing makeup videos and now she has a makeup empire and a really popular makeup line. That's someone who is so inspiring because she went from just making videos on YouTube to a whole business. I would love to have both of them on the show.
What are your favorite makeup brands?
I love mixing up drugstore and high-end. I love L'Oreal and Revlon, even Wet 'N Wild has really amazing products that are super cheap. I love going to Walgreens or Target and seeing what's there. For high-end brands, I always love MAC Cosmetics—it's an oldie, but goodie. Other than that, I just try so many different products. Some other brands that I love are Benefit Cosmetics, Too Faced, Laura Mercier and Urban Decay. Pretty much, everything.
How has the feedback been from the fans?
When I first started this, I didn't know if anyone was going to like it or get something out of it. But, I get so many emails, tweets, Facebook and Instagram messages from people telling me how much they love the interviews and how they get inspired. Sometimes when they're having a bad day, they listen to one of interviews, and it keeps them going. That's exactly why I wanted to do this. I have a goal of reaching and inspiring 1 million people this year with the podcast, and it really warms my heart when I read all these messages about how inspiring the stories are, especially for young women because so many of them look up to YouTubers. It's not just about makeup; it's about having a passion, really going for it and working hard. I'm loving that people are finding value in hearing those stories.
In five years, where do you see yourself in your career?
As long as people are enjoying the podcast and getting something out of it and the YouTubers want to share their stories, I'll continue to do the podcast. But, the sky is the limit. I see so many different things that I can do with this concept. I see doing the podcast, but also having it be one part of a bigger picture. I would love to ultimately reach more people. Like I said, my goal is to reach 1 million people in 2015, and I would love for that to grow exponentially every year. I think from that everything else will come into place.
Would you ever want to make your own makeup videos?
Probably not. I think there's already so many people out there doing makeup videos, and they're doing them really well. That's what they do, and I'm going to stick to what I do, which is interviewing. I think that's the key to having a YouTube channel: find something that you enjoy doing, find something that you're really good at, find something that makes you special and make videos based on that. There's just so many people making videos that if you don't hone in on what you're really good at, you can easily get lost in the shuffle. I might do other things here and there, like talk about different topics, but probably not doing makeup. I'll leave that to the makeup artists and other YouTubers.
What do you think is the key to your success?
I think a lot of hard work. Also, I like to spend a lot of time observing and researching. I had this idea in April or May of 2014, and I spent a long time just seeing what else is out there and seeing if there was anything else like it. I spent a lot of time mulling it over. I wouldn't necessarily recommend spending too much time, but I accessed the scene to see if this was something people might find valuable. I made the decision that there wasn't anything else out there like it, and I really did believe that people would find value and resonate with it. I think the key was working really hard, finding a niche that wasn't filled and, ultimately, filling it myself.
What are your favorite podcasts?
My favorites are Online Marketing Made Easy with Amy Porterfield, StartUp, The Marketing Lifestyle Show with Amy Schmittaur, The School of Greatness with Lewis Howes, She Podcasts and Bulletproof Radio. I'm a total podcast junkie. When you listen, you get inspired by how other people do it. A couple of the YouTubers that I interviewed mentioned that to be a good YouTuber, you have to watch a lot of YouTube videos. You have to see what else is out there and see what everyone else is doing. I feel the same way about podcasting. To be a good podcaster, you have to listen to a lot of podcasts. I totally just learn and get ideas by listening.
What advice would you have for others hoping to build a successful podcast?
I would say to find a niche that you're really excited and passionate about and focus in on that. There are a lot of podcasts out there, but there's a lot of room for growth because podcasting is really just starting to take off. There's a lot of opportunity for people to find a niche with something they know a lot about and create a show around that. The more specific the better because then it becomes easier to target the people that will benefit from your podcast.
What is the biggest lesson you've learned so far?
The number one lesson is to truly embrace who you are, and be yourself. If you have a really big interest in something, embrace that. Don't try to do what you think everyone else is going to like or what you think is popular right now because it's hard to sustain a podcast or YouTube channel unless you're really passionate about it. Embrace who you are, embrace your passion and embrace your interest. That's how you'll be successful, not just as a podcaster or YouTuber, but in life in general.