Film and TV
Best Guest Moments On Jimmy Fallon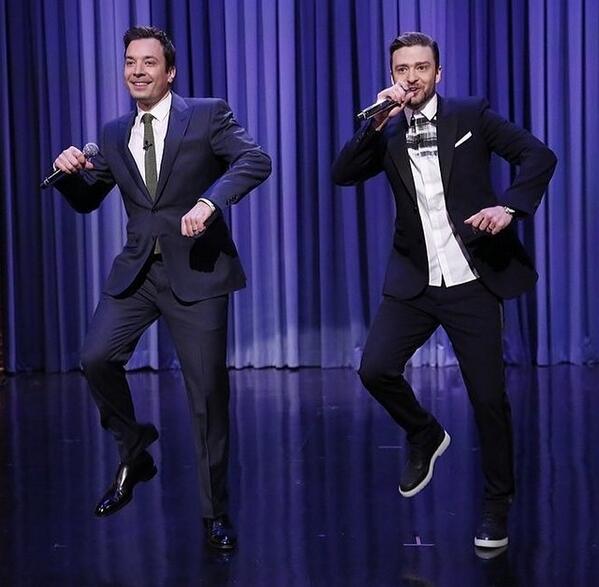 The best part of
Jimmy Fallon
's late night show are the interactions he has with his guests. For some of his guests, everyone knows what to expect, but there are some moments that come out of the blue and surprise us all. Here are some of the best moments that guests on Fallon's show have ever had.
JT On The Mic
Let's start out with the obvious. He does not even need an introduction whenever he visits the show; once Fallon starts rapping, the audience knows what is coming next. When Fallon's good pal Justin Timberlake comes to town, we know that we are going to get a good montage of rap songs, sung hilariously by two white guys. The mix of classic songs and new age hip hop makes sure that each performance will reach a large audience and get everyone to sing along. Along with each different song comes a different synchronized dance that perfectly captures the era of which the song is from. While the choreography is always top notch, the teamwork between the good pals makes you wonder how many hours they must have rehearsed prior to the taping of the show. One of the best moments from their numerous performances however has to be from their third time on the stage. While performing "It Was A Good Day" by Ice Cube, Jimmy rapped a lyric about using his AK, in reference to an AK-4
A Tall British Man, A Talk Show Host And A Movie Star Walk Into A Bar...
Lip Sync Battles have become a staple on Fallon's show and they have treated us to a number of memorable performance, but none better than the one featuring the star from across the waters in Stephen Merchant and the quiet heartthrob in Joseph Gordon Levitt. Merchant started off the festivities with a performance of "Shake Your Rump" which was surprising solely because most people in the United States did not know much about Merchant and honestly it was funny to watch a tall, slender British man sing a rap song. Fallon followed Merchant with a rendition of "Don't You Want Me" where he seduced the camera with his eyes and even ventured over to Merchant during the more passionate moments of the peace, basically confessing his love and desire. In my personal favorite song of the piece, Levitt gave a powerful performance of "Tiny Dancer" in which he sang with his eyes closed, banged his head to the beat of the drums and highlighted his time on stage by sliding on his knees towards the camera. Merchant ditched the mic for his second song where he sang the very popular Beyonce hit "Single Ladies" in a performance that was full of hip swaying, jazz hands and capped off by the iconic Single Ladies dance. Merchant's rendition was a hard act to follow, but Fallon went on to the stage with confidence as he performed "Take On Me." When Fallon wasn't busy dancing around the stage to this 80's hit, he even incorporated the audience to sing along; he even took a page out of Levitt's book and fell to his knees to hit the last note. Levitt also ditched the microphone for his second act and he closed the show with "Super Bass." The camera zoomed in on Levitt's face so the audience could closely watch his lips accurately rap along to the quick-paced Nicki Minaj track; he didn't miss a beat.
READ MORE: Guest Stars We Want To See On Our Favorite TV Shows
Jennifer Lawrence Ends Her Beef With Fallon
Fallon brought Jennifer Lawrence on the show so that the two could tell both sides of a story that ended with Lawrence being rather upset with the late night host. Fallon sets the scene by explaining that the two were at an event together and Lawrence had a plan to dance with Jennifer Lopez and that she recruited Fallon to go over and dance with her too. Immediately, Lawrence disagrees with this anecdote as she reveals that the two came up with the scheme together. Lawrence explains that at the time of the conjuring of the plan, the two were probably already ten Jell-O shots in, her first time taking Jell-O shots she adds, and the two spotted J-Lo across the way and thought it was a good idea to dance with her. She goes on to detail the plan, that was to spin around together and invite Lopez into the dance with an extended hand towards the star. She then says how she does the move in confidence, only to find that Fallon has disappeared amongst the crowd. And this is when the story goes sour, Lopez denies the lonely Lawrence an opportunity at a dance. Fallon is quick to defend himself and he explains that as the two were turning around towards J-Lo, he sees her manager shaking his head to warn him against their plan, so Fallon saved himself and went the opposite direction and left Lawrence in the dust. To finish off their story, the two make a plea to Lopez herself and beg that one day she will want to dance with them.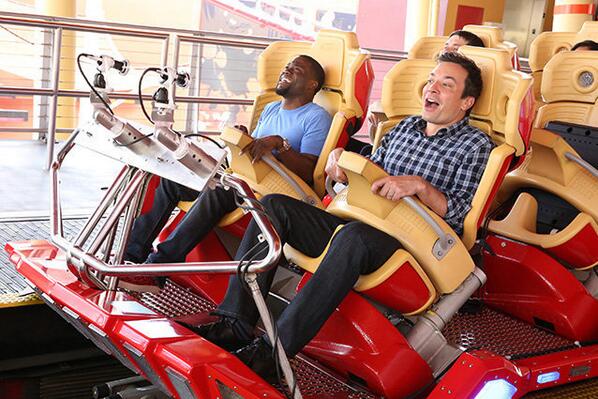 Kevin Hart Nearly Has A H(e)art Attack
When Jimmy Fallon took his show to Orlando for a week in the summer of 2014, Kevin Hart joined him at the local Universal Orlando Resort. Fallon introduces a clip of the two comedians going to the resort to ride on one of the roller coasters. Even before the clip, the audience can anticipate an interesting experience as it is obvious that Hart is still shaken from his experience. The clip shows Fallon and Hart approaching the Rip Ride Rockit, and instantly regretting their decision. The only thing holding Hart back from turning around and heading the other way is that he does not want to "look like a bitch." Hart is visibly nervous and is rubbing his hands together as they walk through the line. If that wasn't enough, Hart is barely tall enough to even ride the ride itself, which only frustrates him further. To make matters even worse, the duo are positioned at the very front of the ride. Hart starts screaming even before the ride leaves and midway through, he starts begging for the ride to stop. As Hart struggles to keep himself from crying throughout the ride, Fallon is his smack in the middle of his face with a bug. At the end of the ride, the two both look as if they are about to throw up, but are relieved that the dreadful experience is finally over. Hart tries to get out of his seat once they finish the ride, and then Fallon reveals that they are going one more time.
Daniel Radcliffe Spells Without His Magic Wand
Daniel Radcliffe is known for his role as Harry Potter, but his performance of "Alphabet Aerobics" by Blackalicious was truly magical. Before he takes the stage, Radcliffe tells Jimmy about how big of a rap fan he is and how he was always the kid in grade school to memorize lyrics to popular rap songs. He even says that it is an obsession of his to memorize rap lyrics, especially ones that are particularly fast and intricate. Fallon then introduces the idea of performing the Blackalcious song and he hands over a mic, which Radcliffe quickly embraces.
READ MORE: Best Celebrity Talk Show Appearances Of All Time
Will Smith Gets Jiggy With It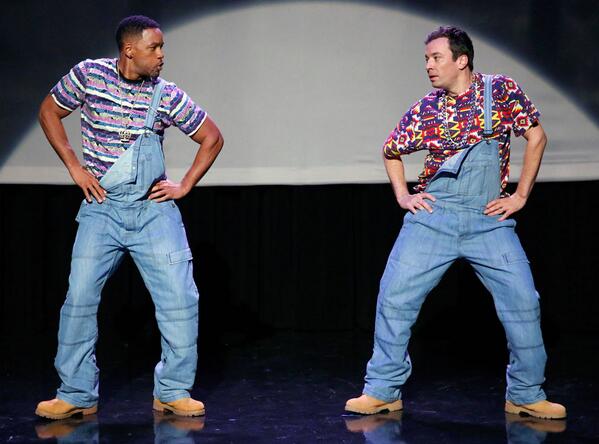 Another favorite sketch that appears in Fallon's show is the Evolution of Dance. He has performed all different styles of dances with varying guests, but the evolution would have to be The Evolution of Hip Hop Dance, which he danced along with Will Smith. Perfectly clad in Aztec print shirts. a big chain and overalls with only one strap over the shoulder, the pair took the audience through all different styles of hip hop dances. We then get a switch in the music as they start to dance out moves that must be accompanied with certain songs like the "MC Hammer," the "Humpty Dance" and "Crank That (Soulja Boy)." The bit ends with everyone's dance they love to hate, the "twerk," which Fallon performs to the disgust of Smith who walks off the stage.
Nicole Kidman… Fallon?
In one of the funniest moments to ever happen on Falon's show, Nicole Kidman pays a visit to help tell the story of how the two met. Kidman's appearance marked the first time that the two had seen one another since this memorable first encounter. Fallon starts out the festivities with his version of the story.
Fallon recalls how he was walking down the street in New York City when he received a call from his friend Rick, who was calling to tell Jimmy that he was with Nicole Kidman and that she wants to meet him. Rick tells Jimmy that he can be over to his apartment in ten minutes. Jimmy doesn't know how to prepare for this meeting so he put out cheese and crackers.
Kidman stops Fallon at this point in the story to reveal that all she remembers is that she liked Jimmy. She continues to say that she was excited to meet Jimmy and that she was single at the time. This whole time she is telling the story, Fallon is just in complete shock and he cannot believe what she is telling him. She goes on to say how Fallon was very underwhelming at his apartment, wearing a baseball cap, sweats and not talking. To make it worse, apparently Jimmy ended up putting a video game on, which in Kidman's mind was the deal breaker.
Fallon is understandably very embarrassed; he even resorts to hiding behind his desk at one point. Kidman continues her story and says that after an hour and a half of being in his apartment, she decided that it was really awkward and that Fallon must have no interest whatsoever. Then in the highlight of the segment, Kidman reveals that she left the apartment thinking that Fallon might even be gay, explaining his lack of interest in her.
The two start to joke around with one another during this awkward encounter, and then Fallon even starts to make a case for himself. His argument is that Keith Urban, Kidman's husband, is always on tour doing his music. On the other hand, he, Fallon, is always at home so he could take care of the kids.
The two struggle to finish the interview as they both keep laughing and getting red in the face because of the story about their initial meeting.
Reach Staff Reporter Noah Camarena here and follow him on Twitter here.