USC Sports
USC's Blowout Win Over Notre Dame Sets High Expectations For Next Season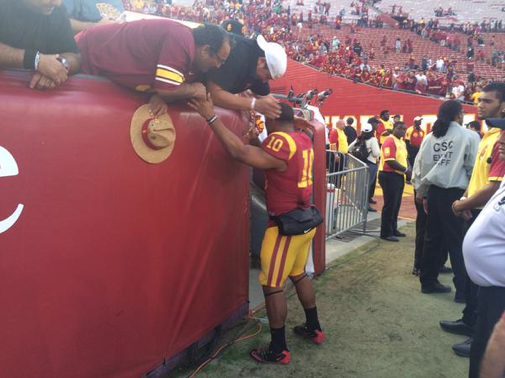 USC's 49-14 win over Notre Dame on Senior Day had a similar kind of feel to a game in the past. No, not other games this season in which the Trojans piled on touchdowns early against a helpless opponent. But rather, it reminded me of USC's 50-0 win against UCLA in 2011.
Matt Barkley then and Cody Kessler today each had six touchdown passes. It was a blowout win against a rival at the Los Angeles Coliseum. And it provided a fan base hope for what the future possibly has in store.
A bright future that depends a lot on USC coach Steve Sarkisian.
"Inevitably, your football team, in my opinion, takes on the personality of the head coach," said Sarkisian. "I'm hopeful it happens sooner rather than later. I think we're very close."
He's absolutely right. Pete Carroll's USC teams adopted his passionate personality. UCLA under Jim Mora is as tough as nails. So what does Sark want from his group?
"We try to pride ourselves on overachieving. When you bring in a group of talented people that are highly competitive and that strive to overachieve, then you got something," he explained. "That's how I view myself. Nothing ever comes easy to me. I'm always going to fight, scratch and claw for everything. And that's how I want our team to play."
The thing is, USC's team has shined this year when it has been easy. Outside of a few exceptions, the team has struggled when it has had to scratch and claw in a close game. Then again, Sark did say that his team is "very close" to adopting that mentality. What part of Sark's personality did some of the players think rubbed off on the team?
"Coach Sark is young, so he brings a lot of energy to the game. I think it shows on our sidelines," said defensive lineman Leonard Williams. "When people make big plays, the whole sideline is jumping up and down."
"He has a lot of energy and he's just a fun coach to be around. It allows you to be loose and it allows you to be yourself," said defensive lineman Antwaun Woods. "Coach Sark has been the same all season, he never changed in good or bad times."
What these quotes tell me is that when things click for USC, the Trojans are one of the most dangerous teams in college football. However, if the team is dealing with adversity in one of its games and there isn't as much jumping on the sideline, there are problems.
The numbers also speak for themselves.
Sark's constant energy could definitely be a factor regarding USC's 4-0 record after losses. His positive personality, even after tough defeats, has allowed the team to stand back up and fight back in those games. But unlike bouncing back after a loss, the Trojans haven't fought back as well in games in which the team has received multiple punches. USC's inability to scratch and claw in close games is the reason why this team hasn't had a single three-game winning streak this year.
A win over a rival is always a boost. In a game in which USC was already eliminated from Pac-12 Championship contention however, this victory means a lot more for the future compared to the present.
After the blowout win against UCLA in 2011, USC was the top-ranked team in the preseason AP poll the following season. While the Trojans won't be ranked as high in the 2015 preseason poll, the positive perception around the team can only help overall morale and recruiting.
Additionally, when you crush a rival, it raises expectations from the fan base. After beating UCLA by 50 points, Lane Kiffin could never come close to meeting those expectations again. Sark now has a similar bar that he needs to consistently meet in future seasons to come. That kind of win and offensive performance also eliminates any excuse for next season.
"It was obvious today how tough it was for them to get lined up with the uptempo. I think it really played to our advantage today," said Kessler. "On a personal note, I think we have done a really good job of rotating guys in and out. That is what is really cool about our depth, it really helps our offense."
That was one of the first times I've heard anyone at USC use the word "depth" in a positive manner. The dirty secret is, USC's lack of depth was not the main problem this season. But it was still an excuse that the team could use.
Not anymore.
Another common theme that the players picked up from Sark's personality this season is the family-like atmosphere. I think the legacy of this senior class is that it was the starting foundation of this close-knit group. These players had the option of choosing a different school once the sanctions were given out.
Instead, they bonded over the fact that despite being several scholarships short, they could still be a team that can compete with any other team in the country. Even after dealing with adversity at several times over their four seasons, this group still finished with a winning record each year.
Even on a team filled with youth, the seniors had a big impact in today's game.
Safety Gerald Bowman had an interception. Linebacker J.R. Tavai had 3.5 sacks, which matched his season total. Tight end Randall Telfer caught a touchdown pass. Linebacker Hayes Pullard had a fumble recovery.
And for one final time at the Los Angeles Coliseum, this group showed its potential despite having fewer than 60 available scholarship players. Now it's time to look forward.
"It was a great feeling. Everyone was saying, 'We did it for you.' But I really felt like we did it for us as a team," said Pullard. "Like Coach Sark said, 'This team has a bright future.'"
Reach Senior Sports Editor Max Meyer by email.