Film and TV
Remember This Scene: 'Boyhood'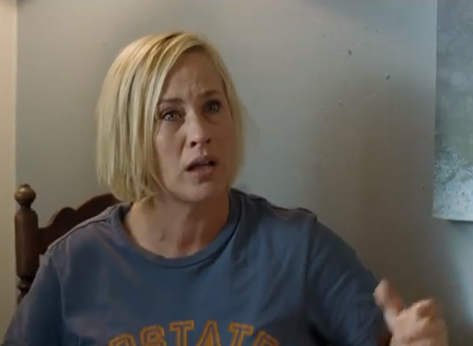 Every Thursday, Jeremy Fuster shines a spotlight on a critical scene from a popular film. Join him every week as he delves into what exactly makes these critical scenes so memorable and successful.
The Oscar nominations list dropped this morning, and of course, there's outrage. On the weekend of Martin Luther King, Jr.'s birthday, the biopic based on his life, "Selma," only got two nominations: Best Picture…and Best Original Song. That's right. A film somehow worthy of getting Best Picture wasn't worthy of being nominated for any awards for acting, direction, or screenplay, something that was given to well-acted but otherwise mediocre Oscar-bait like "The Imitation Game" and "The Theory Of Everything." The Best Director snub was the most damning of all, as the Academy decided to not make Ava DuVernay the first African-American woman to be nominated for such an award.
It wouldn't be surprising if the Academy gave "Selma" the Best Picture award in a desperate attempt to save face following the furious #OscarsSoWhite backlash that has been unleashed on the internet in the past few hours. It wouldn't be the first time a film suddenly got recognition after public outrage for a snub. Two years ago, the Academy gave Ben Affleck the top award for "Argo" after everyone threw a fit about him not getting nominated for Best Director. It won't work with "Selma," though. It will just accentuate how pathetic the Academy can be.
READ MORE: Oscars 2015: Complete List Of Nominations
The good news is that the best original films of 2014 got the nod they deserved. "The Grand Budapest Hotel," arguably Wes Anderson's finest work, and "Birdman," a brilliantly shot and well-acted film that miraculously avoids falling into pretentiousness, each got nine nominations. "The Grand Budapest Hotel" is now the first film since "Erin Brockovich" to get a Best Picture nomination despite having an initial release between February and May, usually a dead period for Oscar potentials. "Birdman" was not as much of a surprise, having taken the festival scene by storm and remaining in the awards spotlight long after its October release.
But with "Selma" now out of the running barring the aforementioned pity vote, it now seems that Richard Linklater's 12-year odyssey "Boyhood" just went from prime favorite to nigh-unstoppable juggernaut. Having received near-unanimous critical acclaim over the summer (the notable exception being L.A. Times' critic Kenneth Turan), "Boyhood" received several top awards at the Golden Globes. It's a stunning film that turns its filming style—shoot it all over 11 years with the same actors as they age—from a simple gimmick to a key aspect of its theme of growing up and the changes that come with doing so.
But the element that puts "Boyhood" over the top actually has nothing to do with the boy at all. The most moving part of the story is the boy's parents, played by Ethan Hawke and Patricia Arquette. Both actors were nominated for supporting role Oscars today, and it's easy to see why. To make a story about a boy growing up, a heavy emphasis has to be put on the impact each of his parents has on him. For Linklater's boy, Mason, his dad's parenting and his mom's parenting couldn't be more different.
READ MORE: An Open Letter Of Gratitude To Patricia Arquette
Mason's parents are divorced, and by the time we are introduced to them in the film, they have taken very separate paths in life. Mason's mom is the one who dedicates herself to her responsibilities. She raises Mason and his sister almost entirely on her own, except when she needs to head off to the University of Houston to work towards her degree. Daddy, on the other hand, pops in and out throughout the film, taking Mason out bowling, to baseball games, and camping. In one light, he could be seen as a deadbeat, but Dad is the one Mason asks all his questions about life to. From start to finish, it's the Dad who gives Mason important life lessons, whether's it's about girls, whether elves are real, or just the uncertainty of the future.
And while Mason absorbs his mom's upbringing and his father's wisdom, the parents themselves change just as much as their son. By the end of the movie, Mason Sr. is a very different man from the overgrown wild child he was back in 2002. He's sold his beloved GTO, settled down with another wife and a new child, and became "the boring, castrated guy your mom always wanted." But despite this, he seems to be content with this new role in life. His final conversation with his son is filled with smiles and easy laughter, and shows that while Mason Sr. might find it a little weird that he's become a boring 40-year-old, he is at peace with both his past and his present.
READ MORE: Film Review: 'Boyhood'
The same can't be said for Patricia Arquette's character, Olivia. Over the course of the film, we see Olivia jump from one bad relationship to another, struggling to keep her sanity as she overloads herself with responsibilities. Her final scene with Mason is the exact opposite of Mason Sr.'s final scene. She is about to send Mason off to college, and she calls it the worst day of her life, as she is suddenly struck down by a lethal cocktail of mid-life crisis and empty nest syndrome that leaves her son at a loss at what to say.
If you are wondering why Patricia Arquette won a Golden Globe this past week and is considered a shoo-in to win Best Supporting Actress, look no further than this, the best movie scene of 2014. This is a heartbreaking outpour of despair that could come from any person who realized that half their life is behind them, and the decade-long shooting style that Linklater has employed adds to the drama. We've literally seen Arquette age 10 years over the course of 2 and a half hours, making the wrinkles that subtly come in over time underneath the eyes and between the cheekbones all the more noticeable. This is a woman disillusioned with life, who has given her soul to her parents and to three failed relationships, and suddenly she realizes she has left nothing for herself. Arquette last line is one that too many people on this Earth must have thought about life at some point: "I just thought there'd be more, you know?"
The film is called "Boyhood," but it could be changed to "Parenthood" and still be fitting. This is one of the most relatable works of cinema ever created. The kids in this film aren't the only ones growing up. The adults are growing up, too, and not always for the better. Richard Linklater has built his legacy on making movies that are about nothing and everything; "nothing" in that he eschews the normal plot structure of films, and "everything" in that he replaces it with movies that explore what it means to be alive and to be human through the day-to-day experiences that we take for granted and never really consider to be the foundation for riveting cinema. Up until now, Linklater has never been properly recognized as one of the all-time great filmmakers for this approach. At this year's Oscars, it's time to end that by honoring him, his actors, and his incredible "Boyhood."
Find other "Remember This Scene?" posts here.
Reach Staff Reporter Jeremy Fuster here. Follow him on Twitter here.