Arts+Culture
Ras Rojah Brings "Life of Marley" Show to USC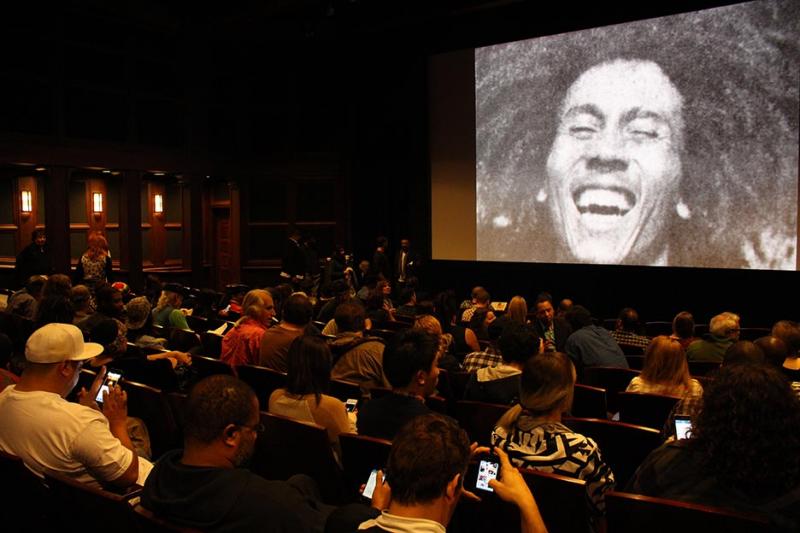 On Thursday night, reggae legend Bob Marley was reincarnated on the USC campus when Roger Steffens brought his "Life of Marley" show to the School of Cinematic Arts. Alongside his wife Mary, Steffens delivers his multimedia presentation to audiences around the world. While each performance is unique, this one was a particularly special experience as it was held just over a week before what would have been Bob Marley's 70th birthday. It was also the only show that Steffens will do in his hometown of Los Angeles to mark the occasion.
Dressed in a purple blazer accented with a Kente scarf and a Marley-printed tie, Steffens looked the part of a reggae sage. While waiting for guests to file into the Ray Stark Family Theatre, he paced the front of the room chatting with the early-birds. Bursts of green, gold and red, the colors of the Rastafarian movement, could be seen throughout the Ray Stark Family Theatre as it filled with people. The audience was made up of music lovers, curious observers and several of Steffens' friends that came to show support - all of which contributed to the good energy that lasted throughout the show.
Standing before a slideshow of performance and candid stills (many of which he took himself), Steffens told tales of Marley's life from his birth, to his rough days as an abandoned child on the streets of Kingston, Jamaica through to his international success. He revisited Marley's quasi-disastrous visit to Gabon, during which his band was put on a flight and asked to leave the country, only to be deplaned when people took to the streets in protest; they wanted to see their idol perform. He also shared prescient stories of the first time Marley injured the foot in which doctors would later discover the melanoma that claimed his life, as well as the fact that Marley predicted his own death at the age of 36.
Interspersed between these anecdotes were video clips and excerpts of rare concert footage, all rolled out on cue by Mary, who co-curates the show to whom he referred lovingly several times during the show.
Known as Ras Rojah by some, Steffens has worked as a reggae DJ and historian since he discovered the music in the early 70s. Having interviewed, photographed and even performed with many of the greats, his nickname is a play on the name
Ras Tafari
, and perhaps a nod to his god-like knowledge of the genre.
Steffens is a diligent Marley scholar and
prolific reggae archivist
with over 300,000 items of memorabilia that take up seven rooms in his L.A. home. During Thursday's two-hour show, he entertained the packed theatre with previously unseen footage and extensive facts about Bob Marley from memory. This is understandable, as Steffens has been spreading the positive vibes for over three decades.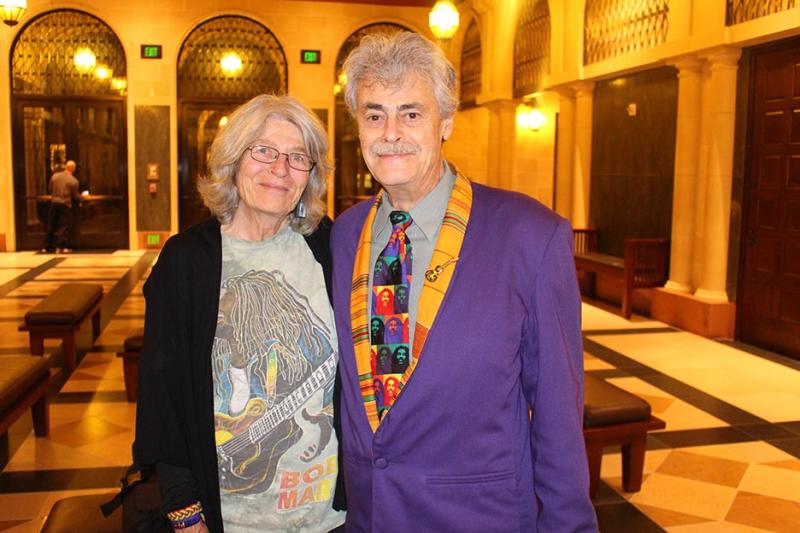 "In 1984 I was invited to the National Video Festival at the American Film Institute. They wanted me to show my collection of unreleased footage to illustrate how collectors keep obscure things alive that the mainstream ignores," Steffens explained.
"I got a great review and I started getting requests from colleges to do shows for them, then I started getting requests from nightclubs."
That began a series of performances that he has delivered at least 500 times by his estimation, in places as diverse as the Smithsonian Museum, Auckland, New Zealand and at the bottom of the Grand Canyon for a group of Havasupai Indians, who believe that Bob Marley was a reincarnation of one of their gods.
Steffens met Bob Marley, interviewed and photographed him several times, the impact of which transformed the show from an educational lecture to a personal experience.
Last night's audience certainly engaged with the material, snapping their fingers and nodding their heads to the rhythm of the music- much of it unreleased acapella versions of well known songs like "One Drop" and "Brand New Second Hand."
"It was very educational and informative. I was impressed," said Beverly Kelly who was seeing the show for the first time.
There was also a noteworthy moment for Trojans in the crowd when it was revealed that USC Chief of Security John Thomas, seated near the front, was a big Marley fan that narrowly chose joining the force over living in a Rasta commune.
"This was as good as it gets, because a lot of people were there who were old enough to have seen Bob [perform] and the audience seemed to full of people who understand what he was all about," Steffens said. "They laughed in all the right places which is wonderful."
Much of the footage that Steffens showed was converted from film to a digital format, a process that leads to varying results. But Steffens admitted that due to the quality of the theatre the films had "never looked better," an aspect that he thinks inspired greater audience participation. On many occasions the performance footage was met with applause, as if everyone was watching Bob Marley himself perform live in the room. With so much material to draw upon, Steffens tailors the anecdotes to match spectator reaction, while Mary knows exactly which accompanying clips to play.
Sensing that the room was filled with enthusiasts, the Steffens loaded Thursday's show with treats for reggae fans, such as a video clip of the last time Bob Marley, Bunny Wailer and Peter Tosh
performed together as the Wailers
in 1973. Also in the audience was Wayne Jobson, director of "Stepping Razor: Red X," a documentary about the life and untimely death of Peter Tosh. During the Q&A session, Jobson told a story about meeting a former prison warden who heard about plans to murder Tosh, from the inmate who then went on to commit the crime upon his release.
For some, the experience was very personal and brought up good memories as well as bittersweet feelings about the death of a star before he had a chance to share all of his art with the world. More than 30 years after he lost his battle with cancer, Bob Marley's music continues to touch those who listen to it and his legacy is strong. Steffens even contended at one point that he is bigger in death than he was in life, with more than a million people attending his funeral in 1981. The musician's fan page has more than 70 million followers on Facebook.
"Bob was before his time. People are continuing to discover him and I'm happy about that," said Jeffrey Anderson-Gunter, a friend of both Steffens and Marley.
Although not everyone in the audience knew Bob Marley personally, the performance was filled with enough music, art, politics, history and conspiracy theories to last all night and keep everyone happy. The finale was met with a standing ovation.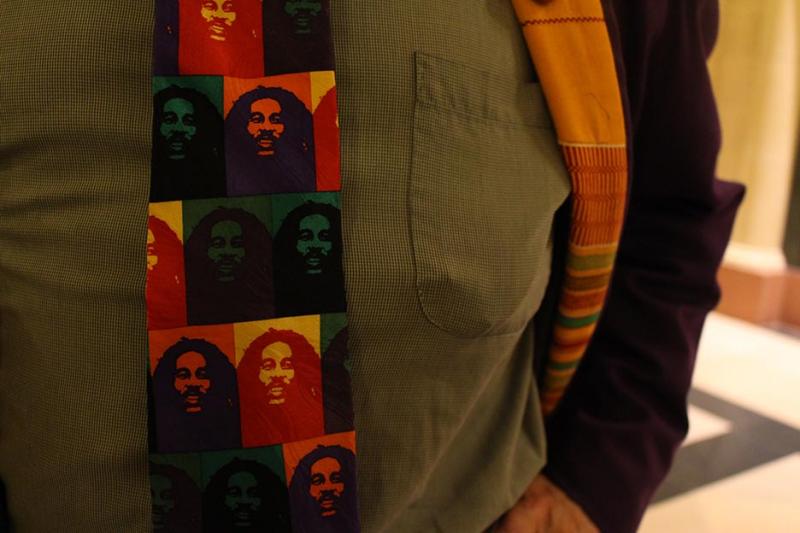 "If I saw it advertised anywhere else I'd go again," said Beverly Kelso.
The Steffens' reggae archive has gotten so big that they have moved homes twice to accommodate it. This means that they have enough material to keep their performances fresh and entertaining for as long as they choose to do it. While Marley's artistry has stood the test of time, Life of Marley's success is also a testament to the Steffens' dedication to keeping his memory alive.
Roger Steffens might be known widely for his archiving prowess, but his contributions to the promotion of the genre and his deep passion for the music have cemented his name in reggae history. Leading up to Bob Marley's birthday on the 6th of February, he will perform in a few tributes, before eventually making a trip to Jamaica. But it seems that his SoCal session was one of the highlights.
"All the elements were there tonight. It's a show that I'll remember for a long time," he said.