Film and TV
Golden Globes 2015: 9 OMG Moments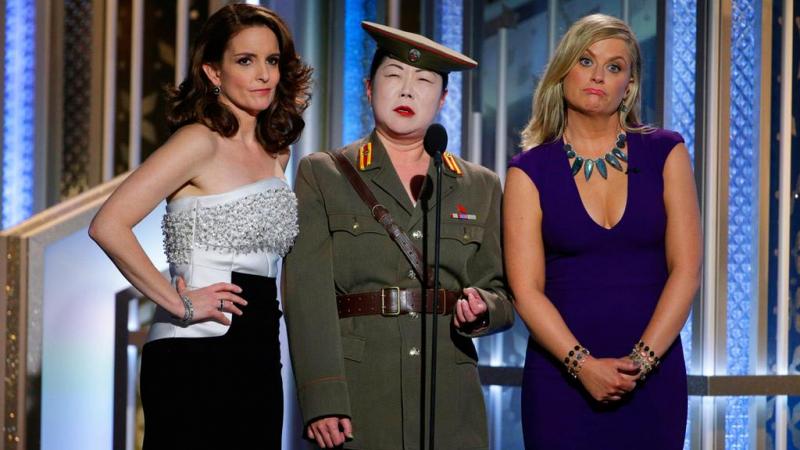 This year's Golden Globes didn't fall short of any surprises as we saw strong competition in multiple categories and unpredictable jokes that left our jaws hanging. Here are the 9 moments that made us say "OMG."
Tina Fey and Amy Poehler take a jab at The Interview
It only took half a minute for the third-year hosts to bring up the biggest Hollywood story of the year. Not only did they ridicule Sony's reaction to the threats from North Korea, they also hinted at some of the horrible reviews the movie received-- and Fey joked the worst one didn't even come from North Korea.
Jeremy Renner's Comment on Jennifer Lopez's Chest
DId that just happen? When Lopez asked "you want me to do it?" as to who should announce the winner and added "I have the nails," Renner replied "You've got the globes, too." Social media users were quick to capture the shocking moment on Vine and share it within seconds.
READ MORE: Golden Globes 2015: Best And Worst Dressed
The Sports Illustrated model was made into a meme following her cry face during husband John Legend's win. She joined in on the fun by capturing it on Instagram with cry face emojis and tweeting, "It's been 5 minutes, and I'm a meme." Too good.
Too Soon for Bill Cosby jokes?
Fey and Poehler certainly didn't think so. The star attendees looked just as surprised as the rest of us when Poehler slipped in a Billy Cosby joke in describing the movie "Into the Woods." According to her, "Cinderella runs from her prince, Rapunzel is thrown from a tower for her princess and sleeping beauty just thought she was getting coffee with Bill Cosby." The two also didn't hesitate from impersonating the lately shamed comedian.
Michael Keaton's Heartfelt Speech
The "Birdman" actor gave an emotional speech about his rough childhood and his son, whom he calls his best friend. His personal story came as unexpected, and his show of sincerity was a highlight from the award.
George Clooney-- A Trophy Husband?
Clooney didn't escape the jokes either. Fey juxtaposed his new wife Amal's achievements as a human rights lawyer with his Cecil B. DeMille Award for lifetime achievement. On a more serious note, his acceptance speech was something to marvel at; his declaration of love for Amal and show of support for the slain Charlie Hebedo staffers left us in awe.
READ MORE: Golden Globes 2015: Complete List Of Winners
Gina Rodriguez's First Win at First Nomination
Breakout star Gina Rodriguez from "Jane the Virgin" won her first Golden Globe after her first nomination. She seemed just as humbled as she was about her nomination, as well as the PCA nomination and win of the CW series, which was renewed for its second season today.
She touched our hearts during her speech about her father's encouraging words, "Today's gonna be a great day. I can and I will." She tearfully concludes "Well, Dad, today's a great day. I can and I did."
Margaret Cho as a North Korean Soldier
As part of Fey and Poehler's opening and closing, Margaret Cho stood in as a North Korean Army General, in addition to the "newest HFPA member." She manages to get a picture with Meryl Streep, with Benedict Cumberbatch photobombing in the back.
Kevin Spacey-- At Last!
After 8 Golden Globe nominations, "House of Cards" actor Spacey finally took the golden trophy home. And he summed up his excitement perfectly: "This is the eighth time I've been nominated," he said. "I cannot believe I f-ing won."
For more Golden Globes Coverage, click here.
Reach Staff Reporter Diana Lee here and follow her on Twitter here.