Film and TV
Golden Globes 2015: 5 Most Moving Moments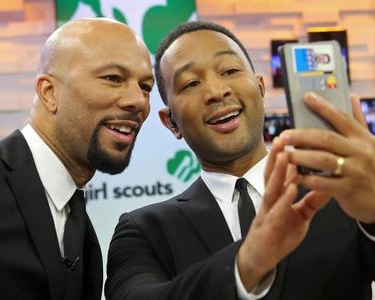 When we tune in to the annual broadcast of the Hollywood Foreign Press Association's (HFPA) Golden Globe Awards, we typically expect the usual below-the-belt jokes and champagne-induced missteps, but this year's awards show had a decidedly more powerful - albeit hopeful - tone to it, particularly in light of this week's tragic events in Paris.
While presenters like Ricky Gervais delighted the star-studded audience with the usual meta-lighthearted jabs ("If we've learned one thing, it's that famous people are above the law, as it should be"), Theo Kingma, the president of the HFPA, set the tone for the evening by showing solidarity for the victims in the Charlie Hebdo massacre, and declaring that Hollywood was "united against anyone who would repress free speech," prompting a standing ovation.
READ MORE: Golden Globes 2015: 9 OMG Moments
What followed were some of the most thoughtful acceptance speeches about social change, equality, and humanity we've seen in recent years, which reflected on a year of significant achievement in film and television that pushed boundaries and probed questions often left untouched in entertainment.
These were the five most moving moments from this year's Golden Globes.
1. Common with John Legend (Best Original Song - Motion Picture, "Glory" for Selma) - On meeting people who fought during the civil rights movement on the set of Selma:
"I realized that I am the hopeful black woman who was denied her right to vote. I am the caring white supporter killed on the front lines of freedom. I am the unarmed black kid who maybe needed a hand, but instead was given a bullet...Selma has awakened my humanity."
2. Richard Linklater (Best Director - Motion Picture, Boyhood) - On his 12 year-long film production about parenting resonating with audiences:
"We're all flawed in this world...I just want to dedicate this to parents who are evolving everywhere, and families who are just passing through this world and doing their best."
READ MORE: Golden Globes 2015: Surprise Winners And Snubs
3. Jeffrey Tambor (Best Actor - Comedy Series, Transparent) - On his role as a transgendered woman:
"This is much bigger than me...this is dedicated to the transgender community...thank you for your patience and thank you for letting us be a part of the change."
4. Matt Bomer (Best Supporting Actor - Miniseries, The Normal Heart) - On the HIV/AIDS epidemic:
"This is dedicated to the generation we lost and the people we continue to lose...we love you, we remember you."
5. George Clooney (Cecil B. Demille Award) - On today's marches worldwide against terrorism following the massacre at Charlie Hebdo in Paris last week:
"We will not walk in fear. Je suis Charlie."
Reach Staff Reporter Kristin Marguerite Doidge here or follow her on Twitter here.