Film and TV
'Downton Abbey' Season 5 Premiere Recap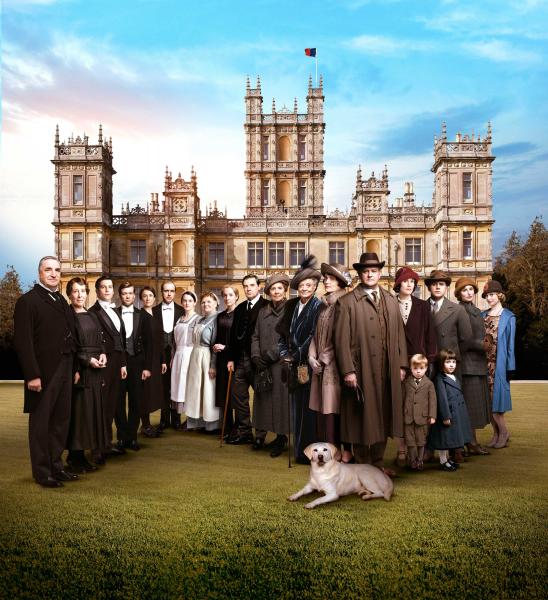 It's the most wonderful time of the year! No, not Christmas, that's already over. It's that magical time of year where for eight or so cold winter Sundays we get to return to the halls of "Downton Abbey" for another season of intrigue, romance, and lavish period backdrops and costumes.
READ MORE: 'Downton Abbey' Hosts Season 5 Screening At The Ace Hotel
Though the fifth season has already made its bow across the pond, the U.S. premiere on PBS's Masterpiece Classic was well worth the wait with a first episode more entertaining than all of the previous season combined.
We last saw the Crawley family in summer 1923—celebrating cousin Rose's (Lily James) official entry into London society. As Season five begins, we pick up in the following year, 1924, but with many of the same themes and problems plaguing the residents of the Abbey, both upstairs and down.
England once again seems on the precipice of great change, particularly for the landed nobility and their staff, as a Labour government has come to power bringing with it a working class prime minister. The implications of this ripple throughout the episode, suggesting that great change and the unraveling of old values will continue to be one of the driving themes of the season as it has from the show's start – tradition and progress continually clashing as the members of the household seek to both preserve their way of life and adapt and survive in a changing world.
Per usual, Carson (Jim Carter) and Lord Grantham (Hugh Bonneville) are perturbed at the notion of change and any threat to their orderly, hierarchal way of life. The point is hammered home as a village delegation seeking to erect a war memorial comes to Downton. Instead of asking Robert to head the committee, as would be tradition, they request Carson do the honors. Carson eventually accepts under the caveat that Robert be appointed patron of the committee to both accommodate Carson's sense of propriety and stroke Robert's damaged ego.
Violet (Maggie Smith) and Isobel (Penelope Wilton) maintain a blossoming friendship in spite of their rivalry and differing views on class and tradition. Violet is initially delighted at the recently widowed Lord Merton's (Douglas Reith) interest in Isobel, which he made clear with several visits to Isobel in the previous season. Isobel isn't interested in becoming the wife of a peer, but Violet encourages her to be receptive to his attentions – that is, until Robert points out that if Isobel were to marry Lord Merton that would place Isobel above the Dowager Countess. Realizing this, Violet orchestrates a lunch to separate Isobel and Lord Merton. She invites another eligible widow, Lady Shackleton (Harriet Walter), and encourages her to monopolize Lord Merton's time. The Dowager Countess even goes to the extreme of inviting Dr. Clarkson (David Robb) and encouraging his jealousy of Lord Merton.
Change and progressive ideals continue to haunt the former firebrand and chauffeur Tom Branson (Allen Leech) in the form of village schoolmistress Sarah Bunting (Daisy Lewis). He still harbors an attraction for her and the way her beliefs in social justice and equality remind him of the man he once was. He seeks her out at the school when he accompanies Lady Rose to present awards to the village children, but is cautious because he knows the family disapproves. Lady Rose notices the attraction between them and always one to stoke the fires of romance, particularly ones that will shock her parents, decides to invite Miss Bunting to the dinner party in honor of Cora (Elizabeth McGovern) and Robert's 34th wedding anniversary.
Her attendance at dinner is predictably disastrous, as she decries the erection of a war memorial that commemorates a "pointless war" and requests to go downstairs to thank the staff for dinner personally. Such untraditional behavior outrages much of the party and deeply offends the ever pompous and old-fashioned Lord Grantham. Tom is put in a difficult position trying to defend his guest and his once deeply held convictions. He apologizes to Lord Grantham, reminding him of his deep gratitude for his acceptance in the family after Sybil's death, but it's clear that he still feels guilt over largely abandoning his revolutionary ideals and aims.
READ MORE: A Definitive Ranking Of 'Downton Abbey' Couples
In the wake of changing government and a decreasing number of people employed in service, Daisy (Sophie McShera) realizes that her future may not always lie in the kitchen. She has the promise of inheriting Mr. Mason's farm, but she fears she lacks the skills to run and maintain it, prompting her to send away for mathematics books. Carson and Mrs. Patmore (Lesley Nicol) disapprove of her pursuit of learning because of the low opinion it causes Daisy to have of herself, but Mrs. Hughes (Phyllis Logan) encourages her to continue this pursuit of knowledge.
Anna (Joanne Froggatt) is still reeling from her rape by Lord Gillingham's valet, Mr. Green (Nigel Harman), which is worsened by her fears that Bates (Brendan Coyle) might have been involved in his sudden death as a means of avenging her honor. It is implied that Anna is still struggling with intimacy in the wake of her assault and her fear that Bates might be facing murder charges again. Bates mentions how much he'd like a family of his own and Anna looks pained. It seems that this beloved couple isn't headed for their well-deserved marital bliss fans yearn for anytime soon.
Thomas Barrow (Rob James-Collier) is back to his old tricks as Downton's resident fiendish footman, trying to scheme against Bates with Cora's Lady's Maid, Baxter (Raquel Cassidy). While Barrow clearly yearns to return to the glory days of plotting with O'Brien (Siobhan Finneran), Baxter is no resentful, bar of soap planting villain like her predecessor. However, Thomas was instrumental in her hiring, and he lords a mysterious secret over her. If he can't have O'Brien back, he'll blackmail Baxter into being his new partner in crime. Baxter knows about Bates' suspicious journey that coincides with Mr. Green's death, and Thomas tries to blackmail her into revealing this secret by threatening to expose her to Cora.
In the midst of this, the hapless Molesley (Kevin Doyle) has moved on from Anna to the far more helpless Baxter – going to the extreme of dyeing his greying hair with a black gunk that resembles a mixture of ink and shoe polish. His attempts to use 1920s "Just for Men" fail spectacularly as his new hair color earns the ridicule of everyone from Carson to Thomas to Lord Grantham. However, he does win the trust and favor of Baxter by convincing her to go to Cora with her secret, effectively eliminating any power Thomas might have over her.
Baxter follows Molesley's advice and confesses the sins of her pass to Lady Grantham. In her previous position, she stole jewelry from her employer, tried to frame it as a burglary, and ultimately, spent three years in in prison for her actions. Cora feels she has no grounds beyond this lie to dismiss Baxter – she needs more time to make up her mind, but warns Baxter this is no guarantee that she won't be dismissed at a later time.
Scandal and romance are once again in the air – as constant at the Abbey as Robert's tendency to be a stuffed shirt and Violet's cutting bon mots.
The other footman, Jimmy (Ed Speleers) is receiving suggestive notes from his former employer Lady Anstruther (Anna Chancellor), and he reveals to Thomas that he once essentially served as her gigolo. Lady Anstruther comes to Downton in full-on cougar mode. Originally having invited herself to lunch, she then feigns a broken car as an excuse to stay the night and welcome Jimmy back to her bed with Thomas volunteering to stand guard to protect the colleague for whom he still harbors illicit (and technically illegal) feelings.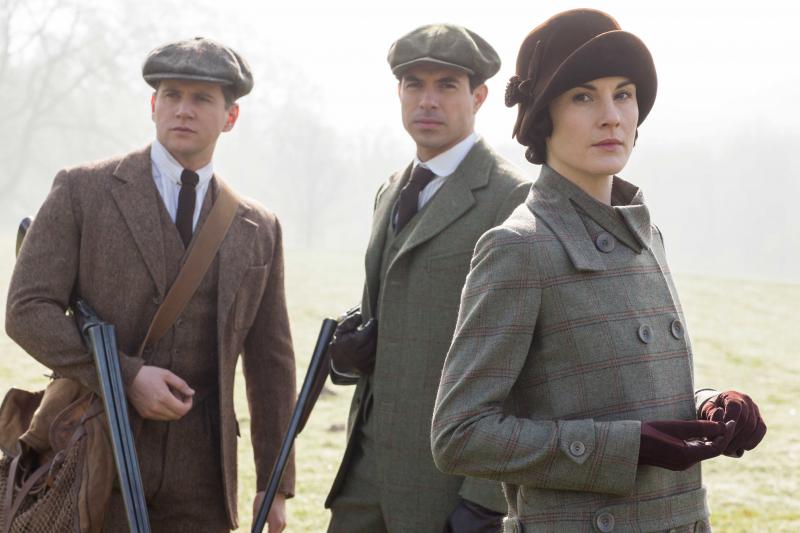 At the end of the previous season, Lady Mary found herself struggling to choose between two suitors – the charming aristocrat Tony Gillingham (Tom Cullen) and the more Matthew-esque Charles Blake (Julian Ovenden). Mary confesses to Anna that she finds old-fashioned courtship inadequate for determining whether a suitor might make a good partner in life, and more importantly, in bed. Lord Gillingham returns to Downton, and while hunting with Mary, she confesses, "I do love you, you know, in my cold and unfeeling way." How delightfully British of her! However, she also admits that she wants to be absolutely certain in her choice of a second husband.
After Lord and Lady Grantham's anniversary dinner, Tony sneaks into Mary's bedroom and suggests they go away together for a week and become lovers so that she can be certain in choosing him. Mary pretends to be scandalized, seemingly forgetting her sexy romp in that same bedroom with a Turkish ambassador some years before. But it's clear that she's tempted to accept Tony's proposal.
Every year around this time, #pooredith regularly trends on Sunday evenings, and the middle Crawley daughter lives up to her hashtag throughout the episode. She goes to visit the Drewe's who have adopted her illegitimate daughter without anyone (she thinks) knowing it's hers. Mrs. Drewe (Emma Lowndes) thinks that Edith's (Laura Carmichael) regular visits are because she has a crush on her husband, but Mr. Drewe (Andrew Scarborough) quickly guesses that Marigold is actually Edith's daughter and wants to help her find a way to be involved in her daughter's life. Amongst this maternal misery, Edith is also given a book that belonged to Michael Gregson (Charles Edwards) and was found in the library. Wallowing in her misery, tracing Michael's signature and staring at a photo of her daughter, Edith casts the book aside and cries herself to sleep not realizing she's set the book on fire.
READ MORE: TV Premiere Dates For 2015
Earlier in the season than normal, disaster strikes Downton as Edith's room catches fire – luckily, Thomas standing guard for Jimmy sees the smoke and heroically rescues an unconscious Edith from the flames (although, perhaps, it would've been kinder to leave her and put her out of her misery). Tony and Mary are interrupted before she can answer his scandalous proposal. All are roused to evacuate the house, leading Lord Grantham to discover Jimmy in bed with Lady Anstruther. Tom and Robert try to fight the flames until the firefighters arrive, and all is well except for #pooredith's bedroom and Lady Anstruther's dignity.
We are left with a series of tantalizing questions as we move into the fifth season – will Lady Mary become Lord Gillingham's lover and then choose to become his wife? Or will Charles Blake return to claim her heart? Will Tom return to his revolutionary ways with the village schoolmistress? Will Jimmy and Baxter keep their jobs at Downton? How will Thomas continue with his plotting without a lady's maid under his thumb? Will Robert and Carson ever accept change as a natural part of life? Will Edith's illegitimate pregnancy be discovered, and will she ever become anything more than the Crawley family punching bag?
One thing's for sure – we'll have more quotable bits of snark from the Dowager Countess. Enjoy a few from this week as we look to the rest of the season.
Choice Witticisms from the Dowager Countess:
"There's nothing simpler than avoiding people you don't like – avoiding your friends, now that's tricky."
Lady Shackleton: "A single peer with a good estate won't be lonely long-- if he doesn't want to be."
Dowager Countess: "You sound like Mrs. Bennett."
"Principles are like prayers – noble, of course –but awkward at a party."
"Downton Abbey" is a co-production of Carnival Films and Masterpiece Theatre. It airs in the US on PBS as part of their Masterpiece Classic series, Sunday evenings at 9 pm through Feb. 22nd. For more information, visit PBS.
Contact Staff Reporter Maureen Lee Lenker here or follow her on Twitter here.