Arts+Culture
USC Beauty Culture: Being 'That Girl'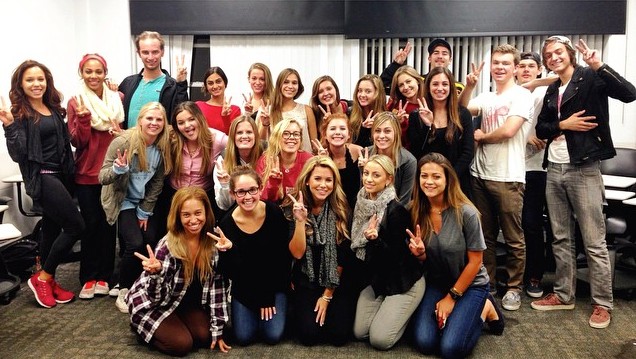 28th Street was illuminated by strobe lights and the flashlights of DPS officers. Music blasted along the sidewalk. Inside one fraternity house, skinny, beautiful girls surrounded me, dancing in their Louboutins atop unsteady tables. Starry-eyed freshmen were serving beers from the corner bar. The girls: scantily clad, skin out and faces packed with makeup. The boys: standing stoically along the outskirts, watching us as if animals stalking their prey.
Suddenly a boy came up to me. He was polite and told me he respected me for my mind rather than my appearance. Then he courteously asked for my number and said timidly that he would love to take me out on a date, wanting to meet me in a non-party scene.
Yeah, right. Not exactly how things played out. Because, to be honest, this is not a movie, and USC's beauty culture is certainly not promoting the values of courtship and independent women.
READ MORE: The Price Of Sex At USC
What really happened? Well, this boy pulled me into him, grabbed me by the hips, and whispered in what I'm sure he thought to be a seductive voice, "You look so hot, let's go back to my room?" Safe to say, my say my answer was not the one he wanted, and he left me alone on the dance floor, moving on to the girl beside me.
The University of Southern California is regarded as one of the greatest universities in the world, dubbed as on its way to becoming "the new Stanford," and beloved by alumni and students alike for many reasons.
But the scenario above paints a very different picture of my beloved university.
"Every time you go out, there's going to be this beautiful girl, and I just think, 'How do I compete with that?'" said Alexa Trujillo, a junior at USC. "It's upsetting that the answer is to let boys take advantage of us."
She is the president and founder of the USC chapter of I Am That Girl, a national club that empowers women through a curriculum that focuses on self-worth.
Founded five years ago by Alexis Jones, the national organization has spread across 100 local chapters and includes a large online following. Its content and educational program focus on promoting the values of emotional, physical and mental well-being of all girls.
Alexa made it clear that there is a standard of beauty and of privilege here at USC. One that degrades women, making it easier for men to objectify them and promoting a hook up culture that is prevalent among students.
READ MORE: Women In The Media Still Face Double Standards
I have often looked past these pressures and high standards as "a part of college" or "just a fraternity problem," but as a member of a sorority on campus, I wondered if I was being hypocritical myself—wanting to condemn the beauty culture that I had simultaneously given into.
But Alexa was quick to point out that while Greek life may further the issue, it may not be completely to blame for the harsh realities of girlhood that are evident here. The problem, she explained, lies in the fact that we, the women of USC, have given into the standard that has been set out for us.
"This issue really strikes home for me, because I have seen myself judged only based off of my looks, " Alexa said, "and I am tired of seeing my friends talk badly about themselves and compete with each other for a boy's attention."
Now girls, think back on your daily experiences at USC. Beauty culture is not a problem that just sorority women face. It is a universal issue, one that infiltrates almost all that we do—from going out to simply going to class.
"USC naturally breeds a very competitive culture in all aspects. We are pushed to be high achievers, and often that pressure spills over to the way we look, act, dress and function overall," said Samantha Goldberg, a senior at USC and the incoming president of USC's I Am That Girl chapter.
"For me, internalizing the pressure to be successful, pretty and well liked has made it challenging to love and accept myself in the past," she continued.
I Am That Girl has provided her and the over 30 other members of the club a sense of shared experience and a chance to counteract these social and internal pressures. The club is centralized around a "me too" mentality, reassuring the members that they are not alone and that the issues surrounding beauty and popularity are not a "me" but an "us" issue.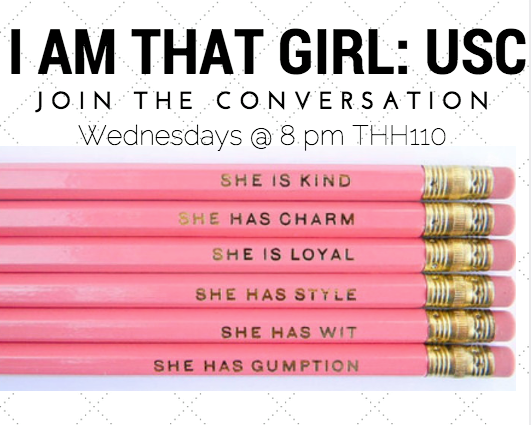 The club meets every Wednesday night at 8pm in Taper Hall. In an open forum format, the girls (and occasionally boys) discuss a variety of topics handed down to them by their chapter advisor. The topics range from "Beauty in Media" to "Sexual Environment" to a discussion on "Real Women and Men."
I know. I know. A club that is standing up against the harsh stereotypes that women face day in and day out. Think you've heard it before? Well, think again. I Am That Girl is not about fighting the issues; instead, the club is about acknowledging that they are real and alive on our campus and working towards the positive empowerment of women overall.
"I Am That Girl encourages women to find a healthy balance between perfectionism and self acceptance," Samantha said. "It's incredible because it promotes self-esteem and reminds us that we are all innately beautiful, strong, loved and perfectly imperfect. I believe developing the courage to love ourelves can lead to real cultural change."
The club reads like a therapy session of sorts. The girls did not wait to be asked their opinions to share them. Rather, they spoke freely about what they believed to be the problem with a culture at USC that builds up men, giving them the power to decide what a "USC girl" should be and act like.
"There is a definite mindset here, whether that be with Greeks, athletes, club members..." said Maddie Schraeger, a sophomore water polo player. "It's like all we know how to do anymore is categorize. I don't think it's right for them to tell me who to be."
She joined I Am That Girl this semester in hopes that the club would finally the be one that worked to deter labels rather than set them.
"I Am That Girl has really taught me that I can say, me too," Maddie said. "I am so tired of feeling pressure at this school to be who I am not, and it is refreshing to hear from other girls who feel the same way."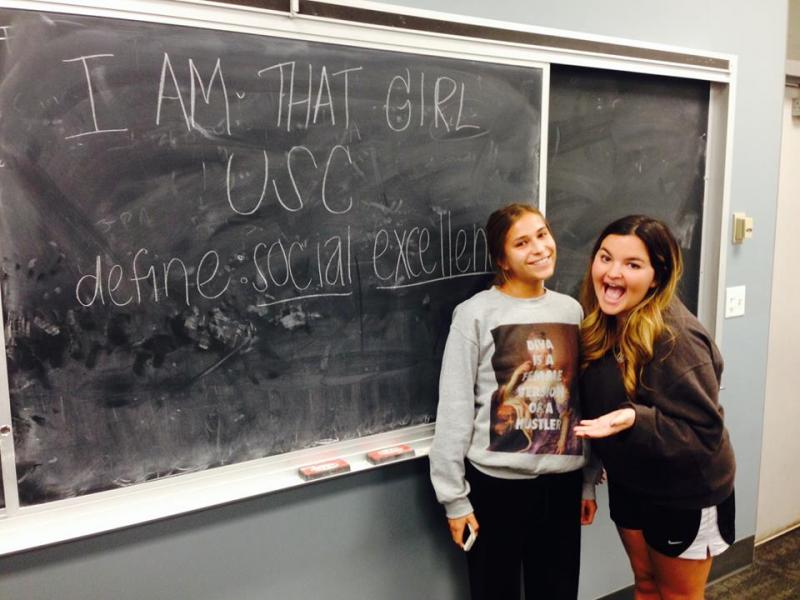 "This club makes me feel like I am not alone," Alexa agreed. "While I know that, deep down, I am enough, I want others to realize that whoever is saying I am not needs to reevaluate their standards of beauty."
You can look for some big changes to come from the club this semester. Samantha believes that I Am That Girl has the power to affect and influence on both an individual and campus-wide level.
"It is amazing that this club has come to USC. It has provided a safe space to be honest and vulnerable and to connect with women who share a committment to developing self-confidence and authenticity," she said. "No matter how much women get caught up in a certain lifestyle or stereotype, we are all worthwhile. It is sad that women seem to forget that, but it is also inspiring that we have this club to make progress."
Samantha herself has come a long way from her freshman year here. Before she graduates in the spring, she hopes to grow the club and give to others what the club has given to her.
"I Am That Girl's message is about coming home to yourself, and I've benefitted from that firsthand," she said. "I want to grow the organization to spread positive messages of empowerment to other women who have felt pressure to conform and who have lost themselves in the process."
Let's face it: yes, the beauty culture at USC is filled with harsh and unrealistic expectations. Yes, its hookup culture degrades women and in some cases puts them at risk or in danger. Yes, it is wrong. Everyone in this club can agree with these three statements, but they also agree that they can be the ones to make a change.
One member, Jojo Korsh, described it as such: "This is why group therapy works, and that's why this club works. You take these issues that everyone thinks they're facing alone but they're not," she said.
"It is not just talk." said Alexa in her closing remarks, "Talk leads to change. If we don't learn about it and talk about it, how can we expect to be treated any differently?"
Contact Contributor Kristen Lago here.