Arts+Culture
Women in the Media Still Face Double Standards
University of Southern California graduate Monica Alba went from spending her days walking the halls of the Annenberg School for Communication and Journalism to pounding the pavement in New York City.
Alba graduated from USC in 2009, and received her master's degree from the Columbia Journalism School. She now works as an assistant investigative producer for NBC News in New York and has written stories for NBC, The New York Times and NBC Latino, covering everything from the hunt for the Boston Marathon bombers to football wives suing the NFL over the dangers of concussions.
But even with all these accomplishments under her belt, Alba says people still say to her, "Wow! I had no idea you could do this!"
"My response is always 'Well, what'd you think?'" said Alba. "It's offensive."
"It's better to hear a real compliment like, 'Great job!' because it shows that they had an expectation that you could do the job," she continued.
As an aspiring broadcast journalist myself, I often find myself asking, "Where do I fit in this male-dominated field?"
"As a woman, people start out having a lower expectation of you," said Alba.
Though Alba has never faced sexism in the newsroom, she said being a woman can be challenging in the outside world and with sources.
As an investigative reporter, Alba is always out working on stories, and sources have shown disbelief that she is a reporter.
"People have this idea that women aren't as capable as men," said Alba.
Alba said that she is very lucky to work for NBC, which she describes as a forward-thinking company at which a "reporter is valued as a reporter." Women are sent to war zones and can be found at the top of the corporate ladder. But this hasn't always been the case.
"It's different now than it was 10 years ago, because it was a time when women were not considered as important as men," said Alba.
NBC News currently has a female president, Deborah Turness, though Alba mentioned that most of her direct bosses tend to be men.
Despite Alba's experiences, the stats show female representation in newsrooms has budged very little in the last 20 years. In 1999, women made up 36.9% of the newsroom staff. Now they are 36.3%, says the Women's Media Center, a non-profit organization committed to "raising the visibility, viability and decision-making power of women in media."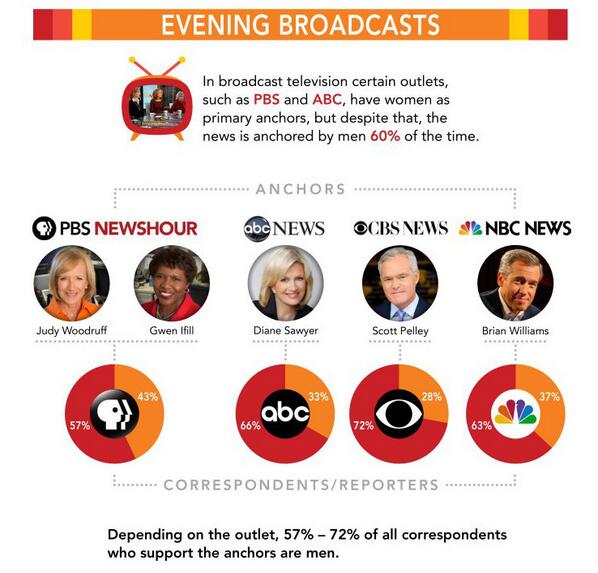 For the nightly broadcasts on flagship evening news shows on ABC, CBS, NBC, and PBS, men still anchored 60 percent of news broadcasts overall and provided 66 percent of reports from the field during the last quarter of 2013, said the Women's Media Center.
Expected to be a "one man- or woman- band," broadcast reporters must write, report, fact check and record a video report. This requires them to lug heavy video camera gear to various locations.
Both male and female anchors have to upkeep a certain beauty standard while doing this very physical job- but unlike men, women have to do it while also bringing heels, a curling iron, hair dryer and makeup kit in order to look the part.
"When you're in front of the camera, its okay to be a little aesthetically obsessed, because you are the face of the network," said Alba.
USC professor and former news producer for Entertainment Tonight Mary Murphy said that TV in general demands pleasant looks - for both men and women.
"The truth is that women have to be much more appealing looking to be on television, with rare exceptions…and there are exceptions," she said.
On CNN's "Reliable Sources," former CNN and Fox News anchor Kiran Chetry revealed a list of changes she's been told to make, which include getting a wig because "my hair was too thin for television" and Botox "because when you report and the sun's on you, you look angry, and no one likes angry women on television."
If a woman on the news looks over 35, she risks "aging out" and being taken off the air, which is why many tend to opt for Botox or plastic surgery.
The logic behind having attractive people in television is simple - an aesthetically pleasing news team will garner more viewers, and more viewers lead to more advertising and money.
"It's hard," said reporter at KREM-TV in Spokane, Wash. and USC alumna Frances Wang. "It's the reason I started in local news instead of entertainment news in Los Angeles."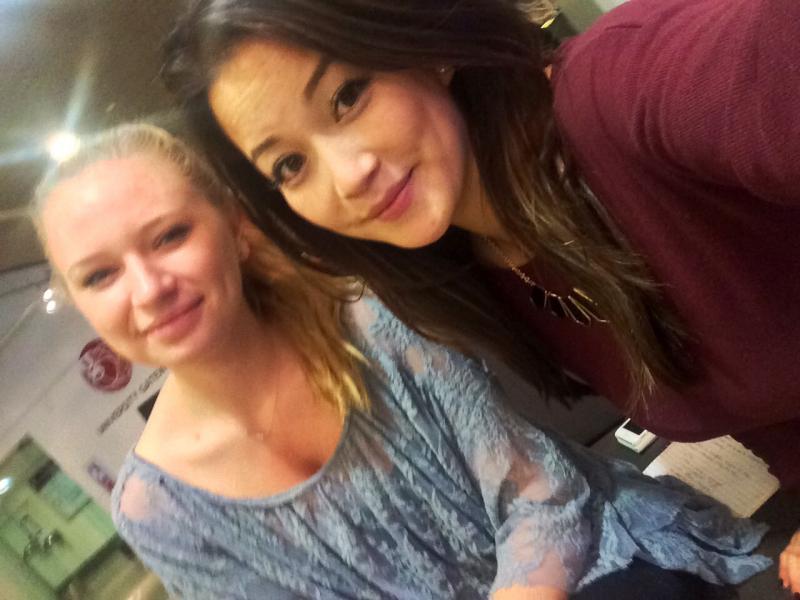 Wang has interned for various entertainment news outlets, where she has noticed an expectation for female reporters to be stick-thin, beautiful model types.
But this perpetuates a problem for the audience - especially young female viewers.
"I love eating and my curves, and I'm not the most glamorous person out there," she said.
Though Frances has to get done-up in makeup and hair for the camera when she's on air, she says that in local news, they are more interested in the individual as a reporter.
"There isn't really a double standard in Spokane," she says. "We have a reporter, Hayley Guenthner, who is the crime and courts reporter, and is a tiny blonde that goes out and interviews inmates."
Wang says that local news is not as focused on looks, but has concerns about losing out on jobs in the future because of her race.
"If the station has an Asian reporter already, will they hire me or another blonde?" she questioned.
Stations will sometimes hire based on the looks they need for on-camera reporters in order to be diverse and appeal to their audience.
Wang says that this raises a problem when two people are applying for the same job, and the person with the physical appearance that fits the needs of the station determines gets it, regardless of who is the better reporter.
On the whole, women are better represented in journalism now than they were 20 years ago.
"Where you used to see discrimination was in the network news divisions, which always hired men as anchors. But that all changed with Katie Couric, Barbara Walters and Diane Sawyer," said Murphy.
But, as she pointed out, the triumvirate is all men once again. There's "CBS Evening News" with Scott Pelley, ABC's "World News Tonight" with David Muir and "NBC Nightly News" with Brian Williams.
"It's been a step backward," said Murphy. "But Robin Roberts and women rule the morning shows."
"I think journalism has made great strides in putting women at the top in magazines more than newspapers," she added, listing Tina Brown, Anna Wintour and Janice Minn as examples.
But we still have a long way to go.
I can only hope that when I enter the working world, I won't have to worry about not getting a job at a station just because they already have a "blonde". I can only hope that I won't have to be concerned about "aging out" on television. I can only hope that I will be judged on the way that I report stories, and not the way that I dress.
I can take the heat- but it's almost 2015, and I shouldn't have to just because I am a woman.
My main concern is being able to provide people with the information they need to make the best possible decisions about their lives, their communities, their societies and their governments - and my gender shouldn't take away from that.
Contact Staff Reporter Brianne Tracy here.