Film and TV
'Sons of Anarchy': What To Expect Going Into The Series Finale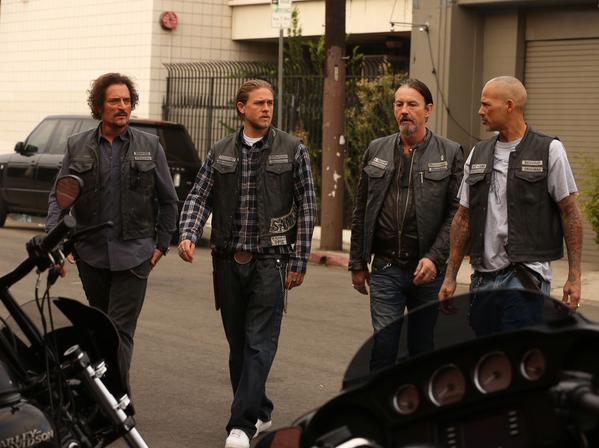 Major spoilers ahead for "Red Rose," the twelfth episode of the seventh season of "Sons of Anarchy."
For fans of "Sons of Anarchy," FX's bloody and beautiful biker drama, it is no surprise that show runner Kurt Sutter is taking the show out with a bang.
He made good on his promise last night.
ALSO SEE: 'Sons Of Anarchy' Series Finale Recap
We said goodbye to several key residents of Charming, Calif. during "Red Rose," the series penultimate episode. Everything is coming to a head (watch the series' stars attempt to explain the entire show in 30 seconds) as Gemma Teller-Morrow (the incredible Katey Sagal), the fierce matriarch of the Sons of Anarchy, Redwood Original (SAMCRO) motorcycle club is in the wind, after her world came crashing down when her son Jax (Charlie Hunnam), the club's president, finds out she murdered his beloved wife Tara (Maggie Siff). Dubbed the "Final Ride" by FX, this entire season has been pedal to the meddle, full throttle action that hurtled out of control this week in one of the most devastating episodes of 'Sons' yet.
The episode opens with Jax putting on his rings in Àlvarez's (Emilio Rivera) office, where he spent the night. Chibs (Tommy Flanagan), his second in command, brings him a clean shirt. The bromantic moment is broken up when Àlvarez comes in with a business update: Nero (the fantastic Jimmy Smits), Gemma's boyfriend and business partner, and Tyler (Mo McRae), the leader of the Oakland Niners, will meet them before they'll take their new gun distribution plan to the Irish Kings. Also, no news about Gemma: she hasn't been using her credit cards, so they can't track her.
Next we're at Jax's house, where Wendy (Drea De Matteo), Jax's ex-wife and current caretaker of his children, and Brooke (Hayley McFarland) are taking care of the kids as usual. They have no idea Gemma's not coming back. Wendy tells Brooke that somehow she feels more at home than ever in the house where Tara died and she almost OD'd. Unser (Dayton Callie), the former chief of the Charming police department and a long-time SAMCRO ally, is in Gemma's kitchen, returning his spare key. Looking around, he knows she won't be around here anymore. This is really the first time Gemma's absence is felt.
The unofficial Queen of Charming is currently parked at a truck stop, sleeping with her car window rolled down a little to low to be safe. A trucker (Michael Chiklis of Sutter's hit cop drama "The Shield") knocks on her door to tell her to move out of the rig zone. Funny how Kurt Sutter said he won't have any actors from 'The Shield' on 'Sons' because he's afraid viewers would recognize them too much as their characters. He wrote Venus, Tig's transgender girlfriend, for Walton Goggins and now this for Chiklis. Both are great actors and Goggins has been a huge asset to the show this season, delivering some of the funniest and most touching moments, so no complaints here.
Wendy tells Nero that Gemma is in Oregon at her father's house.
"This isn't about Gemma," Nero tells Unser. "It's about saving Jax."
It's about Gemma for Unser as he ignores Nero's warning and races to Oregon to protect the woman he has hopelessly loved for years. He finds Gemma at her father's house before Jax and begs her to leave with him, but she refuses. Jax arrives and asks Unser to leave, which ends with the two drawing their guns on each other.
"Look where we are, what we've all become," Wayne says. "This has to end here."
"Go home, Wayne," Jax pleads.
"I can't do that," Unser says. "This is all I got left."
The episode's second devastating death comes when Jax shoots SAMCRO's longtime ally in the chest.
Unser's death was shocking because it seemed as if he would make it to the end. Terminally Nero was right because this was never Unser's fight to begin with - it always had to end with Gemma and Jax, and he was getting in the way. It seems unfair that a loyal and ultimately good man (and cop) met his demise as a result of his love for an outlaw. One
A common theme that runs through "Sons" is loss of humanity and morality. As the series progressed, everyone from Jax to Gemma to Unser to even little Abel, Jax's five year old son, made morally questionable moves to achieve an end. Life in the "Sons" universe is dog-eat-dog, kill or be killed. Life in and around SAMCRO inevitably ends in death, outlaw or not: Opie's innocent wife Donna (Sprague Grayden) took a bullet to the skull that was meant for her husband, Tig (Kim Coates) watched a vengeful gangster burn his innoncent daughter alive. Even Opie (Ryan Hurst), Jax's beloved best friend who tried to leave SAMCRO after a five year prison stint but struggled to make ends meet outside of the club, couldn't leave because being an outlaw was all he knew. Born and raised in and among SAMCRO, both Opie and Jax are sons of founding members who grew up idolizing the club and its members. Eventually sacrificing himself for the club during a staged prison brawl, Opie meets a violent end with a metal pipe. Tara, the good doctor who at the time of her death only wanted to save her sons from a life of violence and the effects of life with SAMCRO, died because she got too close after Gemma thought she ratted out the club. When you play with fire, you get burned. It's no surprise this was Unser's fate, too.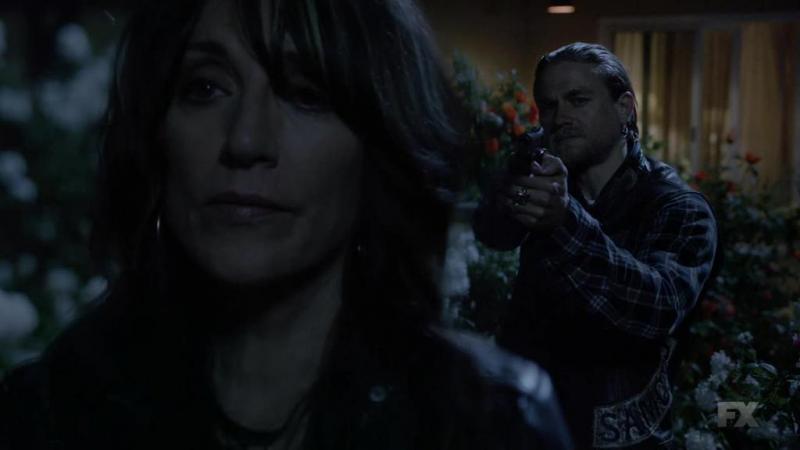 The mother-son showdown that's been in the making all series long came to a head after Gemma killed Jaxs' wife Tara in the season six finale.
As Unser lies dead on the floor, mother and son talk and Gemma tells Jax he looks like his father. Then they stop the small talk and are silent. They both know what is coming. They both know it's time.
In what is sure to become an iconic scene, Gemma tells her son she'd like to go out to the garden, as Jax stands behind his mother among bushes of white roses.
"I love you, Jackson, from the deepest, purest part of my heart. You have to do this," Gemma tells him quietly. "It's who we are, sweetheart. It's OK, my baby boy. It's time. I'm ready."
With tears in his eyes, Jax pulls the trigger, shooting his mother in the back of the head.
Despite how despicable Gemma was, this scene was heartbreaking. Although she lied and manipulated everyone and everything around her, she ultimately did everything for the only person she ever truly loved, her son. She absolutely needed to pay for everything she did, especially for wrongfully murdering Tara, but it was still disturbing and sad to see the show's HBIC lying cold beneath those rose bushes.
For maybe the first time in the entire series, Jax's pure white sneakers are splattered with blood.
Although "Red Rose" covered a lot of ground, there are still plenty of questions left unanswered going into the finale:
How will the club deal with the release of August Marks, the Oakland drug kingpin who they just framed for murder? Never one to forgive and forget, how will Marks exact his revenge on the club for putting him in the slammer?

How will the club deal with Barosky, the traitor?

Will Nero make it safely to the farm? Will he take Wendy, Thomas and Abel with him?

What (if anything) does Jax plan on doing with his father (John Teller's) manifesto, which caused so many problems earlier in the series?

How and will SAMCRO take out Connor for the Irish after he double-crossed them?
Will Jax finally succeed at making all of the club's business dealing completely legitimate? Will he accomplish his father's goal of getting SAMCRO out of the gun-running business?
And finally: how will the Mayhem vote go? Jax knows that it has to land and it seems like he knows that it has to be him. How will Jax ask SAMCRO members to vote?
Sutter admits that his series is inspired by "Hamlet" and at this point Jax in deep shit after putting a full scale gang war in motion, murdering a fellow club president and committing countless deplorable deeds, all based on lies. Jax's conscience died with Tara and as his world collapses around him, Jax is a dead man walking. The final nail in the coffin was killing his own mother because just as Nero told him two episodes ago, there is no recovering from that.
Will Jax Teller, with his beautiful blonde hair and broken soul, ride away with his life or meet Mr. Mayhem?
An even bigger question to consider: at this point, how much does Jax value his life anyway?
The "Sons of Anarchy" series finale, "Papa's Goods," airs Tuesday, Dec. 9 at 10 p.m. on FX.
Stay tuned for coverage of this episode next week.
Reach Web Producer Helen Carefoot here and follow her on Twitter here.