Film and TV
'Sons Of Anarchy' Series Finale Recap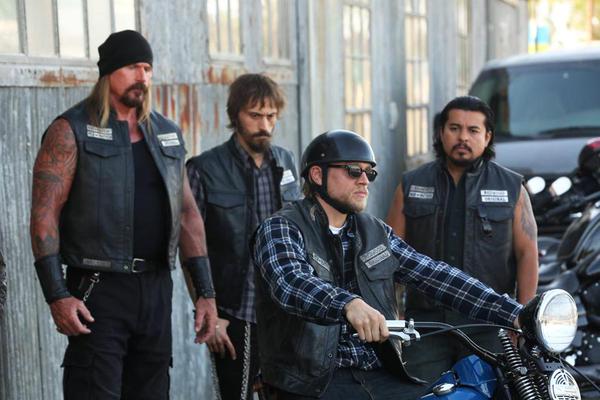 WARNING: Major spoilers ahead for the thirteenth episode of the seventh and final season of "Sons of Anarchy," "Papa's Goods."
Wow. "Sons of Anarchy" ended its final ride last night in its series finale "Papa's Goods," which saw anti-hero Jax Teller (Charlie Hunnam) meet Mr. Mayhem on his own terms, in the best possible fashion.
ALSO SEE: STORIFY: Fans React to the 'Sons of Anarchy' Series Finale
Jax knew his fate. He had to know that the forum would order a Mayhem vote after he told them the truth about what happened to Jury White (Michael Shamus Wiles), the Indian Hills charter president Jax shot because he thought he ratted on the club. He asked Nero (Jimmy Smits) to take care of his boys after he goes and to take them to the farm with Wendy (Drea de Matteo). He also knew that he couldn't recover from killing Gemma, just like Nero said. He absolutely knew that Gemma had to die, though: he had to kill her to avenge Tara, his father, and to protect his boys from her influence. All of Jax's actions this episode and last were to secure the future of his family (both SAMCRO and Wendy and his boys), which shows great maturity and an acceptance of his inevitable fate. [SPOILER ALERT] Jax taking his final ride tailed by cops and finally meeting a semi-truck (driven by Milo, played by Michael Chiklis, the same driver who gave Gemma a lift to Oregon) with his arms outstretched on his father (Nicholas Guest)'s bike was as close to a perfect ending as was possible.
Part of what made this ending so satisfying was Jax coming full circle as a character. At the beginning of the season, Jax was out of control, retaliating left and right for his wife Tara (Maggie Siff)'s murder. After learning the truth about Tara's murder and that Gemma (Katey Sagal)'s lie is what caused his violent vengeance, Jax took it upon himself to be honest with his loved ones and to make life easier for them. As we saw in last week's episode "Red Rose," Jax was cleaning up all the messes that could affect his family and the club, just as someone would do if they were planning on not being around anymore.
The episode opens with Bruce Springsteen's "Adam Raised a Cain," as Jax stares at the ceiling after waking up next to Wendy. He puts on his Sons rings before throwing away his white sneakers splattered with Gemma's blood and changing into his father's boots. As Jax literally steps into his father's shoes, his actions later in the episode are foreshadowed. He then kisses his children and packs up his notebooks before looking at his home one last time (just as his wife Tara did before she died) and leaving with his possessions strapped to his back, as if he'll never return.
Riding to the clubhouse, Jax looks lovingly at old photos and smiles. His face hardens when he sees a photo of him as child on his father's motorcycle. As this season progressed, it became clearer to Jax that he did not want his sons Abel and Thomas to grow up to be members of SAMCRO. As the series went on, Jax became more and more disillusioned toward the club (not its members) and the criminal lifestyle. He saw the damage it inflicted on his family and on his town and slowly realized that he did not want his sons to live the same way he did. Tara's dying wish was to free her and Jax's sons from the life of violence they knew, the very life Gemma pushed him toward and his father pulled away from. He finally understands his father and his dream to keep Jax out of SAMCRO and the criminal lifestyle.
Walking through the charred clubhouse, Jax looks around, expressionless. So much happened within these walls, so much of his life happened here. Perhaps he is separating himself from this life in preparation for his death? He crosses to the office and sits at the desk his mother used to sit at, sorting through legal files. Seeing Jax sitting in his mother's seat, her desk still messy and covered in her things, is a sobering reminder that SAMCRO's matriarch really is dead. Jax leaves the papers and looks through a window into the mechanic's workshop at what is revealed to be his father's old bike covered in a sheet, which Chucky has been fixing up for him.
ALSO SEE: 'Sons of Anarchy': What To Expect Going Into The Series Finale
In the cemetery, Jax visits Opie (
Ryan Hurst
)'s grave and leaves his Sons rings on his gravestone. Opie was his best friend and his brother. He represented what made SAMCRO so appealing, the brotherhood. His death destroyed Jax emotionally and took a piece of his conscience that he was never able to regain. After paying respects to Opie, he visits Tara's grave, which is covered in flowers. Kissing the top of Tara's tombstone, he places his wedding ring on it. This is the ultimate sign that he's ready to go because Tara and Opie, two of the people he loved most, were what anchored him and his conscience. By leaving his rings, which identify him in his two defining roles as a Son and a husband, Jax is letting go. Jax glances around the graveyard almost longingly. If he dies, he'll rejoin Tara and Opie.
At Red Woody, the Sons watch Lyla (Winter Ave Zoli), Opie's widow and a porn star, direct "Fat Ass In My Face," as Jax comes in. T.O (Michael Beach) greets him and Jax tells him as the guys go in to vote on whether or not to let him patch in. Last episode Jax asked the other presidents to abolish an unwritten bylaw that bars blacks from patching in (the very bylaw that led Juice to rat to Roosevelt and set him on his path to death), which many viewers predicted would happen this episode. Jax kisses Lyla on the forehead and tells her he loves her, which tells Lyla something's up.
In Chapel, the guys discuss Connor Malone (Scott Anderson), the rogue Irishman who was ex-communicated from the True I.R.A for selling SAMCRO and the I.R.A's guns behind their backs. They decide to lure him into going with their original agreement with The Mayans and The Niners. They agree to patch in T.O, allowing him to skip the prospect process because of his experience leading the Grim Bastards and all the help he's given them. This means the bylaw is overruled, which brings Jax one step closer to his goals. Calling T.O back in amidst many man hugs, Jax looks at peace as he tells T.O that "change is good."
We get a glimpse at the other side of the law when District Attorney Patterson (C.C.H Pounder) visits Sheriff Jarry (Annabeth Gish) and reveals that Jax requested a meeting with her. Telling Jarry that her low numbers don't correlate with her efforts to clean up Charming, she implores Jarry to put out an APB on Gemma. They talk about how Juice (Theo Rossi) was killed in prison.
Back at the garage, Jax meets up with Nero. He's there to meet up with Wendy and Jax's sons for their trip to his farm, where they'll live together as a family with Nero's son Lucius. After joking about how Nero's "pimp mobile" isn't equipped for a carseat, Jax gets down to business. Sitting in his mother's chair, he tells Nero that he's leaving the garage and two houses to Wendy. He wants her to sell them and use the money to establish a new life for herself and the boys, either in Norco, Calif. with Nero or on the East Coast with her family, wherever she pleases.
"What are you doing here, Jax?" Nero asks.
"What I should have done when my wife was alive," Jax answers.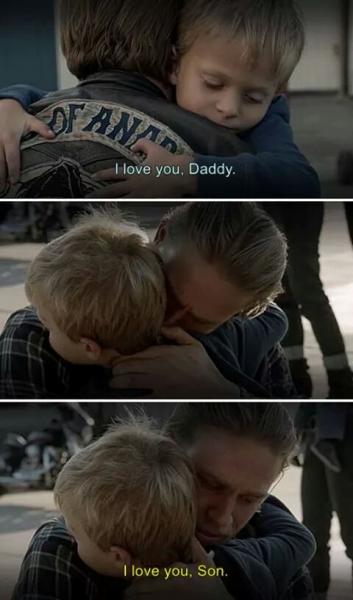 Jax's shares of Diosa, the brothel he co-owns with Nero, and Red Woody will go to SAMCRO through the dummy corporation. Nero asks why he's telling him all of this instead of doing it himself. Jax tells him he's leaving.
Nero correctly guesses that Gemma is the reason. Jax nods and explains that Gemma's lies caught up with all of them and that she knew what had to be done. Nero was right, he says, as he can't escape everything he's done.
"I need you to promise that you'll make sure that my boys leave this place, so they don't become what I've become," Jax tells him.
Nero asks where he'll go and Jax says he doesn't know. Nero asks what he should tell Wendy and Jax says to tell her everything.
Nero is about to break down, but manages to hold it together.
"When the time comes, she needs to tell my sons who I really am," Jax explains to Nero. "I'm not a good man. I'm a criminal and a killer. I need my sons to grow up hating the thought of me."
This entire interaction is perfect. Nero would do anything for the boys, as would Wendy. The idea of little Abel and Thomas living safely on a farm and away from the violence of the club is the ultimate testament to Tara, the wish she died trying to achieve. Smits' acting is so subtle and spot-on here, as is Hunnam's.
The moment is broken when Abel calls "daddy" from outside. Nero tries to cover his tears with his sunglasses, failing to do so (more great acting from Smits). Jax strides out of the office, greeting his boys.
Wendy wants to know what's happening, but that's for Nero to tell later. Jax tells Wendy he's just reminiscing, holding Thomas and walking Abel to the car. He tells Abel that Wendy would love it if he called her mommy and to be good for her. He wants Abel to listen to daddy's best friend Nero and that what he says goes. He wants him to take care of Thomas, to have fun and to enjoy the animals. He kisses Thomas, who starts to cry. He says he loves him and gives the baby back to Wendy. Jax goes back to hug Abel when father and son exchange I love yous.
"Everything's gonna be fine," Jax tells Wendy with a kiss. "You're a good mom, Wendy. I love you."
Still confused but knowing not to ask more, Wendy piles into the car with the boys as Nero gets in the driver's seat. Jack hops on his father's bike and tries to smile, watching his boys prepare to leave. Jax leaving his kids so and leaving to die may be seen as a failure by some, but it was the only possible way to break the cycle of violence that runs through the Teller clan. Jax grew up idolizing his father and wanted nothing more than to be a Son. In Charming, the Sons are an institution to be feared, but also respected and admired. JT's legend permeated Jax's entire life as he strove to honor his father's wishes to make the MC legitimate. Ultimately, Jax is an outlaw, like his father. He has to sit with the decisions he's made and shielding Abel and Thomas from a life of violence is the honorable thing to do.
Jax's father wished for Jax to live a life free from chaos and violence, which failed. By giving his kids a chance at getting away from Charming and SAMCRO, Jax is honoring his legacy as well as Tara's. As much as it pains him to see his children leave, he has to let himself believe that they're going toward a better life, even if he's not in it.
Jax visits District Attorney Patterson and goes on the record to confess that Gemma murdered Tara. He gives her his grandfather's address, telling her Gemma and Unser (Dayton Callie) are there. He instructs her to turn off the recording device and admits that Gemma and Juice made up the story about the Chineses' involvement in Tara's murder to "set him on fire." He says he won't cop to the retaliation and implicate his club, but promises that the violence in Stockton and Oakland will be over by the end of the day.
"What happens at the end of the day?" Patterson asks.
"The bad guys lose," Jax tells her before walking out, leaving Patterson confused.
It's time for the pivotal mayhem vote when the next scene cuts to the guys are gathered at the table. Jax has already told Chibs and the guys that this has to land. Chibs tells them they can't let their hearts be louder than their reason.
"All those, all those in favor," Chibs stutters, starting over after choking up. "All those in favor of Jackson Teller meeting Mr. Mayhem…"
Quinn (Rusty Coones) and Montez (Jacob Vargas) vote yes. Rat (Nico Nicotera) hesitates until Tig places a fatherly hand on his shoulder. Tig and Happy (David Labrava) quietly say yes.
"Yes… Jax Teller meets Mr. Mayhem," he taps the gavel and slides it to Jax's empty seat at the head of the table. How will sitting at this table feel when no Tellers are there?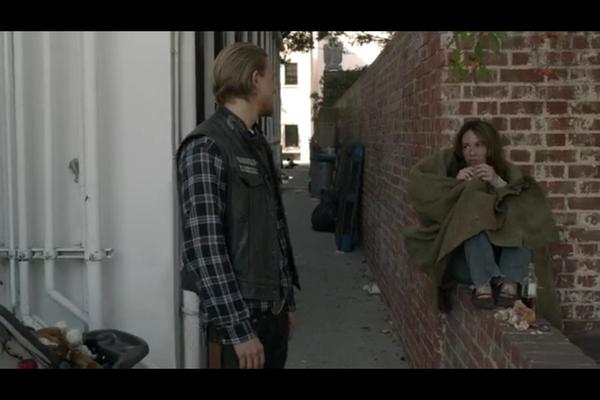 After confessing to the DA, Jax goes into full killer mode as he eliminates the club's remaining enemies. He shoots Barosky (
Peter Weller
), a crooked cop and SAMCRO traitor, in broad daylight as he is preparing food in his store full of witnesses. In the past, this operation would have been planned carefully so that it was clean and covert. But back then, Jax didn't want to burn all his bridges. He's at the edge, with nothing to lose.
Next he heads to the courthouse to take out drug kingpin August Marks (Billy Brown), who was just released from prison. He encounters a homeless woman drinking wine and eating bread, the same woman who has appeared in so many scenes before characters die. He asks who she is (creator Kurt Sutter has said that he wants fans to decide for themselves what the homeless woman means and represents, but a popular theory is that she is the angel of death or the reaper on the SAMCRO cut). Without answering, she hands him her blanket and tells him "it's time," before pushing her stroller away and walking through the alley. Is she foreshadowing more death?
She is. On the steps of the courthouse, Jax sits covered in the blanket (like the angel of death?), gun cocked and ready. As Marks and his thugs descend the steps, Jax throws off the blanket and shoots Marks' right-hand-man in the back, instantly killing him. Surprised, Marks whips around and Jax fires into his chest, looking him in the eyes the entire time and leaving him for dead. He's finally avenged Bobby (Mark Boone Jr.)'s death.
With these scores settled and the Irish connection severed (Jax's father unsuccessfully tried to cut ties 20 years prior), Jax accomplishes his goal of making the club's business ventures completely legitimate.
ALSO SEE: Where Is 'Sons of Anarchy' Going In Its Final Season?
Jax ties up all his loose business ends and honors his agreement with gang leaders Alvarez and Tyler by letting them distribute guns for Connor.
Cut to Jax outside of a garage, waiting for the results of the mayhem vote. Calmly removing his helmet and gloves, he throws open the door and finds the Sons inside. As his brothers look on, Jax removes his cut and rips the President patch off with a knife. Looking straight into Chibs' eyes, he cuts out his Vice President patch and places the President patch in his hands. Chibs is the ideal president for SAMCRO, compassionate and ruthless all at once. He hands Tig the V.P. patch, which makes Jax smile as acknowledges his good choice. Two of the club's most celebrated and integral members, Tig and Chibs are SAMCRO through and through and will keep the MC on the right path after Jax is gone.
"It's your charter now, brother," Jax tells Chibs before taking his hands.
This isn't a happy affair, though. This passing of membership means change, a change that means Jax won't be around anymore. Chibs almost tears up when he pulls Jax in for a long embrace and a kiss on the cheek. Jax is like a son to him. The thought of losing 'Jackie Boy' hurts him the most. When the time comes, it will be Chibs who has to pull the trigger.
Putting his gun down on the table, Jax says he's ready. As Tig leads him to the a spot infront of Chibs, Jax looks onward with steely resolve.This is the moment he's been preparing for all episode long, ever since he shot Jury.
With Happy and Tig holding him in place, Jax faces Chibs, who has the gun in his hand. Jax is ready to die.
Chibs shoots Happy in the forearm and Jax looks confused and almost upset.
"I'll tell Packer you laid down some fire and got away," Chibs tells Jax.
"I would never put this burden on you guys," Jax replies.
This wasn't a huge twist, but honestly it was a relief that Chibs didn't have to shoot Jax.
Tig tells him they know as Jax tells the guys he loves them. Quinn and Montez give Jax hugs, before gives a big one to Rat.
Happy is on the brink of tears when Jax gets to him. Happy was his Seargent at Arms, his main soldier. Burying his head in Jax's shoulder, Happy inhales harshly before Jax kisses him on the forehead. Nodding to him as if to say "it's all going to be okay and I love you," they let go as Jax moves on to Tiggy, who grins.
"I have no words," Tig whispers to Jax in a teary embrace. "No words."
Kim Coates has always been a stand out on this show and this scene is no exception. He's been on both Jax's good and bad sides. He was Jax's stepfather Clay's (Ron Perlman) right hand man. Just like Chibs, Tig is watching his son leave. It's tearing him apart, but he remains composed. Tearing up.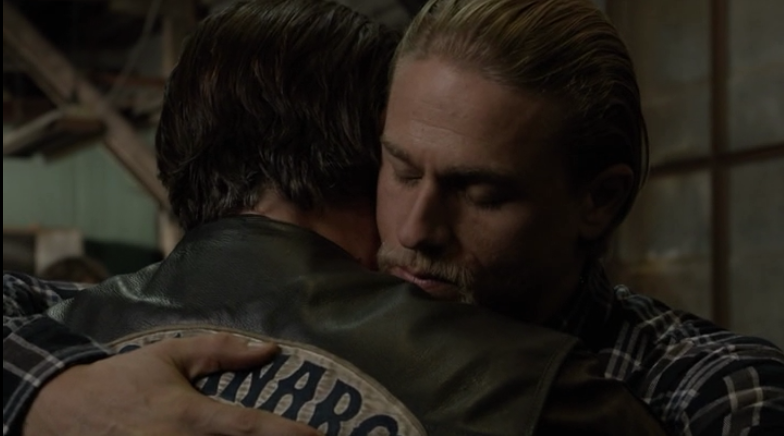 The tears flow when Jax turns to Chibs. With a firm handshake and . They said their goodbye earlier on the rooftop. Still heartbreaking. Tommy Flanagan is one of the bedrocks of "Sons" in terms of acting.He isn't the flashiest or the loudest, but he can always be relied on to bring subtle fire and emotion to the story.
"I love you my brother," Chibs says holding back tears before kissing Jax on the cheek. "I'll do you proud."
The door swings open.Jax walks out with his back turned on his SAMCRO family, facing his father's bike. It's time for him to chase his fate, whatever it may bring.
"I got this," Jax reasures his brethren with Opie's signature catchphrase. Opie said this phrase before he went to his death in the prison fight, which suggests that this is Jax's way of telling the Sons not to expect to see him again. Heartbreaking.
Chibs catches on and smiles weakly before his expression changes, perfectly comprehending what Jax means. Tig knows too and rests a reassuring hand on his President's shoulder. Jax starts his bike as Chibs' face hardens into a look of melancholy acceptance. He knows Jax will go out just like his father did. Jax straps on his helmet and rides off, leaving his brothers to stare at him riding away into the distance. Love this deep and pure does not exist anywhere else for these men.
Jarry puts out an APB on Jax for multiple homicides and we see Jax ride off toward the horizon, into that beautiful California landscape. We next find him at a roadside memorial where his father's death is commemorated, talking to JT's spirit.
"I think the struggle that I understand best, even more than all the things you wanted for SAMCRO, is what we eventually became. The one I feel the most is the war of the mind that happens when you try to get right with both family and patch," Jax says as he leans against JT's old bike. Looking at his helmet and sunglasses sitting in the dirt, he says, "I realized, as I think you did, a good father and a good outlaw can't settle inside the same man."
A cop car pulls up. Jax smiles knowingly, he's accepted that it's time.
"I'm sorry, JT. It was too late for me. It was already decided. And Gemma, she had plans," he says, acknowledging his mother's role in his demise. "It's not too late for my boys. I promise they will never know this life of chaos."
"I know who you are now, and what you did," he says. "I love you, dad."
This dialogue sums up Jax's struggle and perfectly brings his character development and journey from beginning to end. It is so fitting to tie Jax back to his father because he's slowly drifted toward him as the series went on. When he starts reading his father's manuscripts in the first episode, his father is a mythic figure to him, a legend that he doesn't fully understand. Throughout his childhood, his mother fed him lies that fueled JT's legend. She pushed Jax into SAMCRO in pursuit of money and power, needing to keep the club in the family and to fulfill his father's dreams for the MC. In reality, JT was a killer and a criminal, just like Jax.
Through reading the manuscript and witnessing the increased violence caused by his step-father Clay's (Ron Perlman) explosive decisions, Jax slowly becomes disillusioned with the club. Jax reads about his father's fears for the club's future and later realizes that he is living them out. Brotherhood falls by the wayside as violence escalates and the ones Jax loves the most are hurt or killed. Jax evolves into a monster, frankly. At this small memorial on the highway, Jax truly understands that his father didn't want him to right the club's wrongs. JT did not want him in SAMCRO at all.
This conversation also makes even more clear why Jax had to kill Gemma. He knew that he was going to die to keep his sons from SAMCRO, just like his father tried to. But Jax's father made a fatal mistake in leaving him with Gemma, who made Jax idolize JT like a superhero. Through lies and manipulation, Gemma planted one idea in Jax's head: honor the family (your father's legacy) and the club by whatever means necessary. Jax knew he had to die to protect his loved ones because he'd already descended past the point of no return, just like his father did. Jax had already resigned himself to die, but he ensured that Gemma couldn't influence his sons by taking her out as well. By burning all of his and his father's documents and selling all his property in Charming, Jax is literally burning all of his bridges so that Abel and Thomas have no way of patching in and won't idolize SAMCRO like he did.
The officer asks Jax to get off his Harley. Pausing, Jax fires three poorly aimed shots. He doesn't want to hurt the officer. He's bating him into a final chase, setting him up for a final ride.
As Jax peels onto the highway with the squad car behind him, the camera cuts to Nero's car where he, Wendy, Abel and Thomas are 47 miles from Norco. The White Buffalo and The Forest Rangers' "Come Join the Murder," with lyrics written by Sutter, starts to play as Abel colors with crayons and Thomas sleeps peacefully. They are driving toward a better, safer life, which is exactly what Tara and Jax wanted for them. After so much violence in Charming, it is comforting that Tara's wishes will be honored and that her sons will have a chance at a life free from gang violence and the deeply entrenched evil that is in Charming.
Frankly the cops probably would have caught up to Jax at this point, but no matter. We're still happy just to see Jax riding free. Jax on his Harley, with a cigarette hanging from his mouth and the wind blowing through his hair, is exactly how we first saw him in the pilot. This whole season, Jax was a man plagued by violence and anguish and this scene sees him return to that carefree man we first fell in love with in the pilot, tooling around on his Harley in search of condoms. This romantic image of him, the handsome outlaw/rambler who is one with the open road, embodies a large part of what makes the universe of "Sons" so compelling. It's fitting that whatever lies in store for Jax, he's doing what he loves, which is gripping a motorcycle's throttle and riding down the endless road.
ALSO SEE: A Tribute To 7 Of This Year's Fallen TV Characters
As Jax speeds down I-580, nearly 20 squad cars and a slew of motorcycle cops are following him. The camera pans skyward as seven crows-a murder- fly over Jax. These birds are guiding him toward his fate, just like his seven living SAMCRO brothers: Chibs, Tig, Happy, Rat, Quinn, Montez and T.O. Maybe the spirits of his departed brothers John, Clay, Piney, Opie, Otto, West, Kozik, Juice and Bobby are with him, too.
Meanwhile back in Charming, Sheriff and Patterson discover Barosky's body in the deli, under a rack of blood splattered bagels. This shot fulfills 'Sons' requirement of one gross thing per episode. Happy, T.O, Rat, Montez and Quinn are solemn and silent as they sit at the bar at Red Woody, cigarettes and drinks in hand. Chibs sits at the head of the table, staring straight ahead and rubbing the president's patch. Venus (Walton Goggins) runs her hand through Tig's hair as he sits on the floor with his head in her lap, his cut on a chair beside them.
Gemma's corpse is placed in a body bag on a gurney that is closed and labeled, finally putting the Queen of Charming to rest. Thomas and Abel are awake as Wendy quietly sleeps in Nero's car. Abel rubs his grandfather's SONS ring that Gemma gave him. Abel is the kid with the bad streak, does this leave open the possibility of him joining SAMCRO in the future and emulating his father? How far does Gemma's influence reach beyond the grave?
A truck appears with "Papa's Goods" emblazoned on the side (the episode title), driven by Milo. He's heading East on 580, presumably back from Oregon where he dropped off Gemma last episode. A single crow flies off the interstate marker and toward where Jax and Milo will inevitably meet. Is this the spirit of John Teller?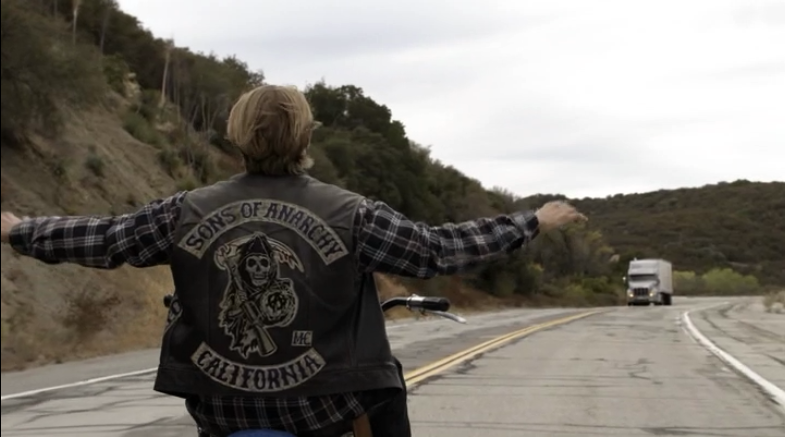 Spotting the semi-truck rounding the corner, a small smile appears on Jax's face. It's a sign as he revs his bike's engine. What would have happened if the truck hadn't rounded the corner? Would the cops have gunned Jax down? Lifting his hands from the handlebars, he drifts into the other lane as Milo hits the breaks, but not fast enough (having Milo yell "Jesus!" as Jax hurtles toward him is a reference as subtle as a hammer to the face, but we'll let it slide). With his arms outstretched, Jax is finally at peace and welcomes Mr. Mayhem while The White Buffalo croons:
"Come join the murder, come fly with black,
We'll give you freedom from the human trap.
Come join the murder, soar on my wings,
You'll touch the hand of god and he'll make you king."
There's a bit of bad CGI right before Jax hits the truck, but that can be forgiven because Sutter didn't want to leave Jax's fate up to interpretation (ahem, ahem "The Sopranos"), showing fans that Jax definitely dies. No uncertainty here. Jax joins the murder in the sky, where he'll be reunited with Tara, Opie and the rest of the fallen Sons. He's finally free from SAMCRO.
Two crows pick at stained bread lying in the road, just the opening scene in the pilot. A background of parked squad cars frames an ooze of blood flowing toward the bread from off-screen, where Jax's body is. Fade to black and the reaper. The final ride is over.
A quote from "Hamlet" caps the final ride, solidifying the idea that at his core, Jax did everything for love. He loved his family, both biological and chosen, and all of his actions (no matter how misguided) reflected that. As for how he died, Jax went out just as his father did, where he belonged: on his Harley.
"Doubt thou the stars are fire;
Doubt that the sun doth move;
Doubt truth to be a liar;
But never doubt I love."
Behind on the ride? The first six seasons of "Sons of Anarchy" are available to stream on Netflix and the seventh season is on Hulu Plus and Amazon Instant Video.
Reach Web Producer Helen Carefoot here and follow her on Twitter here.