Entertainment News
Why Kim Kardashian's Naked Body Makes Sense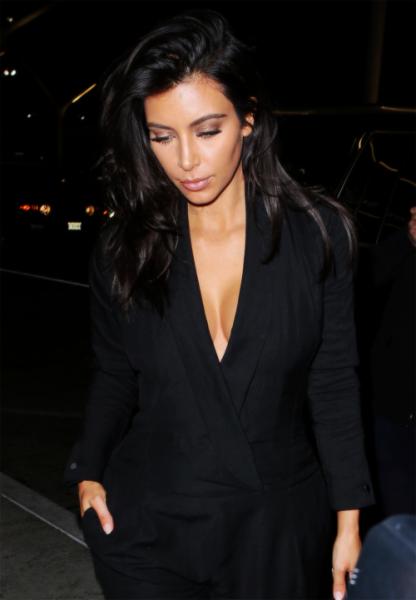 It seems to me that Kim Kardashian knows exactly what she is doing, contrary to popular belief. Kim exemplifies the saying "the gift that keeps on giving" as her body, particularly her rear-end, is consistently up for discussion. Most recently, she has participated in a photo shoot for Paper Magazine in which she poses completely nude on the cover.
This cheeky image has sparked a lot of controversy but the question at hand is, is this photo shoot offensive? For the most part, I would say it is not offensive, but only because I look at it from an objective viewpoint. I can explain using three simple guidelines I have developed that might help you too, to overcome your Kim-inspired disdain.
1. The 3 B's: Booty, Body, Brand
Kim Kardashian is a product of our culture. Whether you love her or hate her, you still talk about her. She has created an image for herself that is revered by so many because of her popularity. Kim has successfully turned her muscles, limbs and skin into a one-woman brand name. As you can't help but take a peek at her magazine photos, try to keep that in mind.
Like any other celebrity would, she endorses products she believes in and supports. Her product just happens to be her physique. It is her trademark booty that has landed her a career; she must continue to embrace and market it to the public for sustainability. It is better that she poses for magazine covers than dropping an album or running for governor, right?
2. Confidence Campaign
Kim has definitely shaken up Hollywood as she goes against the grain of the stereotypical celebrity. She is not super tall or uncomfortably thin and it is her curves that give her this edge. Believe it or not, Kim has helped shaped a new way of looking at the female form in a healthy way. She has shown that you do not need to be a supermodel to be beautiful or to love yourself. Having a full figure is now what others are striving for and her magazine cover elevates that.
She is giving her fanbase the confidence to be comfortable in their own skin. She may have taken this saying somewhat literally, but nonetheless, it was a conscious move on her part. If you are ever indecisive about how a certain outfit looks on you, just remember that Kim Kardashian once posed nude for millions of people to see. You can rock anything, girl!
3. All About the Benjamins
Lastly, do not let this cover emotionally charge you because it is only here to make money. Kim needs to make an income as every other person in the world, so you cannot be mad at her. Obviously, her bank roll has a few more zeros than most of ours, but a constant flow of money is necessary to keep your material objects. Posing nude is her financial capital. I mean, whatever gets the cellphone bill paid!
Contact Staff Reporter Doreen Kalfus here.