Film and TV
Most Anticipated Movies Of 2015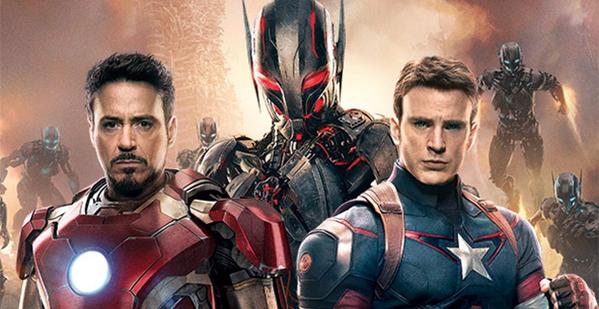 2014 is quickly coming to a close with only a few more films, like Disney's upcoming big-screen adaptation of "Into the Woods," slated for release in these last weeks of December.
Media outlets like Indiewire and DigitalSpy have begun preparing for the movie industry's biggest night - the 87th Academy Awards hosted by Neil Patrick Harris - by trying their hand at nomination predictions before the actual list of nominees is released in January 2015.
Some outlets, such as the Hollywood Reporter, have had their predictions up since March!
But let's step away from all of this Oscars talk and talk about some of the most highly anticipated films coming out in 2015, which will be jammed with everything from our annual dose of Marvel superhero greatness to J. J. Abrams' take on the "Star Wars" universe!
"Fifty Shades of Grey" (February 14)
Hitting the theaters on Valentine's Day, the film adaptation of E. L. James' erotic romance novel "Fifty Shades of Grey" is definitely one of 2015's most buzzworthy releases.
Starring Jamie Dornan ("Marie Antoinette," "Once Upon a Time") as Christian Grey and Dakota Johnson ("The Social Network," "21 Jump Street") as Anastasia Steele, the R-rated film held the record for 2014's most-viewed trailer on YouTube, which got over 36 million views in its first week of release and featured a new version of Beyoncé's "Crazy In Love"... Until the trailer for "The Avengers: Age of Ultron" came out in October, that is.
"Cinderella" (March 13)
Following in the footsteps of live-action fairytale adaptations like "Maleficent" (2014) and "Alice In Wonderland" (2010), Disney's upcoming remake of their 1950 classic "Cinderella" has been getting a lot of attention lately.
... Although that might just be because Disney made the very smart decision of accompanying the film with the highly-anticipated "Frozen Fever" short, which will serve as a brief sequel to the 2013 blockbuster "Frozen" (the fifth highest-grossing movie of all time with over $1.2 billion) and will also feature a brand new song from Robert Lopez and Kristen Anderson-Lopez, the Oscar-winning duo that brought us "Let It Go."
READ MORE: Are We Ready For A 'Frozen' Sequel?
"Furious 7" (April 3)
One of 2015's most anticipated films for the most bittersweet of reasons, "Furious 7" was the last movie Paul Walker worked on before his tragic passing in 2013.
With filming only halfway complete at the time of Walker's death, the movie's script had to be re-written and Walker's brothers Caleb and Cody were used as stand-ins to finish the actor's unfilmed scenes as Brian O'Conner.
"The Avengers: Age of Ultron" (May 1)
Marvel's upcoming "The Avengers: Age of Ultron" is one of 2015's most buzzworthy movies, especially given all of the success the previous "Avengers" film had at the box office, which earned over $1.5 billion worldwide, making it the third highest-grossing film of all time.
Despite its trailer leaking early thanks to some hackers, "The Avengers: Age of Ultron" still managed to steal the record for 2014 most-viewed trailer on Youtube from "Fifty Shades of Grey" with over 50 million views in its first week.
"Jurassic World" (June 12)
Long in the works, the fourth installment in the "Jurassic Park" series was originally supposed to be released in 2005, but was held back by numerous obstacles during the developmental process, including multiple script revisions.
With Steven Spielberg returning as executive producer and Chris Pratt taking the lead in his post-"Guardians of the Galaxy" success, "Jurassic World" is sure to attract longtime fans and franchise newcomers to the theaters in June.
READ MORE: 5 Newly Announced Film Sequels
"The Fantastic Four" (August 7)
One of the few Marvel comic book properties that Marvel Studios and Disney do not actually own the rights to, the Fantastic Four will be making their way back to the big screen under 20th Century Fox in this reboot of the largely unpopular "Fantastic Four" film franchise.
With the recent box office success of the "X-Men" movies (another Marvel comics property owned by 20th Century Fox and not Marvel Studios), perhaps 20th Century Fox felt it was high time that they completely redeem themselves on the superhero action movie front. Although the casting did receive a lot of backlash from fans, particularly the casting of Michael B. Jordan and Kate Mara as Johnny and Sue Storm...
"The Hunger Games: Mockingjay - Part 2" (November 20)
With Part 1's release last month, many fans can't believe they have to wait one long year before they can finally see the thrilling conclusion to "The Hunger Games" series.
Jam-packed with all of the action left out from Part 1, "The Hunger Games: Mockingjay - Part 2" will finally answer all of the questions that moviegoers (that haven't read the books) have, like... whether Katniss will pick Gale or Peeta (or perhaps neither?), whether District 13 can succeed in overthrowing President Snow, and what happens to Panem after all is said and done.
"Star Wars: Episode VII - The Force Awakens" (December 18)
Quickly snatching the record for most-viewed trailer of 2014 from "The Avengers: Age of Ultron," "Star Wars: Episode 7 - The Force Awakens" is a no-brainer as one of next year's most anticipated films since Disney's announcement for a third "Star Wars" trilogy after acquiring Lucasfilm in 2012.
Set roughly 30 years after the events of "Return of the Jedi" (1983), the J. J. Abrams-directed movie will reunite original "Star Wars" cast members Harrison Ford (Han Solo), Mark Hamill (Luke Skywalker), and Carrie Fisher (Princess Leia), as well as introduce brand new lead characters.
Reach Entertainment Producer Michelle Tiu here and follow her on Twitter.