California
It May Be Raining, but The Drought's Not Over
It's 7 a.m.
Bleary-eyed Addison Salzman rolls out of bed.
In the next 30 minutes, Salzman will have three encounters with water: the faucet, the shower, and the toilet. In this timespan, a few simple choices could be the difference between saving 18 gallons of water and zero gallons of water.
"Being environmentally conscious is important to me because we all live and share this world and it's our responsibility to do our part and take care of it," he says. Salzman is very conscious about how he uses his water during his morning routine. He saves 18 gallons of water each morning just by cutting his shower time from 10 to five minutes, turning off the faucet when brushing his teeth, and having a quarter-gallon water jug displace the water in his toilet tank.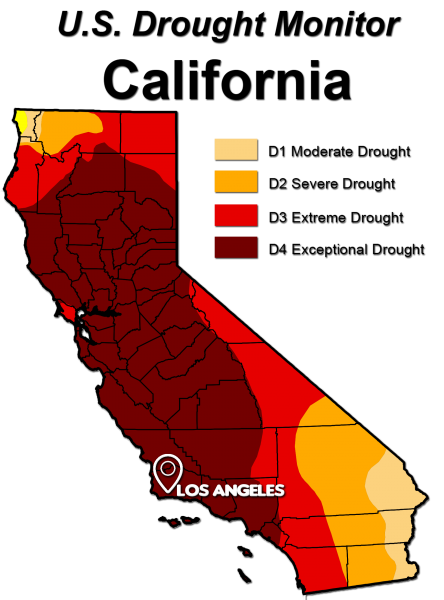 His hometown is Washington. However, for the next few years, he will live in L.A. as a student at USC. "It was surprising to me that most of the appliances in our apartment were not high efficiency," says Salzman, "I wish that more would be done, especially in such a severe drought to install high efficiency faucets and appliances."
Salzman is well aware of the drought, which has plagued the West coast for the past three years. Drought is a deficit of precipitation over an extended period of time. Severity is measured by characteristics like soil moisture, rainfall, and weather patterns. The U.S. Drought Monitor is currently rating Los Angeles for the highest possible degree of drought.
To break down California's water use, agriculture uses 80 percent and urban areas use 20 percent of California's developed water supply according to data from the Pacific Institute. With agriculture taking up such a large slice of the pie, it's easy to write off our personal use of water as insignificant. But from a sustainability perspective, that 20 percent is still 85 to 250 gallons of water per person a day, based on data released from the State Water Board.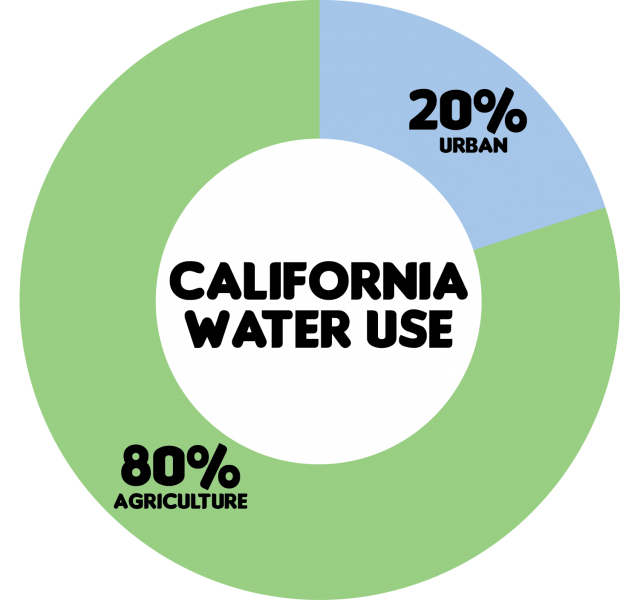 This concept has not escaped USC. In fact, to address the drought, USC started a Water Conservation Task Force in early September 2014. It is a committee purposed with creating long-term water conservation strategies, and it consists of university students, faculty, staff, and administrators.
Before, the task force, USC's Facilities Management Services (FMS) dealt with water conservation. They began seriously addressing water in 2007, a few years before the drought began. Between 2007 and 2010, they reduced water use from about 33 million gallons per month to 15 million gallons per month. Since 2010, they have been able to reduce water consumption by 14% per square foot, which is an additional two million gallons less a month.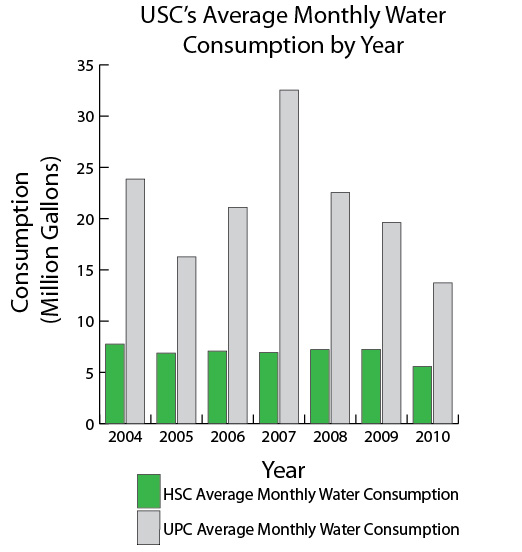 "FMS has made a lot of efforts in the area of water conservation. There just hasn't been a committee to address this and create a plan for the university," says Halli Bovia, USC's Sustainability Program Manager. Unlike FMS, the Water Conservation Task Force was created by the university with the job of reducing USC's water use.
The existence of the task force has actually not been officially announced. Therefore, their concrete goals have yet to be made public. However, one of the things the committee is well aware of is the crucial role that each student plays in water conservation.
Dr. Kelly Sanders, a professor of Civil and Environmental Engineering on the task force, believes one of the most powerful ways students can help the drought is to have awareness of what's going on and what they can do.
So here's the facts and some tips:
_________________________________________________________________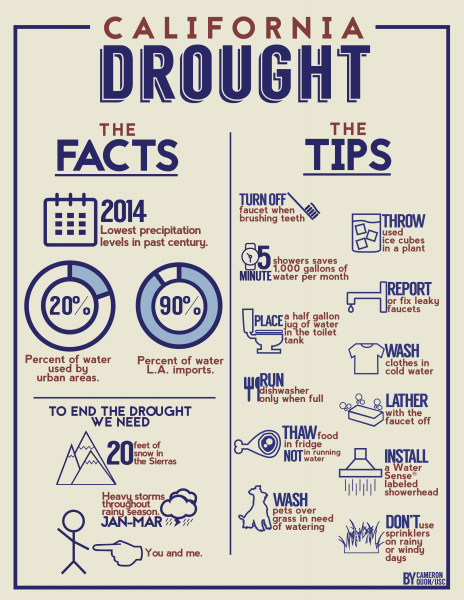 _________________________________________________________________
One of the most important facts Sanders believes students should understand is that we're still in the drought. "A lot of times people think, 'Oh! Well, it rained in Los Angeles a few weeks ago. We're out of the drought,'" she says. But don't let the rain fool you.
The past week, Los Angeles has experienced a significant amount of rain. It is all a part of a phenomenon called the Pineapple Express. "It's basically water vapor in the air that is transported from the subtropical region originating somewhere near Hawaii and then brought into California," says Eric Boldt, meteorologist for the National Oceanic and Atmospheric Administration (NOAA). He says it brings us some of our most significant rain.
However, "Droughts don't end in one event," says Boldt. It may be raining a lot, but the drought has materialized over three years. Boldt says it's going to take numerous storms of significant size from January to March 2015 to bring us back to where we need to be.
Therefore, it is crucial that we don't let up on our water conservation practices. As seen in the above tips, there are ways students can do this despite living on campus. But for things like watering plants and inefficient appliances, the task force has created a website where students can give feedback on the university's use of water.
"Students are probably the greatest potential we have," says Bovia. For example, the facilities management is not on campus at night when the sprinklers go off. So, they're not aware of all the places where the sprinklers are watering concrete—something many students make fun of. "All those extra eyes that are laughing could be totally turned into something very positive," says Bovia, "They can document that and can submit that through our page and we'll make sure it gets handled."
With the task force, students like Salzman can more easily make a difference in the way the university uses water. "Water conservation is only effective if everyone is doing it," says Salzman. And the task force does just that. It seeks to bring students, faculty, staff, and administrators together to combat the drought.
Bovia believes that sustainability in higher education is a big leverage point for changing the world. "Especially when you talking about USC, you have the chance to impact future politicians, future business leaders, future advocates, future entrepreneurs," she says, "If you can get them to understand these concepts, you have a fighting chance."
For more facts about the drought and tips on how to help, be sure to watch the video.
Reach Staff Writer and Video Producer Cameron Quon here.