Food
Drinks And Dessert: Inside LA Weekly's Sips & Sweets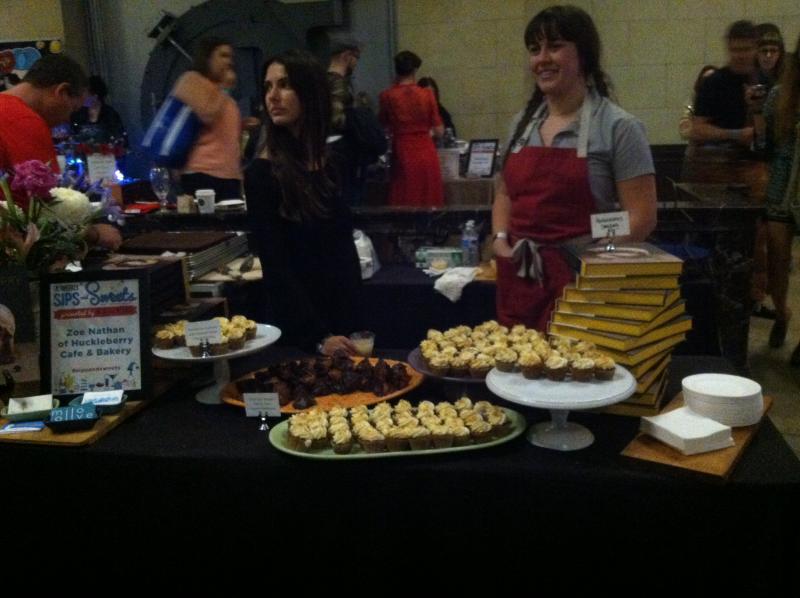 Being a food writer can be a pretty awesome gig, as you can imagine. But even in this scrumptious line of work, an event as delectable as LA Weekly's Sips & Sweets soiree was a rare escapade into what can only be defined as pure, sugarcoated bliss.
Sips & Sweets hosted dozens of the city's best pastry chefs and bakers last Sunday at The Majestic Downtown.
As more than 1,200 atendees stepped off the dingy downtown street, they were dazzled with a panorama of pastries, puddings and pop-up shops lining the grandiose event hall. It was almost impossible not to have eyes bigger than your stomach.
People milled from table to table enjoying unlimited samples from L.A. strongholds such as Proof Bakery in Atwater Village and Patina in downtown.
"I feel like an 8 year old unleashed in a candy store," said attendee Adam Moseley, who preferred the Stella Artois bar to anything else.
READ MORE: Top 7 Dessert Places In LA
Downtown's Nickel Diner, credited with bringing the first maple-bacon doughnut to L.A., offered up a couple more interesting doughnut hole flavors. The flavor of the orange-vodka filling in the Harvey Wallbanger was so vibrant that it threatened to bring on a buzz.
McConnell's Fine Ice Creams, the Santa Barbara creamery that draws long lines at its Grand Central Market booth, offered samples of holiday flavors including eggnog, peppermint stick and a surprising favorite, cardamom and Swedish gingersnap. The cardamom-gingersnap was surprisingly subtle and delicious, dotted with chewy chunks of cookie and decidedly less adventurous than it sounds.
The Village Bakery & Café out of Los Feliz echoed the holiday theme with classic sugar cookies decorated as presents and snowflakes. Though simple and unassuming, they taste just like the ones Mom used to make, and triggered a lovely bout of nostalgia.
German bakery Hans Rockenwagner offered an even more traditional Christmas cookie. They claim lebkuchen is the first ever Christmas cookie, and Rockenwagner bakes its version precisely to the 13th-century recipe. The fat wedges of cakey, heavily spiced cookie have communion wafer bottoms, per tradition.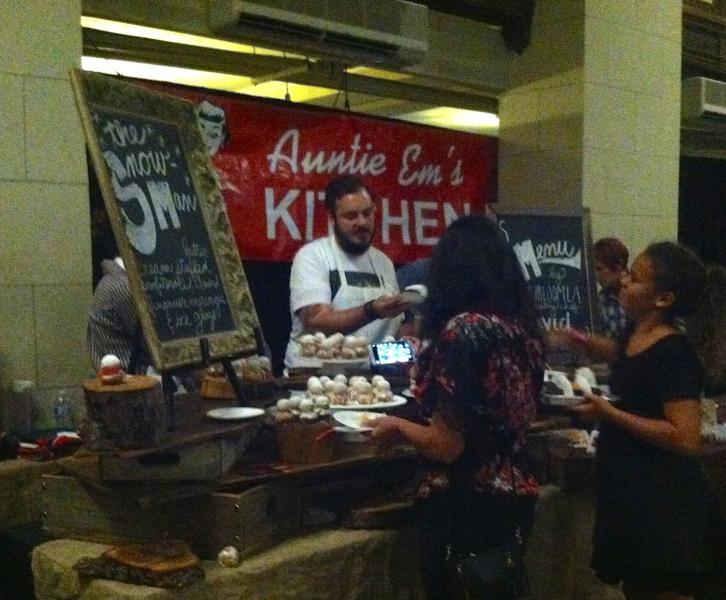 "A lot of what we do around here is about tradition," said Marianne Broughton, a Rockenwagner employee, who was handing out history lessons along with the German cookies.
David Rodriguez of Heirloom LA brought the season-appropriate selections to another level with a dose of double-decker goodness called the Snowman. A buttercream-filled profiterole topped with a perfectly moist almond financier, it was more than a little too much, but that first bite was to die for.
Mario Batali's Osteria Mozza served a wonderfully moist tiramisu that was almost worth seconds, but my favorite dessert came from Santa Monica's Huckleberry. While I rue the fact that I missed out on their sell-out caliber chai doughnuts, their coconut macaroon with dark chocolate and fleur de sel was the grand slam of the afternoon, and the best macaroon I've ever had.
Keurig, who sponsored the event, had tables of their famous pod brewers, providing much needed coffee to revive sluggish souls who'd overdone it on the sweet sampling.
Aside from that and Valerie Confection's decadent hot chocolate, the Sips portion of the party was reserved for those 21 and older. Downstairs from the event hall, several drink vendors from all over town served up mini versions of signature craft cocktails.
Housed inside a defunct bank vault, The Reserve couldn't have been a more perfect venue for this extremely happy hour. The club's lush appointments echoed the event's theme of indulgence, and while there was certainly more of a party vibe down there, plenty of private, recessed booths gave chiller groups a chance to enjoy their concoctions in peace.
READ MORE: 5 DTLA Bars That Are Worth A Shot—Or Cocktail
Sassafras served coquito, a rum-spiked Puerto Rican version of eggnog. It was rich, delicious and quite eggnoggy, but also wicked strong.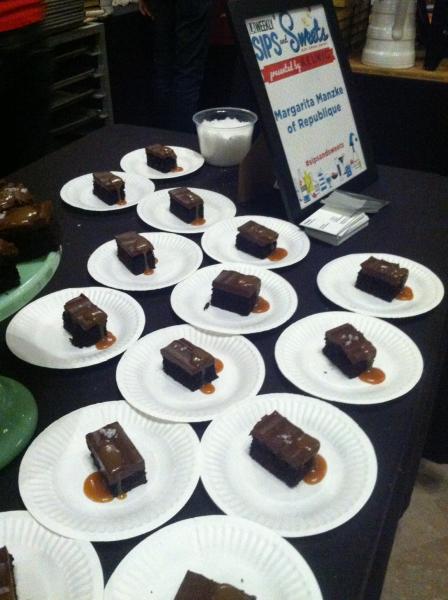 A resounding favorite was a Royal Vice City from PUNCH, which combined gin and white rum with cucumber water, basil and grapefruit, an incredibly refreshing and non-boozy drink that tasted of summer more than the holidays, but was enjoyable all the same.
As the party wound down at 5 p.m., people didn't seem all too eager to leave but were doing so with platefuls of treats to take home and smiles painted on their faces.
"It was great. It feels like something I would have thought of," said attendee Lupe Munoz. "Drinks and desserts? How perfect is that?"
The major draw of Sips and Sweets, though, turned out to be its one big drawback as well: excess. Desserts were less sample size, and more cocktail party dessert size. It's hard to make dessert much smaller than that, but given the number of samples people wanted to try, it led to a lot of food hitting the trash after just one bite.
While wasted food was a concern at the event, the proceeds from Sips and Sweets are actually benefiting Fruit Forward, a nonprofit that collects fallen and excess fruit from fruit trees in homes and parks for donation to community food banks. Fruit Forward had a booth at the party where volunteers sold homemade jams the company sells to raise funds.
"This event's been a great way to get the word out about what we're doing and get donations," said Suzanna Kim, a Fruit Forward volunteer.
Combining key holiday qualities of giving and indulgence, this first annual Sips and Sweets was the perfect way to kick off to the 2014 holiday season.
Reach Editor-at-Large Sara Tiano here. Follow her on Twitter here.