Los Angeles
"Die-In" At Iggy Azalea Concert Wakes Students Up To Race Privilege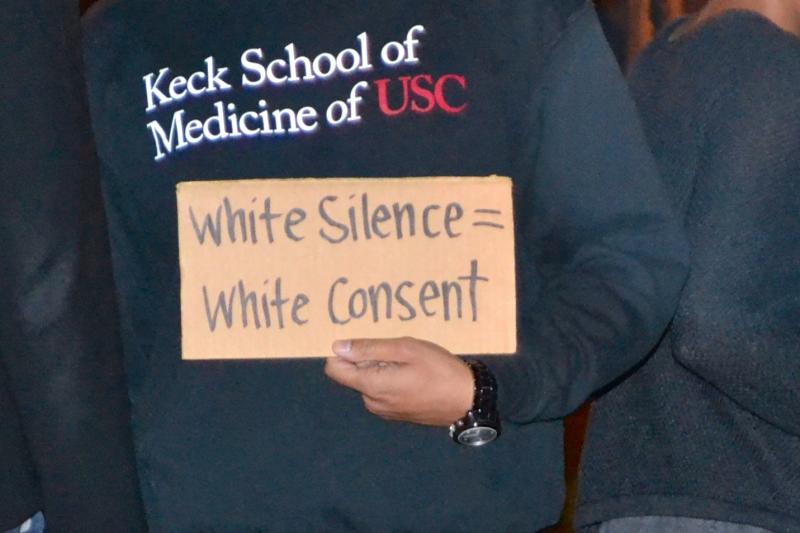 A crowd of students assembled in a long, snaking line in front of Bovard Auditorium at the University of Southern California well before 6 p.m. on Thursday, when doors to a concert by white hip-hop artist
Iggy Azalea
would officially open. The event, a feature of Yahoo's On The Road music tour, had been heavily advertised for days. Students were buzzing over the rare opportunity to see such a household name perform live on their own campus.
But at least in the last hour they stood in line for, the concert itself was not the main focus.
The Facebook event, "Die-In to WAKE UP," was created on Wednesday afternoon and received a steady stream of positive RSVPs up to the beginning of the demonstration. According to its description, the purpose of the "die-in" was to "wake up students and the community to the dangers of misuse of police force," in the wake of the police killings of Michael Brown in Ferguson and Eric Garner in Staten Island. Staging the event at the Iggy Azalea concert was an "opportunity to take her platform and help bring attention to much more important issues."
READ MORE: #Ferguson and #Garner Grand Jury Decisions Set Twitter On Fire
The demonstrators initially congregated in front of a brick stele covered in posters and messages protesting impunity of police violence against Black Americans. Then they donned surgical masks and moved to line up before the line of concert-goers, silently holding up signs.
One by one, individual demonstrators stepped out of line to express to tell the crowd their own reasons for attending the die-in. At the end of their statement, each fell to the ground. After everyone who wanted to speak had spoken, the entire group fell down together and remained on the ground for some time.
One student clearly and succinctly explained the connection between police violence against blacks and Iggy Azalea (one that many students seemed to be unsure about):
You all support your black athletes and black rappers. What about your black neighbors, your black classmates? Your black classmates [are] lying here before you. White silence is white consent…You're in college; do not be ignorant. Don't graduate here not having learned anything. Support black people, support your black neighbors; support your black classmates. Wake the f*** up!
READ MORE: Power To The Protester: A Suggested Primer On Civil Unrest
Near the end, a demonstrator told the students in line that he "sincerely hopes they enjoy the concert." But he also challenged them to not forget the message of the die-in.
"Just help us. That's all we ask."
Reach Associate News Editor Ashley Yang here, or follow her on Twitter.