Music
Is The Sunset Strip Dying?
It's November 10, 2014. It's a Monday night, so the local residents have a brief respite from the bumper-to-bumper traffic that usually lines the Sunset Strip. Meanwhile, metal legends Judas Priest were playing at the Nokia Theatre, meaning that any shows that might have scheduled on the Strip tonight were probably not going to have a jam-packed crowd.
At least, that's what conventional wisdom might say.
Instead, a large crowd has gathered at the Whisky-A-Go-Go to see arguably the best live act not just in metal, but in all of rock: Sabaton. Hailing from Sweden, Sabaton specializes in aggressive power metal with bombastic choruses and guitar riffs. Their subject matter? War. Ancient wars. Modern wars. Heroes, villains, bravery, and tragedy. Glorious victory and senseless slaughter. Sabaton covers it all. Their most recent album, "Heroes," contained songs that honored the heroes of World War II, including a German flying ace that escorted a severely damaged American B-17 out of a combat zone, a Polish soldier who formed an underground resistance movement while imprisoned at Auschwitz, and an all-female Soviet bomber unit that performed sneak attacks on the Nazis under the cover of night. In a genre that loves to tell stories of fantasy and medieval battles, Sabaton is a power metal band that tells stories of humanity at its best and worst.
But when it comes to their live shows, Sabaton prides itself on being pure, unbridled fun. On the cramped Whisky stage, the band members paced around in arctic camo pants, leaning against each other as they performed guitar solos. They grin and preen at adoring fans in the front row and take a break in their set to play quick riffs of songs from Metallica, Iron Maiden, and even Michael Jackson.
Then there's Sabaton's frontman, Joakim Brodén, sporting a buzzcut mohawk, steel-plated vest, and aviator glasses. The man radiates charisma, fist pumping to the rhythm and getting the crowd pumped with enough energy to power Pittsburgh for a week. In between songs, he's even better. He offers a song request to the first fan to bring him an IPA from the bar. He jokes with the audience about the deep gash he accidentally made in his hand with a knife ("That's metal!" yells a fan. "No it's not! It's bone!" he replies). Best of all, at the end of the set, he invites a kid up on stage to hang out with the band during their final song and even lets him keep his aviator glasses.
Sabaton engages their fans with an enthusiasm that few bands hope to match. But here, at the Whisky, that vibe grows exponentially. It's a small venue with no real backstage area, and there's no security railing between the stage and the crowd. The band is literally playing inches away from you. Here, in one of the most intimate settings you can find in Los Angeles, Sabaton put forth the same kind of energy that they show for tens of thousands at European summer festivals, all for a fraction of the price that tickets for the Judas Priest show were being sold for. There will be many more Sabaton shows in California in the years to come -- their next will be at the Greek Theatre in May -- but there will never be one that was as big a blast as the 90-minute show they put on for a couple hundred devoted fans on the Sunset Strip.
The sad irony, though, is that the place that allowed such unique magic to unfold finds itself in the midst of its terminal stage. The Sunset Strip as we know it -- an eclectic musical hotspot -- is slowly, tragically dying.
READ MORE: Music Industry Hits All-Time Low In 2014
The first signs of the disease reaching its terminal stage came in March 2013, when the Key Club suddenly announced that it was closing. The venue was born in 1967 as Gazzarri's and became internationally famous when bands like Mötley Crüe launched their careers from its stage. Irreparable damage caused by the Northridge Earthquake forced its demolition, before it was reborn as the Key Club a few years later. I was there for the Key Club's last metal show, sliding around on hall floors slicked with spilled beer and buying merch in the club's dingy basement that was covered with layers upon layers of band stickers.
But that's all gone now. The Key Club has been gutted of its rock history, scrubbed and scoured clean, and transformed into the 1 OAK nightclub. What was once a prime example of Sunset grit is now a den for the rich and pretentious. It's the beginning of a new trend, as Sunset property owners plan to turn the street into a nexus of luxury hotels and condos.
This year, the luxury plans claimed another victim: the House of Blues. This venue is much younger than its counterparts, having arrived on Sunset in 1994. But in the last 20 years, it has become a nexus for L.A. metal fans. A European act looking to take their tour through L.A. County might set up at the Wiltern or the Palladium, but most end up performing at the H.O.B.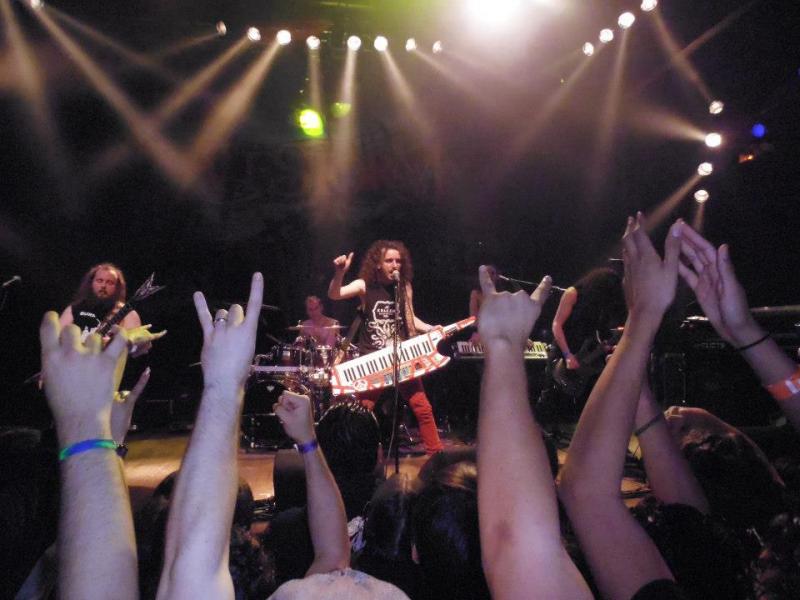 But within the next three years, that treasured place will be gone too, replaced by another dime-a-dozen hotel for the sort of people who are the target for those
stupid Cosmopolitan commercials.
Thankfully,
a new H.O.B. will be built somewhere else in LA
, but it doesn't change the fact that the strongest music venue Sunset has seen since the end of its heyday is on its way out.
By the time Sunset is through with this overhaul, it won't be the Sunset Strip anymore. It won't even be West Hollywood. It will be East Beverly Hills.
Even some attempts to jumpstart the fading scene have fallen flat on their face. Three years ago, indie music label Sumerian Records opened SoundCheck Hollywood, a record store on the western end of the Strip, two doors down from the Viper Room. It promised the world to rock fans: exclusive merch, new albums on sale the day before nationwide release, band meet-and-greets that won't pressure you to get your album signed and then move along. It certainly was an attempt to go against obvious music trends, but there still is some demand for buying a physical copy of an album, as shown by the ongoing success of the nearby Amoeba Records.
But alas, Sumerian's dream was in vain. SoundCheck closed up shop this past September, and their explanation on their Facebook page shows that they saw the writing on the wall: "With the recent closures of various clubs [and] landmarks on Sunset it has become more clear than ever that this isn't a place where a lifestyle music store can survive.
Perhaps Sunset's decline won't be mourned by many. Burgeoning music scenes in LA have already and will continue to simply move elsewhere. Areas like Echo Park and Silver Lake have now become the new hotspot for rising musicians to break into the mainstream. Metal, too, can survive in SoCal without the place that was once its kingdom. There are still venues like the Palladium and the Fonda - not to mention spots in Orange County that served as home for the underground acts rejected by Sunset's glam scene. New chapters in L.A.'s music history will be written in new places, while the few music halls in Sunset that remain will live on as relics of the past.
But that's such a shame, because as the Sabaton show demonstrated, Sunset can still weave the magic that it was once so famous for. In fact, that magic doesn't just come from popular overseas bands paying a visit. It also comes from the new stars that have made this street into a launch pad for their careers.
READ MORE: Alesso Performs At The Shrine
The Whisky-A-Go-Go and its Sunset brethren have become the subject of some controversy in recent years. With ticket sales declining, The Whisky has become a "pay-to-play" venue, meaning that local bands are required to purchase tickets from the Whisky at a discounted price. It's up to the bands to then make back the money by selling the tickets to their fans.
On top of that, the bands are often put on cards with acts from completely different genres. As a result, young bands who don't know any better end up playing for crowds with musical tastes that don't match what they are playing, making it difficult to get new fans at these shows. It's a system that Sunset venues have relied on to get by, but it has given the Strip a bad reputation of being a Last Chance Saloon of talentless garage bands pitting themselves against each other and against managers to make a desperate buck, while better bands disperse elsewhere to venues that will give them a better deal.
But every once in a while, there's a band that breaks this stereotype and uses the pay-to-play system to their advantage. Enter Sirion, one of the best unsigned gems in Southern California.
Sirion's music blends progressive rock, power metal synthesizers, and melodic death metal to create a sound influenced by Swedish death metal bands like Scar Symmetry. Fittingly enough, their futuristic sound is given lyrics about sci-fi concepts like deep space exploration and colonization. In a scene filled with Lamb of God knockoffs and run-of-the-mill death metal, Sirion is a breath of fresh air.
Although they would never be confused with the likes of Guns N' Roses and Poison, Sirion are carrying the torch once held by those glam metal bands that ruled Sunset with a nail-painted fist. Guns N' Roses earned their big break through relentless self-promotion, getting the word out about their music and their shows by handing out flyers on the street and getting demo tapes into the hands of every potential fan they could find. Sirion shares that undying work ethic. They have spent the last four years cultivating a fan base while finding their own musical identity. They have used the pay-to-play system to their advantage, selecting shows headlined by major bands like Sabaton. As a result, they have gained enough exposure to the point that in February, they held their own headlining show at the Whisky to celebrate the release of their first EP… a show that featured a lightsaber war within the crowd.
When opening for Sabaton, they continued that level of engagement with the fans. During their set, keyboardist Rob Rosen grabbed his keytar and ran off the stage, crab-walking amongst the fans and giving them a chance to gather around and watch him do a few solos. Though they have yet to release an album, Sirion performed with the confidence of ten-year veterans, highlighted by vocalist Biko Wright's easy transitions between deep growls and clean vocals and guitar wizardry from Dan Serper and Alon Mei-Tal.
Sirion is living proof that, even in its diminished state, the Sunset Strip can still produce new stars. They are a band that has used the Boulevard to make a name for themselves not just by performing, but by being an active member of the fandom. Even at shows they're not performing at, Sirion still shows up to hang out with fellow metal fans and promote their work. Now, after four years of hard work, they plan to release their first album sometime in 2015.
Yet, as Sirion's star continue to rise, the place that hosted many of their earliest shows continues to fade away. But even now, there are still attempts to preserve the old ways of the Sunset Strip. The building that once held Sunset's famous Tower Records store was going to be converted into yet another luxury complex. Now, Gibson has announced that they are turning it instead into a guitar store and a performance venue. Perhaps this business venture, like SoundCheck Hollywood, is a doomed attempt to avert Sunset's slide into obsolescence. But it's a noble struggle that rock fans should get behind. The Sunset Strip doesn't have to join Hollywood & Vine as a location with no modern relevance that continues to ride its reputation as a hotspot of decades long gone by. It can still be a place where the next Sirion can cut their teeth. More than that, it can be where a new generation of rock fans can gather and headbang into the night, just as they did that Monday night in the Whisky, even when all the signs pointed to such a show being an impossibility.
Reach Staff Reporter Jeremy Fuster here or follow him on Twitter.