Arts+Culture
Skid Row Celebrates Early Thanksgiving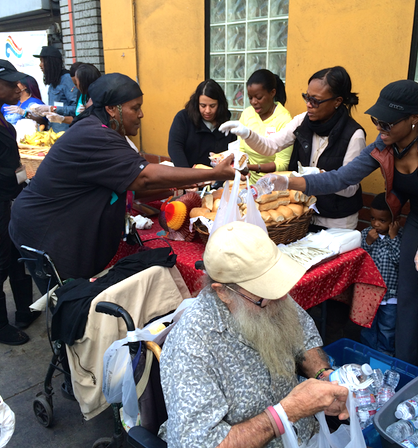 Every Wednesday, from 12 to 2 pm,
My Friends House
, a non-profit organization, comes to
Skid Row
to give basic necessities, like food and clothing, to the homeless.
But on Wednesday, Nov. 19, something special happened; an early Thanksgiving.
It all started with Jean-Paul Peluffo, owner of the gourmet food truck, Fair Game. The French native Peluffo came to America 14 years ago, and the history of Thanksgiving is what motivated Peluffo to bring the feast to Skid Row.
"I want to give food to people, and I don't expect anything in return," says Peluffo. "I'm like a pilgrim coming to America, and I want to make food for the people who are born here, and live here and who need it."
Before starting Fair Game this past September, Peluffo had been a corporate chef for 40 years. He has cooked for some of the most powerful people in the world, such as George W. Bush and Tony Blair.
Peluffo says he has prepared meals for both the wealthiest and the poorest people in the world. The vast discrepancy between the extremes in living standards is what motivates Peluffo to give back.
Peluffo has made it a part of Fair Game's business plan to help the community.
"I love when I give good food to people, and I can look in their eyes, and they're smiling, and for me, that's all that I am looking for," explains Peluffo. "Today, we get to do that for these people who have nothing."
Peluffo paired up with My Friends House to expand their Wednesday ritual; hundreds of people lined up to get their early holiday meal.
Peluffo cooked 125 pounds of turkey, which he paired with comforting mashed potatoes, juicy cranberry sauce, warm gravy, fresh bread and a pastry.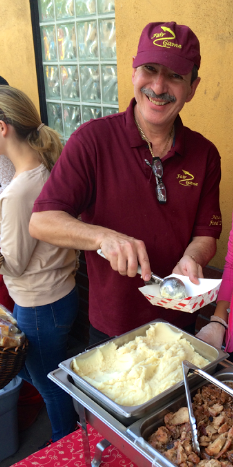 "It is not that difficult to give something away and not expect something in return, just do it from time to time," said Peluffo. "Like My Friends House, that is what they do all year round, and they're so humble about it."
My Friends House founder, Tiffany Rose, has a passion for helping others, and says her parents tell her she has been like that since she was a little girl.
"I believe that no one should be deprived of the basic needs of life, like food, clothing and shelter," says Rose.
My Friends House is known for helping feed the homeless, but Rose says she also benefits from the cause.
"It feeds my soul," says Rose.
Operations Manager, Nancy Gomez, believes that actually seeing Skid Row in person brings to life the severity of poverty.
"When you come down [to Skid Row], you see that no matter how bad you think you have it, someone else has it worse," explains Gomez. "I think it is very important to know that everybody matters."
To those living on Skid Row, My Friends House has become a staple to their weekly routine.
Rosa Miller was one of many to receive a meal at Wednesday's feast. Miller smiled from ear to ear as she enjoyed her early Thanksgiving.
"My Friends House is special because they care about us," says Miller. "A lot of people don't have family and this is like their family, the people downtown are their family."
Rose knows that she has made an impact on many people's lives, but says it will take a lot more for a permanent transformation.
"One person, or one cause or organization can't save the world or participate in everything," said Rose. "There's power in partnership."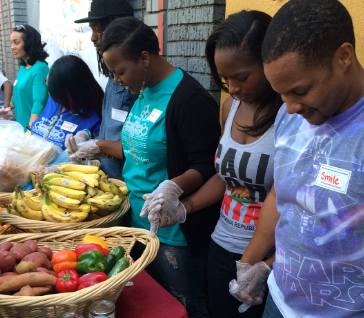 My Friends House partnering with the Fair Game food truck was especially crucial at this time of the year. The holidays are a time when Rose says the people of Skid Row seem more depressed. Many of these people have little to no connection to family or friends.
"To have people whom [the people on Skid Row] don't even know go an extra mile for them, it gives them a greater sense of self worth, encouragement and love," says Rose.
Cynthia Broodie comes to see the volunteers of My Friends House every Wednesday. Broodie gets food, water and clothing from the volunteers and says it helps her tremendously.
"[Skid Row] needs some more help," pleads Broodie. "If people can come in and help and assist the poor it would be good for all of those living down here."
Peluffo and Rose appear to have philanthropy coursing through their veins. The two were running around Wednesday's event continuously offering assistance to the hundreds that were waiting in line.
"When you give something, you give it away because it feels good in your heart," urges Peluffo. "I expect people in this world to do that more often."
Volunteers from Fair Game, My Friends House and a UCLA sorority were also helping at the event.
This story is part of Culture For Change, a month-long Arts and Culture exploration of cultural activism in L.A. For the other stories in the collection, click here.
Reach Staff Reporter Margaux Farrell here or follow her on Twitter here.