International
Former Mexican Mayor Charged With Homicide In Disappearance of 43 Students
In the case of the 43 missing students who disappeared from Iguala Mexico in September, each new revelation gets stranger.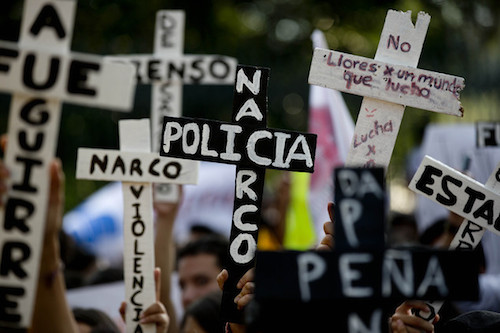 Take former mayor Jose Luis Abarca's involvement, for example. The former mayor has been called the probable mastermind behind the disappearances, and is now charged with six counts of aggravated homicide (a more serious charge than homicide), and one count of attempted homicide, according to
CNN
.
Attorney General Jesús Murillo Karam said former mayor Abarca ordered now-missing police chief Felipe Flores Velásquez to stop the students from interrupting a party hosted by his wife, said The Wall Street Journal. Abarca's wife Maria de los Angeles Pineda was preparing to run for mayor after her husband's term ended.
Police ambused the students, killing six in a shootout, before turning over the rest to be killed by local drug gang Guerreros Unidos, said Murillo Karam. The students, mostly young men in their 20's, had been traveling to Iguala from a teacher's college to protest lack of school funding.
SEE ALSO: Fugitive Mexican Mayoral Couple Detained
Abarca and the students reportedly had a bad history. Last year students allegedly took over Abarca's office, breaking windows while protesting the murder of a political activist.
Abarca's homicide charges are for the six people Iguala police killed just before Abarca and his wife went underground before their arrests. The remaining 43 students' bodies have yet to be found. Burnt remains were recovered from a river, but DNA identification is still pending.
Read more at The Guardian.
Reach Web Producer Arielle Samuelson here.