Arts+Culture
The Man Behind The Camera: Cameron Quon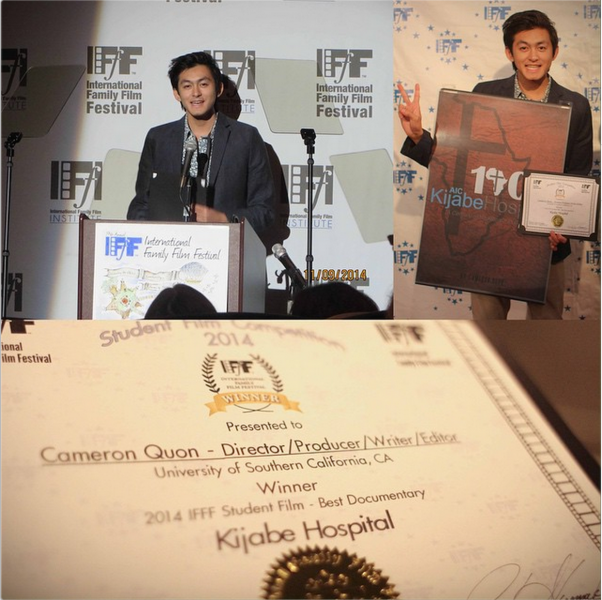 In just 12 days, USC sophomore,
Cameron Quon
, directed, produced, wrote and edited an
award-winning documentary
.
Quon's documentary, "Kijabe Hospital", won Best Student Documentary at the International Family Film Festival (IFFF) in Hollywood earlier this month. This is the first award that Quon has won at a film festival.
Quon is a broadcast journalism major in Annenberg, and is a Natural Science minor with a pre-professional emphasis in pre-medicine. He is also a Stamps Scholar - Annenberg's first ever Stamps Scholar. His scholarship gives him a stipend to do work, such as travel to Kenya to film a documentary, which is exactly how he used it this past summer.
For two weeks in July and August, Quon was in Kenya at the Kijabe Hospital with his father, who is a doctor. For a few years they had been thinking about going to Kenya, and finally this past summer they got the chance to go.
Previously, Quon has been on a couple of mission trips where he has taken videos. During his junior year of high school, he went to Jordan and made a documentary, and has also taken videos in Mexico. However, he says that his skill set now is far better than it was during his previous trips. "It was perfect timing," he said. "Only really something that God could orchestrate."
The Kijabe Hospital is a Christian hospital that is also a training hospital. Doctors from all over the world travel to Kenya just to be at the Kijabe Hospital. These doctors are either short term, and volunteer their time for a couple weeks or months, or they are long time, and take permanent residence. In addition, other African doctors go to Kijabe to train and learn how to become doctors.
Quon spoke about how incredible it is to see doctors from all over the world who come to Kijabe hospital. Instead of having an arguably easier life as a doctor in America, they chose to give up those luxuries to work in Kenya.
"It's really humbling to see that they would sacrifice all of that, but in the end, of course, it's all for God's glory and the advance of the gospel and the kingdom," Quon said.
Religion is a very important part of Quon's life. "The central part of my life is my faith and Jesus," he said. At USC he is a part of the Navigators Christian ministry. A lot of his time is spent in discipleship, as well as doing bible studies and evangelism around campus.
The 8-minute film is a documentary as well as a promotional video for the Kijabe Hospital. Next year, in 2015, the hospital is celebrating their centennial. So, once Quon came back from Kenya, he thought that it would be great to get the word out about the hospital, promoting the centennial and God. That's when he decided to enter the film in a film festival.
"I googled 'film festivals'," he said. "The one that seemed the most relevant was the International Family Film Festival. The whole mission of this film festival is to get films that are family oriented."
Quon did not start out as the man behind the camera; it was quite the opposite actually. He first started out as an actor and was involved with drama. However, after getting involved as an anchor, because it was similar to drama and acting, at the TV station in his middle school, he realized that he wanted to do more than just being on the camera.
He went to a high school that had a really great video program, which is where he learned most of his skills. He formed a group that made a lot of films, and in turn, gained some national recognition.
Quon prefers documentaries because "there is a lot more thought that goes in it." He feels like they can have a much larger impact than other film genres. However, he does also make comedies, as well a works at Annenberg TV News, Trojan Vision and Trojan Health Connection, where he is the video manager.
Quon, who speaks about himself in a very humbled manner, was not expecting to win the 'Best Student Documentary' award at the film festival. He said that of course, getting the award was great, but it was never about that. He is proud that, "this video that is really all about Jesus and the gospel is out on the big stage. "
As much as Quon enjoys, and is great at, making films and journalism, his biggest hope is to go to medical school. When he went on the medical mission to Jordan, he realized how important medicine is to him and how he could combine his love for medicine with his love for journalism by telling stories of medicine through journalism, which is exactly what he did in Kenya.
Reach Staff Reporter Emma Shepardson here.
This story is part of Culture For Change, a month-long Arts and Culture exploration of cultural activism in L.A. For the other stories in the collection, click here.